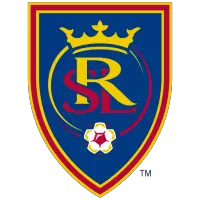 Real Salt Lake Advance to Western Conference Semifinal with Dramatic Penalty-Kick Win at Seattle Sounders FC
November 24, 2021 - Major League Soccer (MLS) - Real Salt Lake News Release



SEATTLE, Washington - Real Salt Lake (14-14-6, 48 points in reg. season; now 0-0-1 in 2021 MLS Cup Playoffs) advances to the Western Conference Semifinal Sunday at Kansas City with a dramatic win in six rounds of penalty kicks over Seattle Sounders FC.
Tuesday night's first half at Lumen Field in Seattle saw a battle of the two midfields, as both sides sought to establish dominance and look for open spaces to thread the ball. The first clear opportunity at goal came in the 15th minute when Seattle got what appeared to be a clear chance at goal with David Ochoa pulled out of position, but a block from Justen Gad and then a clearance from Aaron Herrera kept the team out of danger. In the 29th minute, off a free kick, Seattle once again looked to have the easy goal, but a quick reaction and a point-blank block from Ochoa preserved the scoreline. Despite best efforts from both sides, neither team was able to get the upper hand and the first half finished scoreless.
Coming out of the halftime break, Seattle continued to apply pressure in Real Salt Lake's half of the pitch. In the 50th minute, the Sounders found themselves with a three on two advantage on a counter, but Jordan Morris' shot missed high and the sides remained scoreless. Another close scoring opportunity came for the home side in minute 62, but a cross into the box was cleared away by Glad. Then following a pass by Morris near the top of the 18-yard box, Raul Ruidiaz fired a right-footed volley toward goal, but his shot was denied by the top-left corner of the frame in the 73rd minute. In the final chance of regulation, Andrew Brody intercepted a pass by Joao Paolo to spring Real Salt Lake on the counter, but second-half substitute Anderson Julio was unable to catch up to the pass and regulation time ended with neither team able to find the winner.
Seattle put together the first scoring opportunity of the first half of extra time in the 103rd minute, but Cristian Roldan's cross into the box toward Ruidiaz was cleared out by Herrera. In the 113th minute the home side were rewarded with a long free kick, but the flicked-on header was saved by Ochoa and after 120 minutes of play, the sides remained scoreless with penalties to decide the winner.
Through the first five rounds of penalties each side scored their respective goals - including a Pablo Ruiz re-take of his saved kick from Seattle GK Stefan Frei, who was adjudged via VAR to be off his line - forcing the shootout tiebreaker to a sixth round. Ochoa got into position as former RSL player Kelyn Rowe stepped up to the PK spot. Rowe sent his shot towards the right corner, the same direction Ochoa dove, blocking the shot. From there it was left in the hands of Glad, who calmly walked up and buried his shot - albeit off BOTH posts - to steal the victory and silence 34,000+ in Seattle.
UP NEXT: Real Salt Lake will face Sporting Kansas City in the Western Conference Semifinal round of the Audi 2021 MLS Cup Playoffs on Sunday, November 28 at 1:00 p.m. MT on ABC.
NOTES:
- Midfielder Albert Rusnák, who this year missed only 15 minutes out of a 34-game slate in 2021 (3,045), setting a record for most minutes in a single season in Club history, was absent from the match due to COVID-19 health and safety protocols, marking the first 90' he has missed this season.
- David Ochoa became the first goalkeeper other than Club legend Nick Rimando, to appear in a MLS Cup Playoff match between the pipes since the team joined the league in 2005, a span of 27 postseason games and 2,550 minutes prior to tonight.
Match: Real Salt Lake vs. Seattle Sounders FC
Date: November 23, 2021
Venue: Lumen Field; Seattle, Washington
Weather: Cloudy and 45 degrees
Attendance: 34,012
Scoring Summary: 1 2 F
Real Salt Lake 0 0 0
Seattle Sounders FC 0 0 0
Penalty Kick Summary:
SEA: Raul Ruidiaz (Goal) 1-0
RSL: Aaron Herrera (Goal) 1-1
SEA: Joao Paulo (Goal) 2-1
RSL: Pablo Ruiz (Goal) 2-2
SEA: Abdoulaye Cissoko (Goal) 3-2
RSL: Damir Kreilach (Goal) 3-3
SEA: Alex Roldan (Goal) 4-3
RSL: Bobby Wood (Goal) 4-4
SEA: Nicolas Lodeiro (Goal) 5-4
RSL: Marcelo Silva (Goal) 5-5
SEA: Kelyn Rowe (Saved) 5-5
RSL: Justen Glad (Goal) 5-6
Lineups:
Real Salt Lake (4-2-3-1): David Ochoa; Aaron Herrera, Justen Glad, Marcelo Silva, Andrew Brody (Ashtone Morgan 106'); Everton Luiz, Pablo Ruiz; Jonathan Menendez (Justin Meram 63'), Damir Kreilach, Maikel Chang (Anderson Julio 80'); Rubio Rubin (Bobby Wood 74')
Subs not used: Zac MacMath, Donny Toia, Nick Besler, Erik Holt, Toni Datkovic
Seattle Sounders FC (3-4-2-1): Stefan Frei; Yeimar Gomez Andrade, Xavier Arreaga (Abdoulaye Cissoko 120'), Shane O'Neill; Kelyn Rowe, Cristian Roldan, Joao Paulo, Brad Smith (Josh Atencio 91'); Nicolas Benezet (Alex Roldan 83'), Jordan Morris (Nicolas Lodeiro; Fredy Montero (Raul Ruidiaz 46')
Subs not used: Stefen Cleveland, Reed Baker-Whiting, Leo Chu, Danny Leyva
Stats Summary: SEA / RSL
Shots: 21 / 0
Shots on Goal: 3 / 0
Saves: 0 / 3
Corner Kicks: 15 / 1
Fouls: 11 / 18
MISCONDUCT SUMMARY:
RSL: David Ochoa (caution) 50'
SEA: Nicolas Benezet (caution) 53'
RSL: Everton Luiz (caution) 72'
RSL: Justen Glad (caution) 82'
SEA: Raul Ruidiaz (caution) 108'
OFFICIALS:
Referee: Joe Dickerson
Assistant Referees: Logan Brown, Chris Elliot
4th Official: Victor Rivas
VAR: Tim Ford
• Discuss this story on the Major League Soccer message board...


Major League Soccer Stories from November 24, 2021
The opinions expressed in this release are those of the organization issuing it, and do not necessarily reflect the thoughts or opinions of OurSports Central or its staff.