Quakes unbeaten in four straight, surge above playoff red line
May 5, 2019 - Major League Soccer (MLS) - San Jose Earthquakes News Release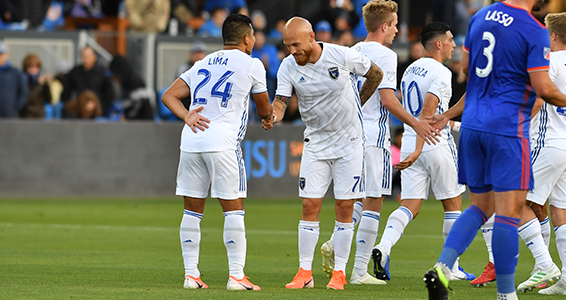 Nick Lima of the San Jose Earthquakes celebrates his game-winning goal with teammate Magnus Eriksson
(San Jose Earthquakes)
SAN JOSE, Calif. - The San Jose Earthquakes defeated expansion side FC Cincinnati 1-0 on Saturday night at Avaya Stadium despite playing nearly the entire second half with 10 men. The victory sees the Earthquakes surge above the red line and into the seventh and final playoff spot.
Homegrown defender Nick Lima scored the game-winning goal in the 22nd minute and goalkeeper Daniel Vega made an acrobatic save to deny FC Cincinnati midfielder Fatai Alashe from equalizing late against his former club.
San Jose is now unbeaten in four consecutive matches (2-0-2), the longest active unbeaten streak in the Western Conference and tied for the second longest streak in Major League Soccer (NYC - 6; PHI - 4).
The victory is the Quakes' third consecutive at Avaya Stadium, where the club has outscored opponents 8-1 and allowed no goals from the run of play. San Jose has earned back-to-back shutouts for the first time since April 29 and May 6, 2017.
MLS Regular Season
San Jose Earthquakes 1 - 0 FC Cincinnati
May 4, 2019 - Avaya Stadium in San Jose, Calif.
Attendance: 16,743
Scoring Summary: SJ - Nick Lima (Cristian Espinoza) 22.
Misconduct Summary: CIN - Caleb Stanko (caution) 6; SJ - Shea Salinas (caution) 13; SJ -Cristian Espinoza (caution) 15; SJ - Nick Lima (caution) 29; CIN - Forrest Lasso (caution) 31; SJ - Cristian Espinoza (ejection) 51; CIN - Fatai Alashe (caution) 67.
SAN JOSE EARTHQUAKES: Daniel Vega; Nick Lima, Florian Jungwirth, Harold Cummings, Tommy Thompson (Guram Kashia 81); Jackson Yueill; Shea Salinas (Judson 72), Anibal Godoy, Magnus Eriksson, Cristian Espinoza; Danny Hoesen (Chris Wondolowski 89).
SHOTS: 11; SHOTS ON TARGET: 1; SAVES: 3; FOULS: 15 CORNERS: 8; OFFSIDES: 5
FC CINCINNATI: Przemyslaw Tyton; Mathieu Deplange, Kendall Waston, Forrest Lasso, Justin Hoyte (Fanendo Adi 79); Fatai Alashe, Victor Ulloa, Caleb Stanko, Frankie Amaya (Roland Lamah 67); Darren Mattocks (Emmanuel Ledesma 65), Kenny Saief.
SHOTS: 11; SHOTS ON TARGET: 3; SAVES: 0; FOULS: 13; CORNERS: 7; OFFSIDES: 0
MATCH NOTES:
Quakes defender Nick Lima tallied his first goal of the season and fifth of his MLS career. It also marked his first game-winning goal of the season, second of his career, and first since July 29, 2017.
Cristian Espinoza was credited with the assist on Lima's goal, marking his third of the season. It also marked his second game-winning assist of 2019 (vs. POR 4/6).
The Earthquakes have won three consecutive home games for the first time since 2017 (2-1 vs. RSL 6/24, 1-0 vs. COL 7/29, 2-1 vs. CLB 8/5).
San Jose has kept shutouts in back-to-back matches for the first time since April 29 and May 6, 2017.
The Earthquakes won a match in which they finished with 10 players for the first time since June 24, 2017 against Real Salt Lake (2-1).
San Jose is currently in the midst of a four-match unbeaten streak (2-0-2). The last time the Quakes went unbeaten in 4+ straight MLS matches was July 16 - Aug. 12, 2016 (2-0-3).
San Jose's four-match unbeaten streak is currently the longest active unbeaten streak in the Western Conference and tied for the second longest active streak in Major League Soccer (NYC - 6; PHI - 3).
The Earthquakes have now earned at least one point in five of the last six matches. The last time Quakes accomplished this feat during a single season was from April 8 - May 6, 2017 (2-1-3).
The Quakes have earned 11 points from their last six games (3-1-2). The last time the club accomplished this feat in a single season was the first six matches of the 2016 season (3-1-2).
The Earthquakes now hold a 1-0-0 all-time record against FC Cincinnati.
SAN JOSE EARTHQUAKES HEAD COACH MATIAS ALMEYDA
On the team's performance and the result:
"It was very good. They showed character and had a mentality where they had to defend what they achieved in the first half. I call that commitment, and the players are understanding how to identify with San Jose as a club. They are leaving their soul in every play."
On finding the right Starting XI:
"I think each player, the ones that are participating today, knew how to take advantage of the time I gave them. They know they can't relax because today the competition is better every day, and those are the ones that allow us to grow as a team. The individual competition allows us to grow as a team. They know that whenever they do relax, there's a guy that can step in for them."
On adapting with 10 players:
"We never train with 10 men. It's something that you have to learn to do. I think the players were good at understanding when it came time for their changes, and as a consequence we had to modify as well."
On Nick Lima's performance:
"Nick, as is the team, is growing game after game. Seeing how he played in the previous games and this game is the Nick we would like to see: concentrated, fast, confident, and decisive. I think physically he can attack and defend, and today he scored a great goal."
SAN JOSE EARTHQUAKES MIDFIELDER JACKSON YUEILL
On the team's focus:
"The start of the season we had was a little rough. I think we were getting used to the system. I think we got the way of the game under our feet a little bit and I think we started building confidence. Since the game against Portland, I think we saw the way that the system could work, and I think that boosted our belief in it. Each week we train harder and harder to be able to play like this and it shows in games like this that some of the things are going to go right. We have to work extra hard in the 88th, 89th, 90th minute to pull out a win."
On how the team stayed together after going down a man:
"It's been awesome, I think we've created a great culture. When something like that happens, no one is in the belief that we are going to lose this game. It happened and we are still confident in one another and had trust in all of us and so I think that the culture in the locker room has grown a lot this year and the belief in each of us to do our job is very high at the moment."
On the team's communication on the field:
"We were just saying to win our battles. Each person needed to do their job, and everything will fall into place after that."
SAN JOSE EARTHQUAKES DEFENDER NICK LIMA
On the team's overall focus after the red card:
"There was a lot of game afterwards and obviously it didn't go the way we wanted it to especially coming out of halftime. We wanted to play smart and put them away. We got the win, but we have to come back to the locker room and learn from that and not put ourselves in those situations."
On the communication and coverage after going down a man:
"We had to keep talking. We had to be aware of their runners, they were putting extra guys forward with the man advantage and we had to be quick to the second balls and win aerial attacks against a tough opponent that is very strong in the air."
On what he saw during his goal:
"A lot of guys marked at the back post and an open lane to shoot. We do that at practice every day, shooting from outside the box and today it paid off."
Images from this story
• Discuss this story on the Major League Soccer message board...


Major League Soccer Stories from May 5, 2019
The opinions expressed in this release are those of the organization issuing it, and do not necessarily reflect the thoughts or opinions of OurSports Central or its staff.
Other Recent San Jose Earthquakes Stories