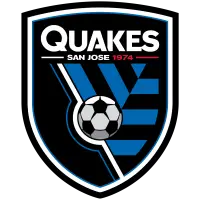 Quakes eliminated after forcing No. 1 seed to penalty kicks
November 22, 2020 - Major League Soccer (MLS) - San Jose Earthquakes News Release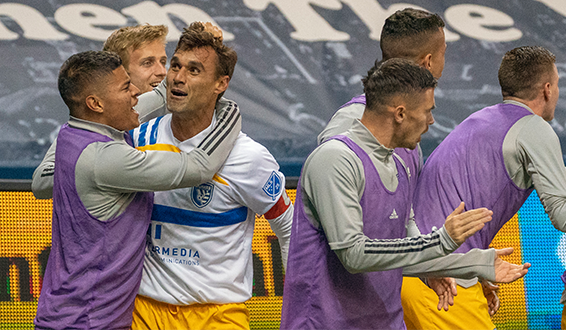 Chris Wondolowski of the San Jose Earthquakes celebrates his goal in the 97th minute to force overtime
(San Jose Earthquakes)
KANSAS CITY, Kan. - The San Jose Earthquakes were defeated by the No. 1 seed Sporting Kansas City on penalty kicks after a 3-3 draw in Round One of the Audi 2020 MLS Cup Playoffs. The Quakes have been eliminated from playoff contention with the defeat.
Sporting Kansas City took an early lead in the fourth minute. Johnny Russell sent an in-swinging corner kick into the box and Roger Espinoza's glancing header found the back of the net.
San Jose responded with an equalizer in the 22nd minute. Cristian Espinoza received a long ball on the right wing and played a low cross in front of goal. Carlos Fierro redirected the ball goalward, deflecting off a defender and bouncing in.
The Quakes scored a second goal 12 minutes later. Fierro played a through ball to Espinoza, who carried it down the flank and into the box. Espinoza's cut-back pass found Shea Salinas unmarked near the penalty spot and his low shot caromed off a defender and around goalkeeper Tim Melia.
Sporting pulled even less than two minutes into the second half on another corner kick, scored by Ilie Sanchez.
SKC believed they had secured the victory when Gianluca Busio scored in the 91st minute, but 37-year-old Chris Wondolowski scored the equalizer for San Jose seven minutes into stoppage time to force overtime. Espinoza crossed the ball into the box and Wondolowski's close-range header flew past Melia to level the score. Wondolowski's goal, scored with 96:49 on the clock, was the third-latest non-overtime goal in MLS playoff history and the second-latest lead-changing goal.
After a scoreless overtime, Sporting Kansas City prevailed 3-0 on penalty kicks.
GAME NOTES
The Earthquakes now hold a 12-13-1 overall postseason record, including a 4-10-0 record in true road matches.
Today's match marked the fifth in Quakes history to go to overtime and first since Nov. 15, 2003. It also marked the first time in Earthquakes history that a postseason match was decided by penalty kicks.
San Jose scored 3+ goals in a playoff match for the eighth time in club history and first time since Nov. 4, 2010. It also marked just the fourth time in club history the team has scored twice in the first half of a playoff match and first time since Nov. 23, 2003.
Cristian Espinoza was involved in all three goals, tallying two assists. He became the first player to record 2+ assists in a single playoff match for the Earthquakes since Brian Mullan on Nov. 23, 2003.
Chris Wondolowski scored his second career playoff goal. At 37 years and 299 days, he became the oldest player in Earthquakes history and sixth oldest player in MLS history to score in the postseason. His goal, scored with 96:49 on the clock, was the third-latest non-overtime goal in MLS playoff history and the second-latest lead-changing goal.
Carlos Fierro tallied one goal and one assist, both firsts of his MLS playoff career. He became the fifth player in club history to tally at least one goal and one assist in a playoff match, joining Bobby Convey, Landon Donovan (4), Jamil Walker and Manny Lagos.
Cade Cowell became the youngest player in club history to make a postseason appearance at 17 years and 40 days.
Andy Rios tallied an assist on Wondolowski's goal, the first assist of his MLS playoff career.
Audi 2020 MLS Cup Playoffs
Sporting KC 3 - 3 San Jose Earthquakes
Nov. 22, 2020 - Children's Mercy Park in Kansas City, Kan.
Man of the Match: Cristian Espinoza
Scoring Summary: SKC - Roger Espinoza (Johnny Russell) 4: SJ - Carlos Fierro (unassisted) 22; SJ - Shea Salinas (Cristian Espinoza, Carlos Fierro) 34; SKC - Ilie Sanchez (Gianluca Busio) 47; SKC - Gianluca Busio (Khiry Shelton, Gerso) 90+1; SJ - Chris Wondolowski (Cristian Espinoza, Andy Rios) 90+7.
Shootout Summary: SKC - Roger Espinoza (goal); SJ - Oswaldo Alanis (saved); SKC - Ilie Sanchez (goal); SJ - Jackson Yueill (saved); SKC - Khiry Shelton (goal); SJ - Cristian Espinoza (saved).
Misconduct Summary: SJ - Nick Lima (caution) 28; SKC - Winston Reid (caution) 39; SJ - Marcos Lopez (caution) 56; SKC - Amadou Dia (caution) 78; SKC - Roger Espinoza (caution) 79; SJ - Cristian Espinoza (caution) 85; SKC - Johnny Russell (caution) 86.
SAN JOSE EARTHQUAKES: JT Marcinkowski; Marcos Lopez (Tommy Thompson 102), Oswaldo Alanis, Florian Jungwirth, Nick Lima; Shea Salinas (Cade Cowell 87), Judson (Eric Calvillo 115), Jackson Yueill, Cristian Espinoza; Carlos Fierro (Andy Rios 87), Chris Wondolowski.
Substitutes not used: Tanner Beason, Luis Felipe, Siad Haji, Paul Marie, Daniel Vega.
SHOTS: 17, SHOTS ON GOAL: 8; SAVES: 5; FOULS: 17; CORNER KICKS: 6, OFFSIDES: 0.
SPORTING KC: Tim Melia; Roberto Punčec, Amadou Dia, Winston Reid, Jaylin Lindsey; Ilie Sanchez, Roger Espinoza (Felipe Hernandez 90+3), Gianluca Busio (Gadi Kinda 97); Johnny Russell, Khiry Shelton, Gerso Fernandes (Erik Hurtado 90+3).
Substitutes not used: Cameron Duke, Andreu Fontas, Luis Martins, John Pulskamp, Daniel Salloi, Graham Smith.
SHOTS: 14; SHOTS ON GOAL: 8; SAVES: 5; FOULS: 19; CORNER KICKS: 5, OFFSIDES: 0.
SAN JOSE EARTHQUAKES HEAD COACH MATIAS ALMEYDA
On tonight's performance and concluding the 2020 season:
"I'd like to congratulate Sporting Kansas City for making it through. What I told the players is what I feel: I felt like we gave our last drop of sweat until the last second. It was a positive year. We competed in two tournaments and in both of them we competed. For moments it seemed like San Jose was dead, but we came back. Today, we played against the first-place team in the conference. Throughout 120 minutes we played an excellent match. Football has these things in penalties; sometimes it serves in your favor and sometimes against you because of virtue from the opponent. In this case, with their goalkeeper. But I thank the players, the two years that I've had with them, and I thank them for the difficult year spent that was hard for every human. I feel like I have brought the best out of them and they've made me become a better coach."
On tying in the game in stoppage time:
"I felt calm. When the team you coach is producing chances in front of their goalkeeper when building up a play, we knew the tie was coming. We bounced back fast after conceding the first goal, the second goal, and we never stopped battling even after the third goal when there was only five minutes left. That's the love that I asked the players of, the passion of never giving up. To sweat until the last play. So, I can't be any more grateful towards all of them."
On what he'll remember about this team:
"First of all, I will remember the change in football in each and every one of them. For the first time in my football career, I had never gone through such difficult moments like the ones we had. I take that as a huge lesson. I will remember every training session and every time we prepared for a game. I will remember their intelligence. No doubt that I'll remember this year as a tragic one for the world. I am grateful for the league and for being able to coach and do what I love during a global pandemic."
On Shea Salinas and Chris Wondolowski:
"I enjoyed watching growth from the youngsters and I really enjoyed watching the veterans with a desire to keep growing, with excellent willingness, excellent delivery, and the path that we were looking to do in our sporting family. They've given their experience and other important things just like all of the other players. In the coming and going of players and coaches throughout my career, it is important to leave a human aspect that is superior by a large margin than the football part. I think we have achieved that thanks to them."
SAN JOSE EARTHQUAKES FORWARD CHRIS WONDOLOWSKI
On his reaction to the emotions of the game:
"Spent. I think that's the best emotion to describe it right now. We all left it out there for 120 minutes, and to be honest, I think both teams did. I think it was one of the cleanest and most physical playoff games. I thought both teams came to tackle but still out there playing the game. We're connecting passes. Do I wish we won? Yes, absolutely. I think that we did a lot of correct things and things that we're proud of, but in the long run, we didn't do enough."
On his first time playing in front of fans since March:
"It was reinvigorating. I know that these rules are in place, and I appreciate it because it's been a necessity during this pandemic. Again, I think that it's a necessity and something that we absolutely need to have. That being said, I think it was only a third full, half full I'm not sure the exact numbers, but it was amazing just to hear a crowd, hear an atmosphere. It motivates you. You can't help it. It's that extra drive, extra energy. To be honest, for myself, it doesn't matter if you're rooting for me or against me. I love a good atmosphere. I think that it just kind of hypes you up a little more."
On telling SKC head coach Peter Vermes he would return in 2021:
"I did talk to Peter [Vermes]. He asked if I was done. I don't think I'm done. You know I love it. I can't get enough of it. I have a passion. It's in me. It's in my blood. I want to continue to play. I don't have anything in mind yet. I haven't discussed any numbers, and I never want to be a burden on the Quakes. I want to make sure to see all the options, see what's out there. I think the Quakes are doing some amazing things, and I want to make sure that there are pieces that can be moved to continue to make this team grow, continue to be better. That's kind of my long-winded story right now. Yeah, I would love to play next year. That being said, there is absolutely nothing. I haven't even discussed it to be honest. I've never discussed a number even with Jesse [Fioranelli]. I know that the door is open, but I was fully committed to putting everything I have into this year, and I did. Now I need to re-evaluate. I just want to re-evaluate everything: my personal life, my life where I want to be, and also where the club is to see the direction that it's going."
SAN JOSE EARTHQUAKES MIDFIELDER SHEA SALINAS
On his reaction to the game:
"Yeah, it was wild. For me, it was an extremely emotional game just not knowing how many more of these opportunities I'm going to have. To be 2-2 when I was subbed off, I was excited for Cade [Cowell] because I know he can make a difference, but it was also really difficult because I now didn't have control. It was emotional, but for us to fight back, the cross from Cristian [Espinoza], and the goal from Wondo [Chris Wondolowski] there at the end was just insane. My heart still hurts a little bit from the game, but it was an awesome experience."
On his opinions of the team and its future:
"Man, we have so much character, this team. The season we've had, what we've gone through, and then this game, you're right, encompassed a lot of what happened this season: to go down a goal, then go up a goal, and then down another goal then to end with the PKs. I think this team has a ton of character. We grew a lot as players individually. I think every player is better now than they were at the beginning of the season, and I think we're also better men. We support each other. We encourage each other. We've developed something more than just becoming better soccer players, which has been cool. I want to continue growing. I want to continue to see this team grow and this group grow. I want to achieve more."
On his experience of playing in this game and how he'd describe it:
"It was intense. It was an intense game. I think there were a lot of fouls, a lot of stoppages. Man, I honestly thought when we were up 2-1 we were going to go win 4-1, but they came out and scored another quick corner kick goal. What I loved about our team is that we stayed composed, and we kept with our game plan. We kept possession. We went side-to-side. Even in the 95th minute, or whatever it was, we were still passing the ball around, found Cristian [Espinoza] wide who got a cross off for Wondo [Chris Wondolowski] to score. It was incredible composure and ability to stick to a game plan. It was a classic. It was intense. It's something I'll never forget. It's a lot like the Open Cup game we had here a few years ago where we lost in penalties as well. Just a game I'll never forget."
Images from this story
• Discuss this story on the Major League Soccer message board...


Major League Soccer Stories from November 22, 2020
The opinions expressed in this release are those of the organization issuing it, and do not necessarily reflect the thoughts or opinions of OurSports Central or its staff.