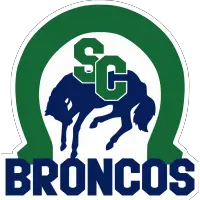 Prospect Profile: Reid Dyck
May 13, 2020 - Western Hockey League (WHL) - Swift Current Broncos News Release



When the Swift Current Broncos opened up their training camp on August 25 last year, there were plenty of fresh faces at the Innovation Credit Union iPlex. Reid Dyck was not one of them.
"I was at the Under-15 Nationals for baseball in Oshawa, Ontario with Team Manitoba," Dyck said.
The 45th overall pick by the Broncos in the 2019 WHL Bantam Draft, and just the second goalie drafted, arrived at training camp two days after it began, following Team Manitoba's bronze medal game defeat at the hands of Prince Edward Island.
Unsurprisingly, Dyck served as Team Manitoba's catcher and finished the event four RBI.
After landing in Winnipeg and loading up the family camper, Dyck made his way to Swift Current to jump on the ice for Tuesday's sessions.
"I was really excited," he said of his first WHL camp. "I didn't really know what to expect, other than it being a lot faster than I was used to. Playing against guys so much older than me was great. It was a challenge, but that's what made it fun."
Having already signed a Western Hockey League Standard Player Agreement months earlier, Dyck said he wanted to take in everything Swift Current had to offer to get a good indication of what his future home would look like.
Just three days after arriving in town, Dyck was then given the start in the Broncos first game of the exhibition schedule August 30 against Moose Jaw at the Brandt Centre in Regina.
"That was so much fun, it was a really high-scoring game," Dyck said. "There was an 04-born goalie at the other end of the ice too so it was a new experience for both of us. That was the biggest rink I had ever played in before, so it was a great experience."
The Broncos lineup for that game consisted of multiple prospects who could find themselves on the 2020-21 edition of the Broncos including Mathew Ward, Josh Davies, Caleb Wyrostok and Braeden Lewis. Swift Current won 8-5.
"It was cool going through that experience for the first time, just like those guys were," Dyck said. "It's good to build relationships with those guys because there's a good chance you're going to be teammates with them in the future."
Five days later Dyck played the back half of the Broncos 4-2 win against the Medicine Hat Tigers in Irvine before ending his pre-season tenure with 18 saves in a shootout loss to Regina at home.
In all, Dyck posted a 2-0-0-1 record with a 3.88 goals-against average and an .864 save percentage in 124 minutes of action.
"It was a lot of fun and everything I expected," Dyck said of his pre-season action. "There was a lot of good talent in those games and it was just so much fun."
Dyck then returned to Manitoba to prepare for his jump to the U18 level with the same program he was drafted from, the Pembina Valley Hawks.
Much like his WHL camp and pre-season experience, Dyck wasn't sure what to expect when making the jump from U15 to U18 as he hadn't played with or against players that much older than him before.
It didn't take him long to get comfortable as he posted a 27-save shutout in just his second start of the season.
"I felt like it was a good jump," Dyck said. "There was still a lot of talent in that league but I was just trying to develop as much as I could and use it as a development year."
Just three weeks into the season, Dyck once again got to throw on a Team Manitoba uniform, though this time for hockey as he joined them for the 2019 WHL Cup in Calgary.
Dyck started the first game before being pulled for Calgary Hitmen prospect Ethan Buenaventura.
"Unfortunately for my personal game it didn't go as well as I had hoped," he said. "But it was still a great experience to be there and play with all the best players from my age group in Western Canada."
Team Manitoba ultimately fell to Team Saskatchewan in the gold medal game.
Upon returning to the Hawks, Dyck and his goaltending partner Brock Moroz appeared to split the games pretty evenly throughout the season. Despite Dyck being a 2004-born goalie as opposed to Moroz being a 2002-born goalie, Dyck's numbers at the end of the season put him in the upper echelon of the MMHL.
"I was definitely happy with the way I played," Dyck said. "But I just wanted to win games for my team. My teammates did the best they could out in front of me and it was a good group effort all season long."
The Hawks finished second in the league with a 35-9-4 record while Dyck went 17-4-1 in 22 games. His GAA finished at 2.26 which put him third in the league while his .931 save percentage ranked second.
"He really developed over the course of the year," Broncos Director of Player Personnel Gary Aubin said. "When you're that big that young, it might take a guy a little bit longer to figure out angles and body position, but I think he's figured that all out now. He has the makings, with his size and his movement, to be a really good goalie in the WHL."
Once the playoffs began, Dyck was on the bench for the first three games until the Hawks lost 4-3 to the Winnipeg Bruins in game three of their opening round series. The coaches had told the goaltenders before the playoffs started that whoever was hot was going to play the next game, and Dyck wanted to make the most of the opportunity in game four.
"They gave Brock the first few starts and I was just ready to go whenever they needed me," he said.
A 38-save shutout in his first playoff game pushed the Hawks to the second round where they faced off against Braeden Lewis and the Southwest Cougars, who were also set to host the Western Regional Championships for the Telus Cup.
As if his regular season performance wasn't impressive enough, Dyck managed to bring his game to another level in the playoffs as he backstopped the Hawks to the brink of a league championship berth with a 45-save performance in a 4-3 game one win, before a 39-save effort in a 3-1 game two win.
It was then that the playoffs were cancelled due to the COVID-19 pandemic.
"Once I got the net I made sure I wanted to keep it," Dyck said. "Playoffs are a different animal; everyone's on edge, it's way more intense and every goal means a lot more."
Dyck says his brief playoff stint was probably the most confident he's ever felt in his game.
There were only two 16-year-old goalies who played more than 10 WHL games in 2019-20; Tyler Brennan in Prince George and Mason Dunsford in Tri-City. While full-time 16-year-old goalies are a bit of a rarity in the WHL, Dyck is determined to be one of the few in 20-21.
"One hundred per cent," he stated. "I'm going to work really hard this summer. I'll be coming to camp looking to make the team. I need to get stronger, quicker and smoother with my movements. I need to make sure I can track the play better because it's going to be a lot faster than I'm used to."
• Discuss this story on the Western Hockey League message board...


Western Hockey League Stories from May 13, 2020
The opinions expressed in this release are those of the organization issuing it, and do not necessarily reflect the thoughts or opinions of OurSports Central or its staff.
Other Recent Swift Current Broncos Stories