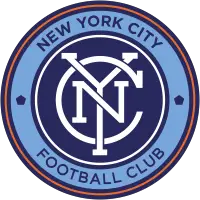 New York City FC Clipped by Atlanta United FC 2-1
August 11, 2019 - Major League Soccer (MLS) - New York City FC News Release



New York City FC traveled to Mercedes-Benz Stadium kicking off their two-game road campaign against Atlanta United.
This Eastern Conference Showdown was the first meeting between the two teams since the 2018 MLS Playoffs which ended in heartache for the Boys in Blue against the eventual champions.
As Dome Torrent was on a mission to earn his first win against Atlanta United, he made four changes to his Starting XI.
Maxi Moralez made his return to the midfield after taking time to rest. He was accompanied by Ebenezer Ofori, Anton Tinnerholm, and Taty Castellanos, who all also came back into the lineup.
Castellanos earned his way into the striker role after putting on an explosive performance against the Houston Dynamo, with his sixth and seventh goals of the season making for an exciting finale in the BX.
As City took to Mercedes-Benz Stadium, one of the toughest stadiums to play in MLS, they looked to put their best foot forward to draw another positive result on the road after slipping to defeat at RSL.
Atlanta United kicked off the match dominating on their home turf. They maintained possession and created back-to-back attempts early in the game for the 2018 MLS MVP Josef Martinez, but he was denied on multiple occasions by an in-form Sean Johnson.
However, the East's top-scorer would not be denied.
Pity Martinez took a free-kick short to Julian Gressel, who found the cross for Josef Martinez to head past Sean Johnson. Atlanta were on the board for the opening goal of the night in the 43rd minute, putting the home team up 1-0 before halftime.
In the second half, City came out of the locker room looking to find the equalizer and the road team eventually started to create opportunities, with Castellanos nearly putting his side on the board after a nice run in from the goal line.
Shortly after, captain Alex Ring and Moralez connected meaningfully outside of Atlanta's box, putting Brad Guzan on his toes, but unfortunately, City's attempt was shot too far to the right.
Although they weren't able to capitalize on the play, they were beginning to ask serious questions of the home side, but De Boer's side reversed the trend and doubled their lead on 63'.
The referee awarded the defending champions a penalty kick after a foul by Sands on Pity Martinez and his namesake Josef stepped up and beat Johnson from 12 yards.
As City was down by two, Torrent put Héber into the match in 66th minute in search of their first goal of the night.
Fifteen minutes later, Héber found it, scoring his tenth goal of the season, putting NYCFC back within striking distance after a nice assist from Castellanos.
As the clock ran down, City played to the final whistle in search for the equalizer, but Atlanta held firm to take it 2-1.
SUMMARY
Atlanta United FC 2 - 1 New York City FC
Sunday, August 11, 2019
2019 MLS Regular Season - Game 23
Attendance: 44,052
LINEUPS
Atlanta United FC: Brad Guzan; Franco Escobar, Miles Robinson, Leandro Gonzalez Pirez; Julian Gressel, Darlington Nagbe, Eric Remedi (78' Jeff Larentowicz), Justin Meram; Gonzalo Martinez, Josef Martinez, Ezequiel Barco (78' Emerson Hyndman)
SUBS UNUSED: Alec Kann, Michael Parkhurst, Florentin Pogba, Dion Pereira, Hector Villalba
New York City FC: Sean Johnson; Anton Tinnerholm, Maxime Chanot, James Sands (66' Héber), Alex Callens, Ronald Matarrita; Alex Ring, Ebenezer Ofori (70' Keaton Parks); Maxi Moralez, Valentin Castellanos, Alexandru Mitriță (75' Gary Mackay-Steven)
SUBS UNUSED: Brad Stuver, Sebastien Ibeagha, Eric Miller, Tony Rocha
SCORING SUMMARY
42' - ATL - Josef Martinez (Assisted by: Julian Gressel, Gonzalo Martinez)
63' - ATL - Josef Martinez (Penalty)
81' - NYC - Héber (Assisted by: Valentin Castellanos, Maxi Moralez)
DISCIPLINE SUMMARY
20' - ATL - Leandro Gonzalez Pirez (YC - Unsporting Behavior)
27' - NYC - James Sands (YC - Unsporting Behavior)
37' - NYC - Ronald Matarrita (YC - Unsporting Behavior)
59 - ATL - Gonzalo Martinez (YC - Unsporting Behavior)
69' - ATL - Julian Gressel (YC - Unsporting Behavior)
74' - NYC - Maxime Chanot (YC - Unsporting Behavior)
QUOTES
New York City FC Head Coach Doménec Torrent
On the fast pace of tonight's game...
"It was very fast because we made mistakes in the first half. I said to my players in the second half, 'If you play every single ball long ball - forget about it. It's impossible to play.' In the build-up, we play 100 percent. I've said many times, 'Look what happened, play long ball, recover the ball, we defend deep. They have specials in between the lines.' Before the game I said to you, 'I don't like when we have to play these kind of games, box-to-box,' and we played in the first half box-to-box. The reason why, because the build up all the time was long ball, long ball, long ball. I said, 'No, long ball is - we practice long balls to surprise them.' In the second half, we played short and we played much better."
On Julian Gressel's play from the right side...
"They start to play great in the first minutes. They could've scored three goals in that way. I said to (Ronald) Matarrita, 'You have to be truly close to him, because we practice that." One player goes above the crosses, and four players focus in the crosses. Because, they are playing that way, and we knew that. I accept sometimes, you play here, it's not easy."
On his team's strategy tonight...
"I say many times, maybe the people don't believe me, 'If you play long balls, if you play faster, how fast the ball goes the faster the ball comes back." That's the reason why I wanted to take control, and you have to take risks - absolutely, and you can make mistakes. I make mistakes every single day, and they can make mistakes. But they have to take the ball and pass the ball and play short, because we played the last two months that way. I don't know the reason why in the first half, we played every single ball long, long, long. That is the reason why when you lose the ball, they recover the ball and the space is so, so big."
New York City FC Midfielder Alex Ring
On New York City's ball movement...
"We started (moving the ball) after they were 2-0 up, before that we just played long balls and came back fast."
On teams handling New York City's style of play...
"Teams catch up on it and start playing man-to-man, and we just have to find solutions because at the moment, we are having problems with that. Now, we have a week until Cincinnati, and we will probably work on it in training."
On what New York City can learn from this match...
"If we want to be a top team, we have to play better. It is that simple. I think, in the first 50/60 minutes we lacked basic things, most of all courage. You can't win games if you don't play with your heart, with courage. There is a lot to think about after this game."
• Discuss this story on the Major League Soccer message board...


Major League Soccer Stories from August 11, 2019
The opinions expressed in this release are those of the organization issuing it, and do not necessarily reflect the thoughts or opinions of OurSports Central or its staff.