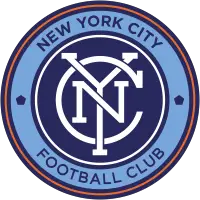 New York City FC Announces Updated Schedule for the 2017 MLS Regular
January 31, 2017 - Major League Soccer (MLS) - New York City FC News Release



New York City FC have updated their schedule for the 2017 MLS Regular Season.
The updates include start times for various home games as well as a date change for the NYCFC away game against LA Galaxy, which is moving from Sunday, August 13 to Saturday, August 12 at 10:30 p.m. ET. The date for the home game against New England Revolution has also changed from Saturday, August 19 to Sunday, August 20 at 6 p.m.
Download the updated printable schedule here .
Sync the schedule to your phone calendar here .
For City Members, an exclusive single game ticket pre-sale with savings up to 30% will take place tomorrow, February 1 at 10 a.m.
Additionally, on Thursday, February 2, at 10 a.m., Mastercard cardholders will receive an opportunity to purchase tickets before they go on sale to the general public by visiting NYCFC.com or Ticketmaster.com and using their Mastercard.
General public individual match tickets will go on sale this Friday, February 3 at 10 a.m. To purchase, visit NYCFC.com or Ticketmaster.com.
Fans interested in attending multiple matches can receive extra savings and benefits by purchasing a 5-match plan or becoming a City Member. To enroll in either program, call 855-77-NYCFC or visit NYCFC.com.
Listed below is the full 2017 regular season schedule. The schedule updates have been highlighted.
# DATE OPPONENT VENUE TIME (ET)
1 Sunday, Mar 5 (ESPN) Orlando Orlando 5:00 PM
2 Sunday, Mar 12 (YES) DC New York 2:00 PM
3 Saturday, Mar 18 Montreal New York 2:00 PM
4 Saturday, Apr 1 San Jose New York 2:00 PM
5 Saturday, Apr 8 (UniMas) DC DC 4:00 PM
6 Friday, Apr 14 (ESPN) Philadelphia Philadelphia 7:00 PM
7 Sunday, Apr 23 (FS1) Orlando New York 1:30 PM
8 Saturday, Apr 29 Columbus Columbus 7:30 PM
9 Sunday, May 7 (UNIV) Atlanta New York 4:00 PM
10 Sunday, May 14 (FS1) Dallas Dallas 8:00 PM
11 Wednesday, May 17 Real Salt Lake Real Salt Lake 9:00 PM
12 Sunday, May 21 (FS1) Orlando Orlando 7:00 PM
13 Sunday, May 28 (ESPN) Atlanta Atlanta 5:00 PM
14 Wednesday, May 31 New England New York 7:30 PM
15 Saturday, Jun 3 Philadelphia New York 1:00 PM
16 Saturday, Jun 17 (ESPN) Seattle New York 1:00 PM
17 Saturday, Jun 24 (FOX) New York Redbulls RBNY 1:30 PM
18 Thursday, Jun 29 Minnesota New York 7:30 PM
19 Wednesday, Jul 5 Vancouver Vancouver TBD
20 Wednesday, Jul 19 Toronto New York 7:30 PM
21 Saturday, Jul 22 Chicago New York 2:00 PM
22 Sunday, Jul 30 (ESPN, TSN) Toronto Toronto 2:00 PM
23 Sunday, Aug 6 (FS1) New York Redbulls New York 6:00 PM
24 Saturday, Aug 12 (FS1) LA Galaxy Los Angeles 10:30 PM
25 Sunday, Aug 20 New England New York 6:00 PM
26 Friday, Aug 25 (ESPN) New York Redbulls RBNY 7:00 PM
27 Wednesday, Sep 6 Kansas City New York 7:30 PM
28 Saturday, Sep 9 Portland New York 5:30 PM
29 Saturday, Sep 16 Colorado Colorado 9:00 PM
30 Saturday, Sep 23 (UniMas) Houston New York 4:00 PM
31 Wednesday, Sep 27 Montreal Montreal TBD
32 Saturday, Sep 30 Chicago Chicago 8:30 PM
33 Sunday, Oct 15 New England New England 3:00 PM
34 Sunday, Oct 22 Columbus New York 4:00 PM
About New York City FC
New York City Football Club is an American professional soccer team based in New York City that competes in Major League Soccer. It was announced as the league's twentieth franchise on May 21, 2013 and is the first and only Major League Soccer Club located within the five boroughs of New York City. Majority owned by City Football Group, which includes Manchester City FC, Melbourne City FC and Yokohama F. Marinos, New York City FC plays its home games at Yankee Stadium, which is also home to minority owner, the New York Yankees.
New York City FC is embarking on its third season in 2017 and has former US National Team captain Claudio Reyna as its Sporting Director and former World Cup winner
• Discuss this story on the Major League Soccer message board...


Major League Soccer Stories from January 31, 2017
The opinions expressed in this release are those of the organization issuing it, and do not necessarily reflect the thoughts or opinions of OurSports Central or its staff.