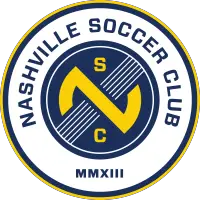 Mukhtar's Championship-Winning Goal Begins Journey to Nashville SC
August 28, 2019 - United Soccer League Championship (USL) - Nashville SC News Release



NASHVILLE - Hany Mukhtar's life changed the second the ball hit the back of the net in the U-19 UEFA European Championships Final in 2014. Nashville Soccer Club's newest-acquisition and first-ever Designated Player was the lone goalscorer in that Final as Germany beat Portugal 1-0 to take home the silverware and boost Mukhtar to global prominence.
That experience shaped Mukhtar. He still calls it the best experience he had playing with the Germany youth national team. In fact, he still keeps up with members of that U-19 team, following their careers around the world.
"All of my teammates are now professional footballers," Mukhtar said. "Everyone has a different story, so it's nice to follow them. I have two or three friends [from that team] that I am still close to."
Now Mukhtar arrives in the Music City as Nashville SC's most prominent signing to date after almost a decade of playing professional soccer in Europe. It will be a drastic life change for the German born to a Sudanese father and German mother. His arrival in Nashville in coordination with the announcement of his signing was the first time he had ever been to the U.S.
"America is such a big country," said Mukhtar. "I had heard about Tennessee. Nashville? Not that much. I had heard that country music is home here."
Now Mukhtar has the chance to learn about the country and city he'll call home for the foreseeable future. While he'll leave the food recommendations to his future teammates, he has already started to tune into MLS matches. Just the other night, Mukhtar caught the rivalry match between LA Galaxy and LAFC that finished in a 3-3 draw.
"Now [MLS] it's DAZN in Germany so I watch some games," said Mukhtar. "I watched LA Galaxy against LAFC. It's great. When I first heard of the interest from Nashville, I was looking more and more to MLS. It's getting bigger and bigger and it's really nice to see."
One countryman he'll possibly have the chance to play against in MLS is Chicago Fire's Bastian Schweinsteiger. Schweinsteiger, a FIFA World Cup winner with Germany in 2014 and Bayern Munich legend, was someone that Mukhtar watched play and cheered for while growing up in Berlin. Mukhtar knows that to get to the level of a player like Schweinsteiger, it'll take small steps.
"I learned in my career in the past that you have to make small steps in your life," said Mukhtar. "The first steps I have are to play in preseason with Nashville and stay fit. Learn everything about the league, the players, my teammates. From there I will have new goals. I am pretty sure I will have a great future here in America."
Mukhtar can now focus on the small steps with the leap having already been taken, signing with a club playing in an unfamiliar league on an unfamiliar continent. It wasn't the only leap taken in the deal. Nashville SC leapt into the international pool, pulling off a major global transfer and acquiring its first DP.
Not even Mukhtar could have imagined that his championship-winning tally could have led him to six trophies with four clubs, becoming one of the best young players in Denmark and now to America to become one of an MLS expansion club's premier signings. It has been a winding journey filled with plenty of goals and assists over five years, and Mukhtar is just getting started.
• Discuss this story on the United Soccer League Championship message board...


United Soccer League Championship Stories from August 28, 2019
The opinions expressed in this release are those of the organization issuing it, and do not necessarily reflect the thoughts or opinions of OurSports Central or its staff.