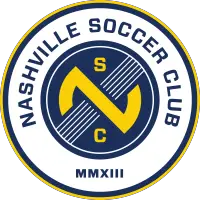 Akinyode's Match-Winning Goal Brings Back Memories of Mensah's Iconic 2018 Winner
August 28, 2019 - United Soccer League Championship (USL) - Nashville SC News Release



NASHVILLE - In stoppage time of Saturday night's match against Charleston Battery, Bolu Akinyode turned on a ball and rifled a shot off his left foot. It took a deflection and flew into the far side of the net, giving Nashville SC a 2-1 win and sending First Tennessee Park into a frenzy.
As the players celebrated in front of the supporters section, Ropapa Mensah couldn't help but think back to his heroic moment against North Carolina FC on June 16, 2018.
"We did it again," Mensah said. "Even if it's not me, it's my friend. We had fun together and cheered him on."
In 2018, Mensah broke a 0-0 deadlock against North Carolina with the last kick of the match. Bradley Bourgeois headed a free kick across the face of goal where Mensah found it and poked home the winning goal. The packed crowd at First Tennessee Park erupted, and the goal became a signature moment for the club in its inaugural season.
Mensah still remembers the moment fondly.
"I think it is still the best moment in my life," he said. "I was so happy, and I hope it's still the best in NSC history."
Akinyode was also on the pitch when Mensah lit up First Tennessee Park, and he remembered the boost it gave to a new side in its first season together.
"It gives you this confidence that it's always going to happen," Akinyode said of Mensah's winner. "We're always going to score whenever we are home going in front of our supporters. It brings this extra bit of belief, this extra drive in the last four or five minutes when we're tied, guys remember that sort of moment and you see guys that don't normally go forward giving an extra little effort and things like that. I think it just puts a platform and puts in the back of our heads that we can do this no matter what time is on the clock."
Fast forward to last Saturday night, and Nashville SC had pulled off the improbable yet again. This time, however, there could potentially be some more significant ramifications for the rest of the season. While Mensah's 2018 winner helped establish Nashville SC's strong home field advantage, Akinyode's winner last weekend could help solidify Nashville's chances of finishing in the top four in the Eastern Conference and hosting a home playoff match.
"It was slightly earlier," Smith said. "I think at that stage of the season if I recollect well enough, we're trying to still build some sort of quality of play at home, that sort of fortress-type mentality if you like. You're just trying to make your home feel as strong as you can, and I know at that point we were desperately trying to make sure we maintained a decent spot in the standings. At that point, you can't really relate it to playoffs. Is it a must-win game? Whereas the weekend's game was slightly different. Now we're only eight games out. We'd lost midweek against a side that of course is top of the table now in strange circumstances again. You look around the league afterwards, Tampa did their job and I think Louisville beat Carolina and Pittsburgh did their job again, all of the teams you would have imagined got results, so if you don't win, all of a sudden it can be quite detrimental."
Because of all the circumstances surrounding Akinyode's winner, the impact could reach far more than just the standings. Minutes before his deflected shot, Lebo Moloto appeared to have scored the winning goal, but it was called back after the side judge indicated the goal was offside. That type of elation crashing down can be incredibly deflating, but the Boys in Gold did not let it stop them on Saturday night.
"I think you're getting that anxious world," Smith said. "That's why the goal that was disallowed on the 90 minute mark could have been so deflating for the group. We'd been striving since the 60th minute or 62nd minute when we scored. It was around that hour mark, so for 30 minutes you're looking for a goal, and when it finally comes and it's disallowed it can be quite difficult to take, so there's an anxious feel. It's a long time since I was in that position, but often feel like the moment's pass you by, what more have we got to do, what more can I do? You get frustrated. Maybe your delivery's not quite good enough. You're not going to get many moments. You're hoping and praying you get one more chance, and in that final three minutes, you might just get an off-chance, which is what it was. You're committing more bodies forward. You're throwing caution to the wind to try to get that last effort at goal, and in the end it really was just a snapshot that we had a bit of fortune with. And you've got to have a little bit of luck as well, of course."
The win over Charleston capped off an otherwise tough week on a high note. The club had just lost to New York Red Bulls II a few days prior on a night in which it had the chance to claim first place in the Eastern Conference. However, with a crucial three points secured thanks to Akinyode's goal, Smith thinks it can jumpstart a strong finish to a strong season.
"I think when we look back, and it depends obviously what we achieve, but I certainly feel as though there's been a bit of a shift in mentality," Smith said. "I'm not saying the guys weren't in a good place anyway, but I think when you win games that late and you overcome the odds because you are a goal down, you have a goal taken back, and you still win, I think players start to look at it and go, 'you know what, maybe there is something more in this for us this season than just being in the playoffs.' That's exactly what we needed. We needed a victory. The way it came about hopefully gives the lads a little bit of a shot in the arm and a tad more inspiration."
• Discuss this story on the United Soccer League Championship message board...


United Soccer League Championship Stories from August 28, 2019
The opinions expressed in this release are those of the organization issuing it, and do not necessarily reflect the thoughts or opinions of OurSports Central or its staff.