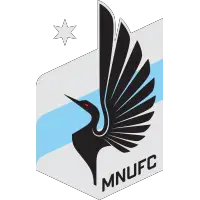 MNUFC Lose 4-1 to Sporting Kansas City
September 18, 2022 - Major League Soccer (MLS) - Minnesota United FC News Release



KANSAS CITY, Kansas -- While not exactly the result they were looking for, the Loons were hoping Tuesday's 1-1 draw with LAFC would be the key to getting their regular season back on track, putting the brakes on a recent three-game skid and building some momentum for the final games of the regular season and run-up to the playoffs. And, with the Western Conference playoffs seedings yet to be set and home-field advantage still a possibility, the boys needed to keep trending back upwards on a season that has had its share of twists and turns. Unfortunately, Saturday night in Kansas City, that road to the playoffs got a whole lot bumpier, as Sporting overwhelmed the Loons with a deflating 4-1 loss.
Sporting showed signs of attack right away, but goalkeeper Dayne St. Clair came up with a massive save in the 6th minute, keeping the home side off the scoresheet. However, a misfortunate ricochet off Michael Boxall opened the scoring for SKC in the 31st minute and misfortune turned into a scoring melee. Two more goals followed in the first half from Kansas City, both by newcomers Erik Thommy and William Agada. The Loons came out in the second half showing signs of life, getting numbers forward and creating chances. A Mender Garcia karate kick goal in the 57th minute - his first in MLS and for MNUFC - looked like it could help turn the tide for Minnesota but Agada put any dream of a comeback to bed in the 81st minute with the striker's second goal of the game.
Minnesota will look to reset physically and mentally with the international break this week. They will return on Saturday, October 1 at San Jose Earthquakes looking for their regular season prize: securing a home playoff game at Allianz Field. Kickoff at San Jose is set for 9:00 p.m. CT and will be broadcast on Bally Sports North EXTRA and The CW - Twin Cities, with local radio broadcast on 1500 ESPN.
BELL BANK MAN OF THE MATCH: Forward Mender Garcia
LINEUPS:
Minnesota United XI: GK Dayne St. Clair; D Kemar Lawrence, Brent Kallman, Michael Boxall, DJ Taylor; M Joseph Rosales, Wil Trapp (c), Kervin Arriaga; F Franco Fragapane, Luis Amarilla, Mender Garcia
Bench: GK Eric Dick, Fred Emmings; D Alan Benitez, Oniel Fisher, Nabi Kibunguchy; M Jonathan Gonzalez, Niko Hansen; F Abu Danladi
Sporting Kansas City XI: GK John Pulskamp; D Ben Sweat, Andreu Fontas, Nicolas Isimat, Kayden Pierre; M Roger Espinoza, Erik Thommy, Remi Walter; Johnny Russell (c), Daniel Salloi, William Agada
Bench: GK Kendall McIntosh; D Robert Voloder, Kortne Ford, Logan Ndenbe; M Uri Rosell, Felipe Hernandez, Cam Duke; F Khiry Shelton, Marinos Tzionis
UP NEXT:
MINNESOTA UNITED FC @ SAN JOSE EARTHQUAKES
PayPal Park | San Jose, California
10.01.2022 | MLS 2022 Regular Season | Week 33
9:00 pm CT (BSN/CW Twin Cities/1500 ESPN)
MINNESOTA UNITED POST GAME QUOTE SHEET
HEAD COACH ADRIAN HEATH
On the reasoning behind a slow start against Sporting Kansas City...
"Lack of energy. Back foot. Went backwards every opportunity that we had. Completely gave all of the initiative to them [Sporting Kansas City]. Second half, there were a few choice words at halftime and people get out of their own comfort zone, get the opposition out of theirs, then you can actually make a game of it. You actually look like you can play football. First half, we were awful. Poor performances, poor energy levels. Second half was a bit better."
On the possible reason behind Minnesota United's performance...
"If I knew, I would obviously have done something about it. We've got a few players who are not playing particularly well at this moment in time. It seems to me every time we make a mistake, it ends up in the back of the net. As I've said before, if you concede three, four goals, you're not winning many games."
On Mender Garcia's goal...
"I thought it was a really good finish. He worked really, really hard. Probably deserved his goal with his energy. Did a job that he probably doesn't like so much. Maybe he could have had a couple more as two or three had gone across the face of the goal. I would have expected Luis [Amarilla] or Mender [Garcia] to be on the end of them. Now that takes you to 3-2. That makes it, changes the game. But we don't. Then Kervin [Arriaga] should just clear his lines, play it to the front man, decides he's going to dribble it out in front of our penalty area, and then the game's over."
On using the coming week to get healthy and redirect the team...
"Yeah. We've got too many players who are not 100% fit. That's pretty evident. I think we need to regroup, recalibrate what we think we're about and when we're at our best. Start emphasizing that and then hopefully get everybody in the right frame of mind for San Jose [Earthquakes] in a couple of weeks."
On Brent Kallman and Kemar Lawrence's injuries...
"Brent's [Kallman] had a sore foot for a while and Kemar [Lawrence] has not been 100% for two or three weeks. We can't push them [too hard in training for a fear of breaking down because at this moment in time, we're down to bare bones. We really are. At certain positions, we can ill afford to have anymore injuries."
On giving up an own goal and how it affects the rest of the game...
"I don't think it's unlucky. I think it's bad playing. We let the player [Johnny Russell] come in the box too easily. I thought Dayne [St. Clair] should have done better with it and from the distance he is, he tipped Boxy [Michael Boxall] and Boxy can't react quick enough. We know Dayne well enough. I expect him to hold onto that or certainly push it out."
DEFENDER DJ TAYLOR
On what was lacking in the first half...
"We were all over the place, individually. Individually, we weren't doing enough whether that was running, winning our one-v-one battles. That's the majority of the thing. Guys were kind of just reacting to things instead of being proactive with it. Just individually, and collectively, we weren't doing enough."
On why the performance with playoffs on the line...
"No, I don't know what it really was. Away from home, we've been pretty good so I think maybe it's a buildup of games, whatever it is but it's not an excuse for us. The standard that we keep , we always want to be as good as we were in the second half to start the first half. Not really sure what it was but it was a good reaction from the team in the second half."
On what was lacking in the defensive shape and not clearing lines...
"It's something, defensively, we're struggling with today. Before, the last couple games, we've been doing well with it. Today, like I said, I don't know if guys were off, or individually, weren't doing enough. You could kind of tell the fatigue, guys winning the ball struggling to clear it out is usually because they're tired and they mess up. At that point it's about mentality and concentration and us looking at ourselves individually and making sure that at those plays, critical moments, we have to clear the ball or make a tackle or woke on shape, that we're doing it together. Kind of like we did in the second half."
On needing the international break to regroup and get healthy...
"Yeah, it's huge for the team right now. It's always tough being in that spot where you're almost in the playoffs but not not there yet. It'll be good rest for us if we get some days off but also, after we rest, we have to get right back in it and we gotta be super sharp in training and get ourselves back together for this final push. We still have to win the rest of the games the rest of the season to put us in a good spot."
On Mender Garcia's goal...
"Super happy for him. I think he's had a couple chances before in the last couple games so it was really good for him to finally get his goal in MLS and open his book here with MNUFC. Super happy for him and I hope he continues to keep that and being lethal, we need him to be."
On how giving up the Own Goal first changed the game...
"It's tough. When you dig a hole for yourself away, especially away, it's tough. Especially in the MLS, away, it's tough to play away and get points. When you let in the first goal away, it's tough mentally for a team. It's way better to go to half zero-zero and hopefully you get your goal or two and keep winning. It definitely digs a hole when you get scored on first in away games. But that's what we did today, we didn't do enough in the first half so we dug ourselves a bigger hole so we're just chasing the game second half."
On what the team has to do in the next two games...
"Win. We definitely just need a win. We need to pull ourselves together, look at ourselves individually first and then collectively look at us. Look at the things that went wrong , look at the things when things were good. We've been playing good this past season, whether that's away or home. Sharpen up on those things and take this time to rest, mentally refresh and get back at it. We're still one of the best teams in the league, for sure, and that's the way we want to finish."
• Discuss this story on the Major League Soccer message board...


Major League Soccer Stories from September 18, 2022
The opinions expressed in this release are those of the organization issuing it, and do not necessarily reflect the thoughts or opinions of OurSports Central or its staff.