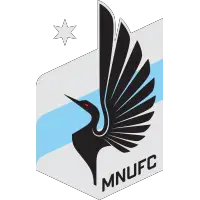 MNUFC Falls 2-0 to Dynamo on the Road
September 12, 2019 - Major League Soccer (MLS) - Minnesota United FC News Release



HOUSTON, Tex. - In what was a frustrating night in the sizzling heat of Houston, missed opportunities, disputable refereeing decisions and general frustration were the story of the night as Minnesota United dropped a 2-0 game at the hands of the Houston Dynamo. With multiple players returning from their respective national teams less than 24 hours before kickoff, fatigue played a key role in a disappointing MNUFC performance. Conceding two goals in the first half, the Loons were unable to overturn the deficit in what was a well-contested second half. Ethan Finlay had multiple chances to grab late goals and make the final moments of the game interesting but defensive heroics and a questionable video review stopped Minnesota from getting anything out of a night to forget in Houston.
"We never started the first half, never got out of a jog," said Head Coach Adrian Heath. "[I] thought we were second best in every aspect of the game. For me, it's a sharp reminder that we still have to get better. As I said at the end of the game, we have one of these 45 minutes still in us, and we can't carry on doing it. If we want to be where we want to be with the level of talent that we have, we can't have a 45 minutes where we basically go two down and then I come in and go crazy at halftime and then we get a response and then we look like we might get something out of it."
With Darwin Quintero missing due to injury, Adrian Heath chose to deploy a 4-3-3 rather than the 4-2-3-1 he has commonly used throughout this season. Taking the place of the missing Quintero, Hassani Dotson came into the MNUFC midfield alongside Jan Gregus and Osvaldo Alonso. The trio of Dotson, Gregus and Mason Toye had all seen international action just days prior but all made the turnaround to face the Houston Dynamo.
In what was a slow and methodical first half, the game presented few opportunities for either side. While MNUFC controlled much of the game throughout the first 20 minutes, it was the Houston Dynamo who had the first clear-cut chance of the game. In the 21st minute, former Loon Christian Ramirez played a give-and-go with Houston's Mauro Manotas that sent him through on Vito Mannone's net. Recovering just in time was Romain Metanire, who did just enough to put off Ramirez as the striker's snap shot flew tamely into the hands of Mannone.
After Ramirez's early chance, both sides began to sit back and take turns in possession, content to save their legs with the temperature reaching the mid-80s. The Loons looked to get the ball out wide to their fullbacks and swing crosses in. Ethan Finlay and Mason Toye made multiple darting runs to get onto the end of Metanire and Gasper's service but came up just short each time. Houston - who were without speedy wingers Alberth Elis and Romell Quioto - sent probing direct balls over the top of the Minnesota defense looking for the runs of Manotas and Ramirez.
It was Mauro Manotas, one of Houston's most dangerous player in the first half, who ultimately struck first for the home side in the 37th minute. When a Tomas Martinez cross flew all the way over the Minnesota penalty area, Houston's DaMarcus Beasley made a trailing run to catch up to the ball. Shifting onto his favored left foot, Beasley whipped in a low cross that was fired home first-time with authority by Manotas to give Houston a 1-0 lead.
Minnesota's best chance of the half came through Thomás Chacón in the 43rd minute - who made his first MLS start for the Loons. Making a bursting run forward, Chase Gasper pulled the ball back for Chacón on the edge of the penalty area. Without hesitation, Chacón cut onto his right foot and sent a curling shot that flew directly at Houston's goalkeeper Joe Willis.
Brimming with confidence after their first goal, the Dynamo doubled their lead just before halftime, this time through Ramirez. Looking dangerous again, Manotas played provider this time as he slid a pass through the legs of Ike Opara in the 45th minute, sending Ramirez away on goal. Making no mistake, Ramirez deftly lifted the ball over the outstretched arms of Vito Mannone to get on the scoresheet against his former club.
Heading to the locker room down two goals and not creating many opportunities, Adrian Heath brought on Robin Lod and Abu Danladi for Mason Toye and Hassani Dotson. Heath opted to switch to MNUFC's favored 4-2-3-1 as Thomas Chacon slid to more of a central role just behind Abu Danladi as Robin Lod took his place out wide.
The change in formation helped the Loons to regain a foothold in the game as they looked more dangerous in the first 15 minutes of the second half. Ike Opara will have felt hard done as he felt he was dragged down in Houston's penalty area as the defender went to challenge for a header from a Jan Gregus corner kick in the 59th minute. Denied a penalty kick, MNUFC almost responded seconds later when Chase Gasper sent a lovely cross that found an unmarked Ethan Finlay at the Houston back post. Taking the cross first time, Finlay's side-footed volley was denied by a quick reaction save from Joe Willis.
While Opara's protests were denied by the referee, Adrian Heath wasn't interested in the calls that didn't go his side's way. "We created opportunities that I know we're capable of," said Heath. "But it's with people making forward runs, with people actually being positive and trying to make things out rather than just sitting and waiting for things to happen. That's what we were in the first half. Everything was reactive, not proactive."
Driven by finally getting a good look at goal, MNUFC controlled swaths of possession as the second half progressed and Houston began to sit back, holding on to its 2-0 lead. Abu Danladi was the second Loon to come close to grabbing a Minnesotan goal, this time in the 68th minute. Breaking through the pressure of Houston's midfield, Chase Gasper sent a through ball that found the run of Abu Danladi. Yards clear past Houston's defense, Danladi took his time but fired his shot directly at Willis only to be ruled offside moments later.
The final 20 minutes of the game spelled more irritation for Minnesota United as chance after chance was repelled by the Houston defense. Ethan Finlay looked the most threatening for the visitors as his hard running and work ethic kept the Minnesota offense going throughout the night. Finlay was unfortunate not to score more than one goal through two late chances for the industrious midfielder.
In the 81st minute, second half substitute Angelo Rodriguez won the ball as he pressured a Houston back pass. Quickly shifting his body, Rodriguez lofted a cross that found the head of Finlay who steered his effort directly on target. If it wasn't for a last-ditch goal line clearance by Houston's Alejandro Fuenmayor, the ball would've trickled into the net to give the Loons a late lifeline.
Finlay did find the back of the net in the 89th minute during the waning moments of the game but his strike was ruled out upon further review. After the Dynamo failed to effectively clear a Romain Metanire cross, the ball fell to the feet of Finlay who rocketed a well-placed volley past Joe Willis in what looked like a goal that would set the game up for a dramatic finish. After review, it was ruled that Angelo Rodriguez - who was in an offside position - obstructed the view of Houston's goalkeeper, Joe Willis canceling out Finlay's strike. On a tough night in which the Loons were unable to get on the scoresheet in the muggy heat of Houston, the final whistle ended in a 2-0 loss for Minnesota United.
"It's a real disappointment," said Heath. "But I know that what we put in at LA - hard work, discipline, willingness to fight, willing to have the individual battle against your guy. And we were second best in nearly all of them the first half. When you're losing individual battles, collectively you lose as well. The pressure starts at the first whistle and you have to be ready to play. Tonight we weren't. It's another sharp reminder that we're not where we want to be and we're not good enough."
Minnesota United are back at Allianz Field in its first MLS home game in almost a month as it takes on Real Salt Lake on Sunday, September 15 in a Western Conference showdown of two teams separated by mere points. Kickoff for that game is scheduled for 4:30 p.m. CT with pregame coverage beginning at 4:00 p.m. on FOX Sports North+, streaming on FOX Sports GO and on MNUFC Radio on SKOR North.
Lineups
Minnesota United FC Starting XI: GK Vito Mannone; D Romain Metanire, Ike Opara, Michael Boxall, Chase Gasper; M Jan Gregus, Osvaldo Alonso, Ethan Finlay, Hassani Dotson (Robin Lod HT), Thomás Chacón (Angelo Rodriguez 61'); F Mason Toye (Abu Danladi HT)
MIN Unused Subs: GK Dayne St. Clair; D Brent Kallman, Wilfried Moimbe-Tahrat; M Lawrence Olum
Houston Dynamo Starting XI: GK Joe Willis; D Adam Lundkvist, Alejandro Fuenmayor, DaMarcus Beasley, Kevin Garcia; M Boniek Garcia (Juan Cabezas 56' (Niko Hansen 75')), Christian Ramirez (Memo Rodriguez 61'), Matias Vera, Tommy McNamara, Tomas Martinez; F Mauro Manotas
HOU Unused Subs: GK Michael Nelson; D Sam Junqua; M Marlon Hairston; Ronaldo Pena
Game Events
Goals
37' - Manotas (Beasley) - HOU
44' - Ramirez (Manotas) - HOU
Discipline
26' - Gasper (YC) - MIN
82' - Rodriguez (YC) - HOU
MNUFC QUOTE SHEET
MNUFC HEAD COACH ADRIAN HEATH
On the outcome of the game...
"We never started the first half. We were second best in every aspect of the game and it's a short reminder that we still have to get better at the end of the game. We have one of these 45 minutes still in us and we can't carry on doing it. If we want to be where we want to be, with the level of talent that we have, we can't have 45 minutes where we basically go down 2-0 and then I come in, I go crazy at halftime and then we get a response and we look like we might get something out of it. But you're not going to keep coming back from being down 2-0 on the road, especially. In the second half, it's easy to be that guy in the second half. I played 500-600 league games, I know what it's like where you just play like there is no pressure on you. The pressure starts on the first whistle and you half to be ready to play and tonight we weren't and it's another short reminder that we're not where we want to be and we're not good enough."
On coming off their best win of the season LA and how surprising this loss was...
"Well that's a disappointment. But I know that what we put in at LA was hard work, discipline, willingness to fight, willingness to win every individual battle. You against your guy that you're playing against. We were second best in nearly all of them in the first half and when you lose the individual battles invariably, collectively, you lose as well."
On looking better in the second half and Finley being unlucky with the overturned goal...
"We created opportunities that I know were capable of doing, its people being positive and trying to make things happen rather than just sitting and waiting to for things to happen. Everything was reactive and not proactive."
On the formation tweak at halftime...
"We went back to a more familiar shape for us and it certainly looked better but I thought the individual was the better as well and that was why."
MNUFC Midfielder Ethan Finlay
On initial thoughts on the game...
"Yeah, slow start. Disappointing start for us. Disappointing first 45 minutes and uncharacteristic. It's all I can say. Very disappointed group in there, individually. I can only speak for myself. It just wasn't good enough-came off personally flat and I think there was a handful of guys that you know had the same thing. Maybe some heavy legs but we are not going to sit here and use excuses. It was disappointing first half. Obviously a good response, easy to respond in the game when you are down two-nothing the game just kind of naturally opens up but I thought the effort and some of the changes we made in the second half were positive and a disappointing night for us."
On his goal that was ruled out by the VAR...
"Yeah, the rule is clear and obvious and it was 22 guys out there that didn't see anything too clear and obvious. You had Dynamo guys even asking 'what have they could even be asking' asking about our questioning. So, I haven't seen the replay so I can't comment any further. We've had some of those decisions go our way and tonight it doesn't. I really felt like if we would have got one we would of had the momentum going our way and good touch there was two, one cleared off the line and good save by (GK) Joe (Willis) and another one. Goals change games. Disappointed we weren't able to get on the score sheet because if we do, we got the momentum."
On if he can think of a reason the team had a slow start...
"I can't. Us as players will obviously take ownership of it and we have to. We are a really good team when we play as a collective but if we have some individuals who aren't up for it on the day, we tend to struggle. We know that we are not the most individually talented team day-in day-out but when we play as a collective we genuinely think that we can beat anybody in the league. And for the first 45 minutes today we didn't play as a collective on both sides of the ball and that was disappointing and obviously we made some changes in the second half formation and personal and some guys stepped up but you got to wipe your hands clean as quick as possible because we go back home for Salt Lake and this next five games it's crazy with the playoffs right now."
On coming from a victory against LAFC and why he thinks the team lost today...
"It's pretty easy. The first 45 minutes we just weren't up for it. We came up completely flat and we dug our self a hole and got into a deficit and you almost looked up and before you know it you're down two-nothing and we just couldn't get a good grasp of the game in the first half. I don't know if I can pinpoint one exact thing that it was. We played in the 4-3-3 before. It's a lineup that we've put out there before. You had a couple new guys but it's guys that had minutes under their belt. There is no excuse. We are not looking for an excuse-just a flat performance from us tonight and what I do know is that locker room has a positive mindset and we can turn this around. We know we can. We're very comfortable going back home and we're looking forward to Salt Lake."
On Christian Ramirez scoring against them...
"Yeah, great for (FW) Christian (Ramirez) but I could careless who scores the goal. No vendetta on this side. Christian (Ramirez) (FW) was a great servant to the club. I'm sure it feels great to score against your old club. I did it earlier this year but it wasn't like a thing we have to stop Christian Ramirez tonight. We had to stop the Houston Dynamo and we didn't do that."
Minnesota Defender Ike Opara
On letting Christian Ramirez get past him to score.
"Yeah sure, I'm frustrated. I did what I was supposed to do. I just couldn't get around the ball to win it. I may have even touched it into his path. That's what he does, he gets into the box and he scores. (It was) Nothing special that he did. Unfortunately, I take the responsibility there.
On the difference between the first and second halves...
"It was frustrating that the urgency was there when at that point you have nothing to lose. That's really all she wrote. We had to go out there and get some sort of result and it didn't matter what the end result was going to be. If we lost, we just knew that we had to push forward and play without care and play free. It happens all around the world, when teams go down, they respond, it was just frustrating that we couldn't do it from the start. They're all big at this point. We play nothing but Western Conference teams to finish out the year. Every game is a six-pointer from here on out, so, I haven't seen the results but at this point, we have to worry about ourselves and get as many points as possible."
On his future and possibly playing for Nigeria...
"No, I don't even think they have heard of me. If they call, I might entertain it, I'm not even sure if they know who I am."
On mentality of team of trying to have a home playoff game...
"With how difficult the west is, the first goal should be qualifying. Then we can try and set the goal of hosting a home game. Yes, realistically we want a home game. But we have to take care of game to game before we can even entertain that idea. But obviously home games are important in this league and tonight it showed."
• Discuss this story on the Major League Soccer message board...


Major League Soccer Stories from September 12, 2019
The opinions expressed in this release are those of the organization issuing it, and do not necessarily reflect the thoughts or opinions of OurSports Central or its staff.
Other Recent Minnesota United FC Stories