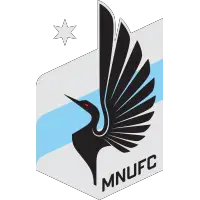 Minnesota United Falls to St. Louis City SC
September 23, 2023 - Major League Soccer (MLS) - Minnesota United FC News Release



SAINT PAUL, Minn. - Though a lone penalty goal from Teemu Pukki gave Minnesota United the edge entering the second half, the Loons could not maintain their lead, ultimately falling to St. Louis CITY SC 1-2 at home.
4': Minnesota started off the match with a solid chance on goal created by Zarek Valentin. The Puerto Rican played a through ball for Sang Bin Jeong to run onto towards goal. Jeong, with both the far and near posts open, took his shot but placed the ball in the center of the net. Roman Bürki made the save.
10': Bongokuhle Hlongwane slotted a ball forward through the St. Louis defense where Teemu Pukki was able to take the time to center his pass across the top of the box to Jeong on the run. The midfielder hit a one-touch shot that missed high over the bar.
24': St. Louis CITY SC combined above the Minnesota goal area, opening space and allowing Célio Pompeu to take a shot on target. Dayne St. Clair came off his line to confront the attack, blocking the shot with his body. Tomás Ostrák was ready for the rebound but sailed his shot too high.
48': Minnesota United was given a free kick in its attacking third. Following the ball-in, a scramble for possession ensued. Hassani Dotson fought for the loose ball but was tackled by Bürki; the Loons were awarded a penalty kick. Pukki stepped up to the spot and converted to capture the lead.
64': João Klauss equalized with a headed goal in the 64th minute. Jake Nerwinski delivered a lofted ball into the center of the box as Klauss spun off his defender, making a curling run to the back post and connecting with the ball from Nerwinski to even the score.
73': After winning a battle for the ball in the middle of the field, Aziel Jackson began on a run towards the Minnesota goal down the touchline. Jackson played into the center of the box to an unmarked Njabulo Blom who was able to fire a shot on net and score the go-ahead goal.
90'+2': Hassani Dotson hit a strike from outside of the 18-yard-box, missing just above the far-post corner and falling short of the last-minute equalizer.
90'+4': In the waning seconds of the match, St. Clair sent a long ball to Kervin Arriaga, who was able to head the ball into the center of the goal area. Michael Boxall tried to control the ball and put a shot on frame, but the ball deflected by St. Louis just wide of the net.
With the result, Minnesota United sit 11th in Western Conference regular-season standings with a 9-11-10 (W-L-D) record and 37 points.
GOAL SUMMARY
1-0 MIN - Teemu Pukki, penalty (48')
1-1 STL - Joao Klauss, assisted by Jake Nerwinski (64')
1-2 STL - Njabulo Blom, assisted by Aziel Jackson (73')
DISCIPLINARY SUMMARY
Caution, MIN - Dayne St. Clair (23')
Caution, STL - Josh Yaro (29')
Caution, MIN - Jan Gregus (31')
Caution, MIN - Jonathan Bell (59')
Caution, MIN - Michael Boxall (79')
Caution, MIN - DJ Taylor (85')
ATTENDANCE: 19,197
BELL BANK MAN OF THE MATCH: Teemu Pukki
LINEUPS:
Minnesota United XI: GK Dayne St. Clair; D Zarek Valentin, Miguel Tapias, Michael Boxall, DJ Taylor; M Jan Gregus, Wil Trapp ©, Hassani Dotson, Sang Bin Jeong, Bongokuhle Hlongwane; F Teemu Pukki
Bench: GK Eric Dick, Clint Irwin; D Bakaye Dibassy, Brent Kallman, Devin Padelford; M Kervin Arriaga, Franco Fragapane; F Ismael Tajouri-Shradi, Mender García
St. Louis CITY SC XI: GK Roman Bürki ©; D Kyle Hiebert, Jonathan Bell, Josh Yaro, Jake Nerwinski; M Indiana Vassilev, Njabulo Blom, Célio Pompeu, Tomás Ostrák, Jared Stroud; F Nicholas Gioacchini
Bench: GK Ben Lundt; D Anthony Markanich, Akil Watts; M Eduard Löwen, Rasmus Alm, Aziel Jackson; F João Klauss, Sam Adeniran, Nökkvi Thórisson
UP NEXT:
MINNESOTA UNITED FC vs. SAN JOSE EARTHQUAKES
Allianz Field | Saint Paul, Minnesota
09.30.2023 | MLS 2023 Regular Season | Matchday 35
7:30 p.m. CT (MLS Season Pass/1500 ESPN)
MINNESOTA UNITED POST GAME QUOTE SHEET
HEAD COACH ADRIAN HEATH
On having a lead just before the half and conceding two goals...
"I thought that second goal was an excellent finish, we should've probably cleared it. And [Joao] Klauss coming on is a threat, a big handful. That's his eighth goal in 15 games since he's come back. The overriding thought of the game is that we started the game really well, and we had two or three really good chances. It's like a broken record. I feel as though I keep coming in here and saying that. That would then give us an ability to relax and play our football. I actually thought some of our football was good this evening, but it was one of those games that was never comfortable. They've [St. Louis CITY SC] got a lot of talent and they play the way they do, really good at it. I'm disappointed because I don't think we got enough out of the week for the way we've played."
On if the team plays differently at home than on the road...
"You do play differently on the road, your mentality is completely different. You want to make sure you stay in the game, make it difficult. We're a very good counter-attacking team, that's why we've done well on the road. At home, we have to get after the opposition a lot more. I can think of maybe four or five games this year that I feel we should have won comfortably and we haven't. When we are in the situation we are now, where every point is crucial, and we've got four left, two at home, two away so there are points to play for. There still is opportunity for us, but obviously we're losing games pretty fast now. It's not been a good week for us."
On if Joao Klauss' goal was a free run...
"Yeah, you know, he's [Joao Klauss] obviously a very experienced player, he's gone and stood on probably our smallest man on the back four and that's DJ [Taylor] and obviously we couldn't clear the ball, we had opportunities to clear the ball, and, we didn't, and they recycled, and then they put a good ball in and it's a good header from him [Joao Klauss]."
On the decision to play Emanuel Reynoso...
"No, no, no, he was not available, he couldn't have played today. Hopefully for next week, hopeful, but you never know with these things, you know"
On Sang Bin Jeong's first start since July 1st...
"I thought he did well. I thought he was dangerous in the first half. Put good runs on. I think back a year ago we were talking about Bongi [Bongokuhle Hlongwane]. We have to get some composure into him, that could probably be said about Sang Bin at this moment in time. You know when he gets in them really good goalscoring situations, he has to be a bit more composed and take his foot off the pedal a little bit and relax. And get himself a little bit more of an opportunity to set himself to get his strike off. But there's some good moments from him this evening."
On not letting frustration take over after the last couple of games...
"It's difficult. I can't think of a game - I'm very honest when I don't think we've played well - I will be the first to say 'I thought we were poor this evening.' I can't think of a game in the last seven or eight games where I go 'you know what? We've been poor tonight.' I can think of maybe all the games that we've played, especially the home games, we've been the better team."
On the frustration of being the better team in a game and not winning...
"It's frustrating, but I can't let that go onto the players because they are trying to do what we're asking of them. We are creating opportunities. What have we had tonight? How many [scoring] chances? 18. What's the expected goals? 2.3. [If] you look at that, we shouldn't be coming out with nothing from the game. But I feel as though I've said that a few times this year."
On if the team has been slipping because they have been looking ahead to the playoffs...
"That's two defeats in ten [matches]. Out of the last ten games, we've lost two... that's not the worst run of the season. That's disappointing. Should we have won the Kansas [Sporting Kansas City] game? Probably. I know there's ifs and buts, but I have to take positives out of what we're producing and what we're doing. Are we getting opportunities? Yes we are. Are we creating opportunities? Yes we are. It's not like we're playing and not having a shot at goal. We were three-one up on Wednesday night. We should finish the game off [but] we don't. You might say 'well it's an excuse.' Maybe. But I have to look at the positives for the group. They [Minnesota United] didn't stop all night and tried until the very last minute to get something out of the game. Sometimes it goes like that for you."
On what getting Kervin Arriaga back gives to the team...
"He [Kervin Arriaga] gives you the energy, the athleticism, the physicality, the size. He got about the pitch when he'd come on, and hopefully, he has no adverse reaction to playing at this tempo. We can get a good week's training in him, and we'll see where we are for next week."
On the playing conditions tonight...
"It was wet. People made mistakes. I thought we played to the conditions quite well, certainly in the first half when we put it in behind them [St. Louis CITY SC] and made them run back to their own goal. We got people in [the box]. We got down that right-hand side maybe four or five times [but] didn't quite have that last piece of quality to pick people out, and when we did, we didn't finish."
MIDFIELDER WIL TRAPP
On how the team pulls out of a rough stretch at this latter end of the season...
"It's not a time to overthink it, right? We did well. I thought the first half [against St. Louis CITY SC] was one of our best performances of the season. But ultimately, and we said it at half time, it's cutting-edge to score goals. The chances we had at the beginning of the game - the first 10, 15, 20 minutes - these have to be goals. Because this is the time where you leave these things on the table, good teams will punish you. We ultimately have to turn the screw for ourselves to give ourselves a little bit more space to defend deeper, be stronger, to fight harder. But ultimately, it's a team that I felt didn't have much in the game until we gave them things. It's disappointing. No other way around it. We have to turn around and we have another game at home against San Jose [Earthquakes]; it's a must-win, it's a final."
On if it is encouraging or discouraging to have lost after playing well...
"We can talk about performance, but this is the business end, man, and the business end is about results. I think for us it's now taking the performance and turning it into a win. That's all that matters right now."
On having any revelations after giving up a lead again...
"Any revelations? No. This one is... we score in what, the 48th, 50th minute? And, they [St. Louis CITY SC] bring in their 'starters' and I think we just didn't deal with penalty-box defending particularly well. You can score, but we haven't carried games well. It's going back to the drawing board and understanding what we need to do to be a team that can be hard to beat once we're winning."
On getting behind CITY's back line, but not finishing...
"Again, the first half in terms of turning them around and Sang Bin [Jeong] running, getting Teemu [Pukki] running, getting Bongi [Bongokuhle Hlongwane] behind, Hassani [Dotson] even, those were great moments. But now, are we understanding and are we taking the time to slow down and be clinical in some of these moments. Because ultimately, that's the difference. We put one or two of those away in the first half and the game maybe looks a little bit different."
On differences between how the team plays at home versus on the road this season...
"Look, I think it's understanding what we are as a team. In many of those away games, we've done a good job of defending deep and counter-attacking to win the game, and suffering through that. At home, the impetus is on us and I don't think we've carried games particularly well. That's the reality and that's why I think our home form has been a little bit more poor. Ultimately, we have four games left, so regardless if it's home or away, it's 2-2, we have to figure out a way to get points."
On if there's a point where the home strategy will just be to defend and counterattack...
"I mean, there's parts of that. But again, like we were saying, the performance with the ball tonight was fine. It's one of those situations where we've got to raise our level in every moment. Attack in transition, defensive transition, defending and attacking. The four phases."
On feeling pressure with very few home matches left...
"I think they're [the remaining games] finals. At the end of the day, it's a final. We've got to take it one [game] at a time, San Jose's [Earthquakes] the next opponent. It has to be three points, or else we can confidently say it's going to be very, very difficult to make the playoffs."
MIDFIELDER HASSANI DOTSON
On this result just being a matter of not finishing your chances...
"Yeah, we had a lot of chances and just barely missed out on a couple cutbacks and obviously we paid the price."
On whether the clock is ticking now for not earning points in these home games...
"At this point it's not just home games, it's every game for the rest of the season. We need to start getting results if we want to make the playoffs."
On what needs to happen to get over the hump and win games...
"At the moment if you look back at how we started the season we did well to get results, we grinded them out, scored and then locked it up. Right now I feel we are outplaying teams and just not getting the results that we need to get or we deserve. Now we have a full week and it's time to really push. Once we score, it's like a final. We have to do whatever we can to get points next weekend, that's the goal."
On if the pressure is building on the attacking players to finish their chances...
"I've been playing up on the wing, I wouldn't say I've been feeling the pressure of scoring goals, but once the game is over I feel like now we have pressure because we let another one slip away. When you play at home you play a little more positive, you are on the front foot, the other team sits back in. It's really disappointing when you are up in a game and playing well and you get nothing from it. Every player wants to play in those high pressure moments so now it's time to show what we are made of."
On if it feels like a theme not being able to hold onto a lead...
"A little bit. The one positive is that we are playing well and we are getting the chances, it's not like we aren't creating chances. So now it's about putting it away and once we put it away it's about having a collective effort on defense so we don't give teams any silly goals."
On how to prevent frustration...
"We have enough experienced players that have been in this situation before where it's towards the end of the season and we need to start getting results. It's like a cup tournament, and we have been pretty decent in the cup tournaments. A lot of these players have been in high pressure situations so it's about staying composed and taking it one game at a time."
• Discuss this story on the Major League Soccer message board...


Major League Soccer Stories from September 23, 2023
The opinions expressed in this release are those of the organization issuing it, and do not necessarily reflect the thoughts or opinions of OurSports Central or its staff.
Other Recent Minnesota United FC Stories