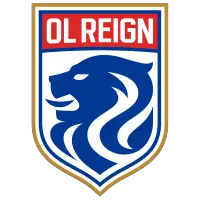 Match Forecast: OL Reign Travel to Kansas City for Last Challenge Cup Match
May 2, 2021 - National Women's Soccer League (NWSL) - OL Reign News Release



TACOMA, WA OL Reign (1-1-1, 4 points) will travel to play Kansas City (0-2-1, 1 point) on the road at Field of Legends in Kansas City, Kansas on Monday, May 3 at 5:00 p.m. PT in its fourth and final match of the 2021 NWSL Challenge Cup presented by Secret Deodorant.
Last Match: 3-2 Win vs. Chicago Red Stars
OL Reign secured its first win of 2021 against the Chicago Red Stars at Cheney Stadium last Tuesday, April 27, in its second home match of the 2021 Challenge Cup. The game featured a full strength starting XI, which included veteran defenders Lauren Barnes and Steph Cox, midfielder Jess Fishlock, and forward Megan Rapinoe.
Chicago started the game with energy, outshooting OL Reign in the first half, 10 shots to 4. The Red Stars got on the board first, with a 38th minute goal from Mallory Pugh. Not content with the way they were playing, OL Reign began to connect, earning an equalizing goal in the 41st minute when Fishlock slipped a ball through the Chicago defense to Sofia Huerta, who struck the ball far post past goalkeeper Alyssa Naeher. The teams entered the locker room at half deadlocked 1-1.
Despite Chicago having the better of possession to start the second half, OL Reign found their second goal in the 70th minute, when Huerta connected with Tziarra King, who dribbled to the end line and directed a ball to the top of the six-yard box for Leah Pruitt, who drove it home. OL Reign found yet another goal in the 87th minute, when some quick moves by Shirley Cruz beat the Chicago defense before slotting a pass to King at the top corner of the 18-yard box. King took a touch before rocketing the ball past Naeher to the far post and into the net. Chicago was able to grab a late goal in the 90th minute when Morgan Gautrat volleyed a loose ball into the far post. The match ended 3-2, rewarding OL Reign with their first win of the year.
"The players did very well to earn a good result against Chicago," said OL Reign head coach Farid Benstiti. "We are happy to have our first victory this year and will keep working hard in training and in matches to play effectively."
The win puts OL Reign in third place in the five-team Western Division of the 2021 Challenge Cup, with four points and a negative one goal differential.
Scouting Kansas City
The last time OL Reign faced Kansas City was September 24, 2017, at Memorial Stadium in Seattle. Shea Groom scored a 23rd minute goal off an assist from Sydney Leroux. That lone goal was enough to secure the 1-0 win for Kansas City.
After the 2017 season, FC Kansas City folded and was replaced by the Utah Royals, who acquired Kansas City's player contracts, draft picks, and player-related rights. The Utah Royals played from 2018-2020, but in December 2020, it was announced that the club would cease operations and all player-related assets would be transferred to the 2021 expansion team, Kansas City NWSL. Kansas City and OL Reign were previously considered rivals, as Kansas City twice defeated the Reign in the NWSL championship final, in 2014 and 2015.
In their last match, Kansas City squared off against the Houston Dash, battling to a 3-1 loss at Children's Mercy Park in Kansas City. Houston dominated the first half, earning their first goal in the 25th minute by Kristie Mewis, and second goal in stoppage time of the first half with a penalty kick by Rachel Daly. The Dash struck again in the 71st minute with another goal by Mewis. Kansas City were able to get one goal back in the 77th minute by Michele Vasconcelos, but were not able to manage a comeback. The loss puts Kansas City (0-2-1) in fifth place in the five-team Western Division, with one point and a negative three goal differential.
"We were focused on our principles as a team last game and connected well to play more cohesively as a team. Finding that harmony is important to us and we are prepared to work for another result against Kansas City this week," Benstiti said.
Leah Pruitt Earns Budweiser Player of the Match vs. Chicago
Leah Pruitt, who signed with OL Reign in June 2020 and made her debut with the team during the 2020 NWSL Fall Series, has been a consistent part of the team's attack this Challenge Cup, playing in all three matches so far while recording 188 minutes played. Pruitt leads the team in shots, with three of her seven shots on goal.
On Tuesday night, Pruitt scored her first goal of the 2021 Challenge Cup, which put OL Reign up 2-1 against Chicago. Her work rate made her standout on the field, as she consistently applied high pressure to Chicago's backline and goalkeeper in an attempt to force a mistake. She was successful in forcing an error in the 28th minute of the match, when the Chicago defense had to make a series of small passes around the edge of the box, allowing Pruitt to take the ball off the feet of a Chicago defender. Pruitt played a ball into the center of box but was unable to connect with any of her teammates.
"Last game was super exciting and it felt great to get a win at home," said OL Reign forward Leah Pruitt. "We came out strong and the win was definitely a team effort. It feels great to be able to contribute with a goal and hopefully there is a lot more to come!"
Update on 2021 Challenge Cup Standings
With one game left to play, OL Reign is in third place in the five-team Western Division, with four points and a 1-1-1 record. Above them in second place is Houston Dash with five points and a 1-0-2 record, and in first place with a perfect 3-0-0 record and nine points is Portland Thorns FC, who have already clinched their spot in the Challenge Cup final. Below OL Reign is Chicago Red Stars in fourth place with two points and a 0-2-2 record, and Kansas City NWSL in fifth place with 1 point and 0-2-1 record.
Over in the East, NJ/NY Gotham FC (2-0-1) leads the division with seven points, followed by the North Carolina Courage (2-1-1), with seven points, Orlando Pride (1-1-2) with five points, Washington Spirit (1-2-1) with four points, and Racing Louisville (0-2-1) with one point.
The championship match of the 2021 Challenge Cup will be played on Saturday, May 8, 2021 at 10:00 a.m. PT at a to-be-determined location. Fans can watch the match on CBS Sports Television Network.
MultiCare Injury Report
OUT
Megan Rapinoe - Back
Sam Hiatt - Head
Kelcie Hedge - ACL
Ally Watt - ACL
QUESTIONABLE
None
How to Watch
Fans can watch on Paramount+ in the U.S. and on Twitch internationally.
• Discuss this story on the National Women's Soccer League message board...


National Women's Soccer League Stories from May 2, 2021
The opinions expressed in this release are those of the organization issuing it, and do not necessarily reflect the thoughts or opinions of OurSports Central or its staff.