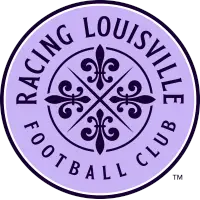 Racing Splits Points with Gotham FC in Challenge Cup Finale
May 2, 2021 - National Women's Soccer League (NWSL) - Racing Louisville FC News Release



Racing Louisville FC on Sunday finished a run through the NWSL Challenge Cup by earning its first shutout and second point in the franchise's young history.
Racing held NJ/NY Gotham FC - which with a point of its own clinched the East Division in this preseason tournament - to a scoreless draw at New Jersey's Montclair State University.
For Gotham FC, the result means advancement to play the Challenge Cup's West winner, Portland Thorns FC, Saturday on CBS in the final . Racing Louisville meanwhile gets a weekend off before opening the NWSL's regular season May 15, hosting Kansas City at Lynn Family Stadium.
In three prior group stage Challenge Cup games, Racing managed a draw and two defeats, both by a goal. That the club kept Gotham FC scoreless Sunday pleased Christy Holly. Still, the coach walked away calling this "our worst performance of the Challenge Cup."
"I don't think we executed anywhere near what we were looking for in terms of possession or defensively," Holly said. "So that was quite frustrating. We got into halftime and had really good conversations - really productive conversations. It was great to see the girls then apply that in the second half and have some success come from it.
"I think the big thing is understanding that we're going to have bad days where we genuinely don't play well and getting out of here with a point is good."
Voted Woman of the Match, goalkeeper Michelle Betos made four saves, three of those during a first half in which Racing was fortunate to preserve its clean sheet.
U.S. Women's National Team legend Carli Lloyd had a trio of nice looks, including a slow-rolling try on target in the 15th minute, a shot across her body swung just wide in the 27th and a 34th-minute transition try in the box where Lloyd managed only light contact on the shot.
Gotham FC's attack packed noticeably less punch over the second 45 minutes, though Racing's back line was conscious of Challenge Cup trends. The club had surrendered goals past the 84th minute in its prior three outings.
"We've been stressing to be compact and to really cover for each other," said defender Kaleigh Riehl, who played last season for Gotham FC, then known as Sky Blue FC. "I think we did that today, and I think it's big for us.
"The last few games we'd given up a goal at the very end. It was (about) being more focused, talking through those moments and making sure we finished the game with a clean sheet."
Racing was held mostly quiet in the first half, the 44th minute aside when forward Emina Ekic cut in from the right wing and fired a big left-footed shot that commanded a save.
Out of the locker room, what was perhaps Louisville's best offensive chance also dealt a defensive blow. Working from left to right, defender Emily Fox was taken down in the Gotham FC box. Racing didn't get the whistle for a penalty, and Fox needed to be substituted off.
Working from box to box, midfielder Lauren Milliet tried four shots Sunday, and a 70th-minute Savannah McCaskill corner redirected off defender Brooke Hendrix's head nearly led to a goal.
That's all part of the learning process for a young Racing side, which Milliet said can stand to work on its tempo.
"When to speed it up, when to slow it down - when to play through the lines and when to just keep the ball moving quickly," she said. "...I think there's just a lot we can work on, and I think there's a lot of positives we can take from this."
Game Summary: Gotham FC vs. Racing Louisville
Venue: Montclair State University
Kickoff: 12:37 p.m.
Weather: 77 degrees, sunny
Woman of the Match: Michelle Betos
Scoring
Gotham FC (0, 0, 0)
Racing Louisville (0, 0, 0)
Stats Summary: Gotham FC / Racing Louisville
Shots: 13 / 11
Shots on Goal: 4 / 2
Fouls: 8 / 7
Offside: 4 / 3
Corner Kicks: 2 / 4
Saves: 2 / 4
Lineups
Racing Louisville: 1 - Michelle Betos, 11 - Emily Fox (14 - Nealy Martin), 18 - Kaleigh Riehl, 15 - Brooke Hendrix, 5 - Cece Kizer, 2 - Lauren Milliet, 8 - Freja Olofsson (66' 19 - Taylor Otto), 3 - Erin Simon, 13- Emina Ekic (73' 33 - Jorian Baucom), 17 - Yuki Nagasato (27 - Vanessa Kara), 7 - Savannah McCaskill
Subs not used: 21 - Shelby Money, 23 - Katie Lund, 16 - Julia Ashley, 24 - Noelle Higginson, 20 - Cheyna Matthews
Gotham FC: 13 - Dijana Haracic, 12 - Gina Lewandowski, 28 - Imani Dorsey, 3 - Caprice Dydasco (78' 15 - Sabrina Flores), 22 - Mandy Freeman, 9 - Nahomi Kawasumi, 11 - Lee So-Dam (78' 25 - Ifeoma Onumonu), 6 - Jennifer Cudjoe (64' 17 - Dominique Richardson), 10 - Carli Lloyd, 23 - Margaret "Midge" Purce (88' 20 - Evelyne Viens), 4 - Paige Monogan (46' 16 - Allie Long)
Subs not used: 21 - Amanda McGlynn, 8 - Erica Skroski, 24 - Estelle Johnson, 19 Elizabeth Eddy
Discipline Summary
Gotham FC: Cudjoe (yellow) 28'
Referee: Karen Abt
Assistant Referees: Tiffini Turpin, Zeno Cho
Fourth Official: Christian Centeno
• Discuss this story on the National Women's Soccer League message board...


National Women's Soccer League Stories from May 2, 2021
The opinions expressed in this release are those of the organization issuing it, and do not necessarily reflect the thoughts or opinions of OurSports Central or its staff.