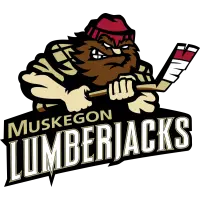 Larson, Strinden Score a Pair, Lumberjacks Hold on to Split Series with Madison
November 27, 2021 - United States Hockey League (USHL) - Muskegon Lumberjacks News Release



MUSKEGON, Mich. - The Muskegon Lumberjacks held on for their seventh victory of the season as they defeated the Madison Capitols by a final score of 5-to-4, splitting the weekend series on Saturday, Nov. 27 from Mercy Health Arena in downtown Muskegon. Joey Larson and Ben Strinden each netted a pair of goals for Muskegon, with Hutson potting the other goal for the Jacks. Muskegon held a 4-to-0 lead at one point during the game, but the Madison comeback bid fizzled out at the end of regulation with Muskegon taking banking two points in the conference standings.
1st Period
It was a completely different story to start the first period as Muskegon scored the first goal of the game, courtesy of Joey Larson at 8:13 of the period. Quinn Hutson and Jacob Guevin each picked up assists to make it a 1-to-0 lead for Muskegon.
On the power play, the Lumberjacks doubled their lead with a goal from Ben Strinden. Hutson and Guevin would earn assists again to push the Muskegon lead to 2-to-0 at 11:43 of the first period.
After 20 minutes of action, Muskegon pocketed a 2-to-0 lead into the dressing room for the first intermission.
2nd Period
Muskegon extended their lead to 3-to-0 with Joey Larson's second goal of the game at 3:09 of the second period. Tyler Hotson and Jake Braccini picked up helpers on Larson's 12th goal of the season.
Quinn Hutson would add another at 9:48 of the period to make it a 4-to-0 score in favor of the Lumberjacks. Hutson's 10th lamplighter of the season was assisted by Nathan McBrayer and Tyler Dunbar.
Madison would negate the shutout bid by Lumberjack goalie Alexander Kuleshov as Nathan Lewis scored at 16:04 of the second period to make it a 4-to-1 score, still in favor of Muskegon. Matthew McGroarty and Daniel Sambuco earned assists on the play.
The Capitols would add another goal by Connor Deturris at 17:39 of the second period to put Madison within two goals. Deturris' goal was assisted by Reid Pabich and Patrick Czarnecki to make it a 4-to-2 game, still in favor of Muskegon.
After two periods of play, the Lumberjacks controlled a 4-to-2 lead into the intermission.
3rd Period
Ben Strinden would add his second goal of the game at 6:11 of the third period, with helpers from Quinn Hutson and David Hymovitch to make it a 5-to-2 lead for Muskegon.
However, the Caps would pull within a pair again, this time from Luke Mittlestadt while on the power play at 7:53 of the third period. Mittlestadt's goal was assisted by Ben Dexheimer and Nick DeSantis to make it a 5-to-3 score.
With the goalie pulled for the extra attacker and under two minutes to play in regulation, it appeared Madison would pull off the comeback after a goal from Casey Severo to make it a one-goal game. Severo's goal was assisted by Nick DeSantis and Ben Dexheimer.
But the comeback bid was not to be, as Muskegon held on for their seventh victory of the season, defeating the Madison Capitols by a final score of 5-to-4 and splitting the weekend series.
On Deck
The Lumberjacks will return home to continue their six-game homestand as they welcome the Cedar Rapids RoughRiders for a trio of games on Friday, Saturday, and Sunday, Dec. 3, 4, and 5, respectively. Puck drop is slated for 7:10 pm EST on Friday and Saturday, with Sunday's game starting at 4:00 pm from Mercy Health Arena in downtown Muskegon.
Upcoming Theme Nights - Teddy Bear Toss/Margaritaville/Princess & Heroes
Teddy Bear Toss is back on Friday, Dec. 3! When the Jacks score their first goal against Cedar Rapids, fans are welcome to throw teddy bears onto the ice! Those bears will be collected and donated to local charities. Come for a good cause, stay for a good time! The following night on Saturday, Dec. 4, it's Margaritaville night! Hawaiian shirts, flip flops, and beach balls will help us escape to paradise as Muskegon is transformed into Margaritaville! Feel the beach breeze as the Jacks take the ice in special Margaritaville jerseys which will be auctioned off after the game. Plus, live music during intermission! Finally, on Sunday's matinee matchup, it's Princess and Heroes Night! Calling all princesses and heroes! The kiddos won't want to miss this one, as our concourse will be flooded with everybody's favorite princesses and superheroes! For more information, call the Muskegon Lumberjacks Business office at (231)-799-7000 or email afranczek@muskegonlumberjacks.com.
Images from this story
• Discuss this story on the United States Hockey League message board...


United States Hockey League Stories from November 27, 2021
The opinions expressed in this release are those of the organization issuing it, and do not necessarily reflect the thoughts or opinions of OurSports Central or its staff.