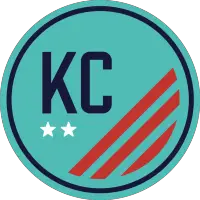 Kansas City NWSL Plays in Front of Packed House in Home Opener
April 27, 2021 - National Women's Soccer League (NWSL) - Kansas City News Release



KANSAS CITY - Kansas City NWSL opened up its Inaugural Home Season against the Houston Dash at Children's Mercy Park with the home fans showcasing their 'Teal Time' spirit in support of the team. Children's Mercy Park welcomed back women's professional soccer fans for the first time in 1,003 days. Michele Vasconcelos stated, "The community in Kansas City is all about bringing the fans in and making a connection with them."
Despite Kansas City winning 64 percent of possession in the first half, along with three corners, they went down 1-0 in the 24th minute on a left-footed shot from Houston's Kristie Mewis that beat KC goalkeeper Nicole Barnhart. The next 20 minutes saw multiple disciplines given to both squads with two yellow cards handed to Kansas City and one yellow card given to Houston. Houston went up 2-0 in the 45th minute when Dash forward, and former Challenge Cup MVP, Rachel Daly was awarded a penalty kick in the box after a questionable call, which she converted.
Kristie Mewis scored her second goal of the night off of an assist from Nichelle Prince in the 71st minute of the game to give Houston a 3-0 advantage. Michele Vasconcelos scored the first home goal for KC NWSL when she came in on a breakaway and fired a shot past Dash goalkeeper Jane Campbell. Lo'eau LaBonta assisted on the goal by making a beautiful through pass to Vasconcelos. Kansas City showed fight until the final whistle and proved they are able to play at a high level.
Coach Huw Williams said he was "bitterly disappointed" after the game and detailed that, "Our possession was safe in the 1st half and we need to break lines...I thought we were able to at times from the center back position, but the connection and the fluidity of the ball movement and player rotations in midfield need to be a little bit sharper."
Kansas City will now turn its focus to the final match of the 2021 Challenge Cup against the OL Reign, who they host on Monday, May 3 at home at Legends Field. Kickoff is slated for 7:30 p.m. CT and the game will stream live on Paramount+.
NWSL Match Report
Match: Kansas City NWSL vs Houston Dash
Date: April 26, 2021
Venue: Children's Mercy Park, Kansas City, Kansas
Kickoff: 7:38 p.m. CT, 8:38 p.m. ET
Weather: 82 degrees, windy
Discipline
29' KC Sydney Miramontez (Yellow)
30' HOU Jane Campbell (Yellow)
40' KC Rachel Corsie (Yellow)
54' KC Kate Del Fava (Yellow)
58' HOU Brianna Visalli (Yellow)
Scoring
25' HOU Kristie Mewis
45' HOU Rachel Daly
71' HOU Kristie Mewis (Prince)
77' KC Michele Vasconcelos (LaBonta)
Scoring Summary
Goals 1 2 F
Houston Dash 2 1 3
Kansas City 0 1 1
Lineups:
Houston Dash: Campbell, Chapman (60' Prisock), Naughton, Oyster, Hanson (82' Fields), Schmidt, Groom (81' Seiler), Mewis, Daly, Prince, Visalli (66' Latsko)
Substitutes Not Used: Harris, Ogle, Stengel
Kansas City: Barnhart, Miramontez (46' Maemone), Corsie (88' Leach), Bowen, Del Fava, Scott (75' Vincent), LaBonta, Nolf (75' McCain), Pickett (30' Logarzo), Rodriguez, Larroquette (69' Vasconcelos)
Substitutes Not Used: Listro, Nelson, Nick
• Discuss this story on the National Women's Soccer League message board...


National Women's Soccer League Stories from April 27, 2021
The opinions expressed in this release are those of the organization issuing it, and do not necessarily reflect the thoughts or opinions of OurSports Central or its staff.