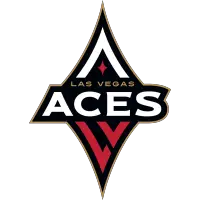 Jackie Young Scores 16 in Her Preseason Debut, But Aces Fall, 79-75, to Minnesota
May 19, 2019 - Women's National Basketball Association (WNBA) - Las Vegas Aces News Release



LAS VEGAS - Jackie Young made 7 of 10 shots from the field and scored 16 points in her WNBA preseason debut, but the Minnesota Lynx (3-0) used a 12-0 run midway through the fourth quarter to eke out a 79-75 victory. It was the final preseason tuneup for both clubs. Minnesota begins the regular season at home on Saturday, May 25 vs. Chicago, while the Aces (0-1) host Los Angeles on Sunday, May 26.
KEY RUN
Las Vegas led 66-62 with 7:41 to go in the game on a Sugar Rodgers' three-pointer, but the Lynx scored the next 12 points to take a lead they would never relinquish. The Aces missed seven shots during that stretch.
KEY STATS
Minnesota went 10 for 29 from three-point range, while the Aces made 4 of 11
Las Vegas went 23 for 29 from the free throw line, while the Lynx went 9 for 11
Although the Aces outshot the Lynx 40.7% to 37.0%, Minnesota took 81 shots to Las Vegas' 59.
Las Vegas led 40-32 at the half, while Minnesota outscored the Aces 47-35 after the intermission.
GAME NOTES
The Aces were without the services of Liz Cambage and Kelsey Bone for the game. Bone is making her way to Las Vegas following her overseas season in Turkey, while Cambage arrived in town two hours before tip and was on the bench in street clothes.
A'ja Wilson scored in double figures in all 33 games last year, and did likewise against the Lynx scoring 16 points.
Odyssey Simms scored 25 points, making 5 of 7 shots from long distance. Her season-high last season was 21 points, and three made threes. The rest of the Lynx went 5 for 22 from beyond the arc.
Minnesota Lynx Head Coach Cheryl Reeve
On Odyssey Sims' performance
Odyssey, in terms of physical and mental toughness, she willed us today. We were down as many as 14 and she was a big part of the run to get us back in it and finish it off.
Mindset heading into regular season opener
We had a good preseason. We still have four days of practice. You know, kind of keep the momentum of how well we've been playing- and I think jelling- a great deal of chemistry. Now it is on.
Sylvia Fowles
Biggest factor in the win
I think our bench was the biggest factor. They came in with a lot of energy. They got a couple of stops, and they were scoring, and that energy transferred back to the starting five. We were just trying to march their tempo because they were doing such a great job.
Lexie Brown
The Difference in the game
We stuck together as a team. Things didn't always go our way, but I think everybody was really confident in one another, kept everybody positive. Even when we got down big, with the crowd being really loud, we really stuck together as a team and pulled it out.
What excites her about. Her role on this team heading into the season opener.
I'm just really excited that different nights I will be able to do different things. Tonight wasn't a huge scoring night. Odyssey took over, and Sylvia, and we had a few points from everywhere. Coach Reeve really got on me about rebounding a couple of days ago, so I put that in my head, and it's easy to get assists in this league because everyone can score and knock down shots.
Las Vegas Aces Head Coach Bill Laimbeer
Was today about line ups or did you try to be competitive?
"I played the game kind of how I would normally, especially in the first half. I put some more people in the game the second half. I thought for a preseason game, it was a very intense game. They played very hard, they played very well. We need to learn something about ourselves today, to see where we're at, what we need to work on, we need to be able to score, and make shots in big times. At the end of the day, we need to learn how to win, because the franchise up to this point doesn't know how to win. The way we played today was a start, and we will fix it all next week."
Thoughts on Jackie?
"I think it's becoming. I threw a lot of responsibility at her. We know what she can do, it's a matter of can she do it on the big stage, and today was a good learning experience for her and our team to understand her capabilities. It was a great time for her today to grow from this one, but we have a long way to go with her and this team.
Thoughts on chemistry with new players?
"I think Jackie in the starting unit gives us something we don't have, a physical presence at the guard position and can attack at all times. Sugar is our 3-ball specialist, but when we get A'ja and Liz in the game at the same time, they are going to be very difficult to guard. They are going to open up the perimeter more for us to make shots."
How do you tell your team to not get too into championship thoughts?
"The only pressure on them is amongst themselves. Ignore the outside, because they know that we have to learn to win also. They know that we have to bring Liz into the mix and utilize what she can do. We have a young Jackie, she is learning how to do things. We need to know how to play with each other, and that will come quickly. I believe we are a smart basketball team, but until it happens, we are going to be okay. Every game is going to be different."
A'ja Wilson
First impressions on the new team and being able to play today?
"This is definitely something that we needed. You love your practice guys, and you love playing against each other, but to be in a real game, putting on your jersey is something that we are all eager for. For us to go out and show that we did, of course we came up short, but obviously we are proud about how our team is meshing and how we still fought through a lot of things."
Thoughts on Jackie's first performance?
"She did great, probably better than me as a rookie. She can just float with the game, and she can just do what she does best, which is attack. She is a big guard for us, and that's what we need. I think that is what our league is becoming. For her to come out and have the showing that she did, I am super proud of her. She is just taking it all, I know it can be a lot, but she handled it with poise, and she came out and she did what she did best."
Did today feel like a pre-season game?
"I definitely thought it was a regular season game, people got T'd up. It was a close game, it felt great to just have that energy, especially with our fans coming out. They didn't let up at all, and it just really felt like we were at the house. That's what it's all about, and the season starts next weekend, but it definitely felt like a regular season game this time."
How excited are you to play with Liz?
"I'm excited, it's going to be a different look for us. I am excited to get her in practice, especially with the season this year. We have a lot more practice time, so we can get into the groove of things, and get a feel for one another, and also with our guards as well."
Jackie Young
Thoughts on your first game?
"I was definitely excited to be out there, playing my first game. I thought that we played really well, it was our first game as a team, so we were just trying to play together and see what works best."
Thoughts on the crowd and your adrenaline?
"It was fun to just be able to play in front of a crowd tonight. I know it wasn't our home crowd, but it was still fun to just play in front of them and to know what the Vegas fans are like."
Relationship with the players and how it transitioned into the game?
"A'ja has been a lot of help since I got here, and just helping with knowing what to expect. She has been someone I can just lean on."
Thoughts on personal performance?
"There is still a lot to work on, and we didn't come out with the win and that's what I'm worried about the most. Doing a few more things, getting a few defensive stops, and executing late."
Were you surprised by your performance?
"I was just trying to come out there and be aggressive from the tip. That was the biggest thing for me, just getting off to a good start and just trying to defend when we were on defense, making stops."
• Discuss this story on the Women's National Basketball Association message board...


Women's National Basketball Association Stories from May 19, 2019
The opinions expressed in this release are those of the organization issuing it, and do not necessarily reflect the thoughts or opinions of OurSports Central or its staff.