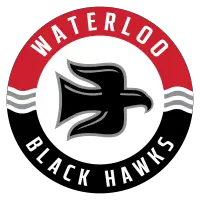 Hawks Ride Ralston's Outburst
October 19, 2019 - United States Hockey League (USHL) - Waterloo Black Hawks News Release



The Waterloo Black Hawks scored five goals in just under four minutes in the mid-stages of the first period, blasting past the Des Moines Buccaneers 9-1 at Young Arena Saturday.
Ryder Ralson scored the first and last goals in the sequence, adding a power play score in the second period to complete his hat trick. Notching an assist, it was a four-point night for the soon-to-be 18-year-old. The Hawks' big offensive performance came after Waterloo had recorded a total of 13 goals in the first five games.
Ralston's opener came 9:28 into the action after Griffin Ness dug a puck out of the left corner and centered for Ralston to redirect from just outside the crease. On the next shift, Dane Montgomery swiped the puck beside the net and spun a quick shot between the pipes at 10:17.
The Bucs spent their timeout, but just 16 seconds after Montgomery's goal, Brehdan Engum struck in transition. Xander Lamppa moved across the blue line and was left alone on the right wing boards. He connected with Engum trailing the play, and Engum lifted a wrist shot from the left circle to the top corner.
The barrage continued at 11:42 when Ness capitalized from the left circle on the rebound of Ralston's shot. Ralston found the net again at 13:27, set up on a rush by Connor Caponi.
All of the first period scoring was done five-on-five. In the second, Wyatt Schingoethe scored on a breakaway while the teams were four-on-four. Mason Reiners' 120-foot pass from the corner right of his own net hit Schingoethe at the Buccaneer blue line, and Schingoethe lifted a backhander over Christian Stoever at 7:26.
Ralton finished the hat trick at 14:06, batting in the rebound of Luke Bast's shot during a power play.
Alex Laferriere scored Des Moines' only goal of the night on a rebound 1:01 into the third period. Waterloo added two more during the frame: Ondrej Psenicka from close range at 12:40, and Ryan Drkulec during a power play at 15:11.
Hawks goaltender Logan Stein made 28 saves for the win. His 11 first period stops included a brilliant sequence where he denied Joey Strada twice on the same partial breakaway.
Waterloo returns to action against the Green Bay Gamblers on Friday. Fans in attendance are invited to take advantage of $2 hot dogs, nachos, and soft drinks. For tickets, call the Domino's Black Hawks Box Office at (319) 291-7680.
Des Moines 0 0 1 - 1
Waterloo 5 2 2 - 9
1st Period-1, Waterloo, Rolston 1 (Ness, Caponi), 9:28. 2, Waterloo, Montgomery 1 10:17. 3, Waterloo, Engum 1 (Drkulec, Lamppa), 10:33. 4, Waterloo, Ness 1 (Rolston, Belpedio), 11:42. 5, Waterloo, Rolston 2 (Caponi, Psenicka), 13:27. Penalties-Starikov Dm (roughing), 13:56.
2nd Period-6, Waterloo, Schingoethe 2 (Reiners), 7:26. 7, Waterloo, Rolston 3 (Schingoethe, Bast), 14:06 (PP). Penalties-Warnert Dm (charging), 7:03; Rolston Wat (roughing), 7:03; Drkulec Wat (slashing), 10:07; Worth Dm (cross checking), 13:42; Starikov Dm (high sticking), 18:41.
3rd Period-8, Des Moines, Laferriere 7 (Ellis, Starikov), 1:01. 9, Waterloo, Psenicka 3 (Drkulec, Waldron), 12:40. 10, Waterloo, Drkulec 2 (Belpedio, Engum), 15:11 (PP). Penalties-Bohlinger Wat (hooking), 10:07; Laferriere Dm (slashing), 12:40; Laferriere Dm (boarding), 14:59.
Shots on Goal-Des Moines 11-11-7-29. Waterloo 19-17-10-46.
Power Play Opportunities-Des Moines 0 / 2; Waterloo 2 / 4.
Goalies-Des Moines, Rowe 2-3-0-0 (12 shots-8 saves); Stoever 1-1-0-1 (34 shots-29 saves). Waterloo, Stein 3-0-0-0 (29 shots-28 saves).
A-2,403
Referees-Anthony Vikhter, Sam Heidemann (6).
Linesmen-Aaron McCrary, Default Linesman.
• Discuss this story on the United States Hockey League message board...


United States Hockey League Stories from October 19, 2019
The opinions expressed in this release are those of the organization issuing it, and do not necessarily reflect the thoughts or opinions of OurSports Central or its staff.
Other Recent Waterloo Black Hawks Stories