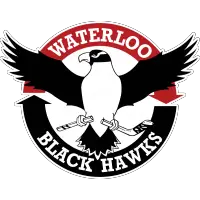 Hawk Fall in DM, 8-1
February 20, 2021 - United States Hockey League (USHL) - Waterloo Black Hawks News Release



Interference with 49 seconds left in regulation.
It was an incongruous last call for a Saturday game which included at least 121 penalty minutes (the current box score doesn't appear to reflect them all) and finished with the Des Moines Buccaneers outdistancing the Waterloo Black Hawks 8-1 at Buccaneer Arena.
The Hawks did not convert their late power play after Des Moines defenseman Josh Luedtke skated to the penalty box laughing, and even if Waterloo would have produced a late special teams goal, it wouldn't have changed the bigger picture.
Alex Laferriere completed a hat trick; his third goal came midway through final period as the Bucs skated their top power play unit in a contest which was then 7-0.
Teddy Lagerback produced the lone Black Hawk goal almost four minutes later, tipping a shot by Ethan Szmagaj at 13:44. The goal denied Derek Mullahy a shutout, but Buccaneers fans got almost everything else they wanted.
Des Moines had scored twice in the first four minutes of the game. Simon Mack finished a tap-in chance from Matt Choupani on a two-on-one rush at 1:29. Laferriere followed up with another goal at 3:43, working below the icing line to bank in an odd-angle opportunity.
Jack Williams stopped a Laferriere breakaway with a minute to go in the period, but a Hawks turnover moments later allowed Luedtke to set up Lucas Mercuri for a goal to cap an odd-man rush with 53.5 seconds remaining before intermission.
Des Moines added two more in the second: LaFerriere finishing a feed from Mercuri as the Bucs attacked 2-on-0 from the top of the circles at 8:57 and Choupani with the first of four power play goals by the home team at 18:39.
Michael Bevilacqua and Simon Mack were credited for third period special teams scores, with Mack's coming during a five-on-three situation.
Four Black Hawks ended the game in the dressing room. Max Sasson was the first to leave the ice after a second period fight with Mercuri. Following the altercation play resumed three-on-three due to several earlier minors. However, shortly after the action restarted, the game had to be stopped again, the clock wound back, and the contest delayed well over five minutes as the on- and off-ice officials tried with evident difficulty to sort out the proper dispersal of penalty minutes.
Clock operation was bungled again at the start of the third period with the teams playing for 14 seconds while penalty time was frozen on Sasson's major.
Des Moines finished the game 4-for-9 on the power play and outshot the Hawks 27-13.
The Hawks finish out the weekend on Sunday back home at Young Arena versus the Omaha Lancers at 3:05 p.m.
Waterloo 0 0 1 - 1
Des Moines 3 2 3 - 8
1st Period-1, Des Moines, Mack 1 (Choupani, Davey), 1:29. 2, Des Moines, Laferriere 13 (Mercuri, Renlund), 3:43. 3, Des Moines, Mercuri 12 (Luedtke), 19:07. Penalties-Wylie Wat (checking from behind), 4:38; Davey Dm (boarding), 16:46; O'Hara Wat (roughing), 20:00.
2nd Period-4, Des Moines, Laferriere 14 (Mercuri, Renlund), 8:57. 5, Des Moines, Choupani 13 (Truman, Laferriere), 18:39 (PP). Penalties-Wylie Wat (hooking), 5:43; Laferriere Dm (roughing), 6:23; Szmagaj Wat (unsportsmanlike cnd.), 14:19; Shoudy Dm (unsportsmanlike cnd.), 14:19; Severo Wat (slashing), 14:49; Sasson Wat (major-fighting, major-head contact), 15:29; Sasson Wat (10-minute misconduct), 15:32; Mercuri Dm (hooking, major-fighting, misconduct-fighting), 15:32.
3rd Period-6, Des Moines, Bevilacqua 2 (Truman), 6:51 (PP). 7, Des Moines, Mack 2 (Karpa, Bevilacqua), 9:44 (PP). 8, Des Moines, Laferriere 15 (Truman, Kiecker-Olson), 10:03 (PP). 9, Waterloo, Lagerback 4 (Szmagaj), 13:44. Penalties-Lagerback Wat (roughing), 4:17; Faremouth Dm (roughing), 4:17; Renlund Dm (roughing), 4:17; LaStarza Wat (roughing), 5:06; Argentina Wat (major-fighting, game misconduct-removing opp. helmet), 7:30; Faremouth Dm (major-fighting, misconduct-fighting), 7:30; Reiners Wat (slashing, 10-minute misconduct), 8:27; Ness Wat (boarding), 9:25; Driscoll Dm (roughing), 10:18; Gaffney Wat (tripping), 17:08; Lagerback Wat (10-minute misconduct), 18:18; Luedtke Dm (interference), 19:11.
Shots on Goal-Waterloo 6-2-5-13. Des Moines 8-9-10-27.
Power Play Opportunities-Waterloo 0 / 5; Des Moines 4 / 9.
Goalies-Waterloo, Williams 1-5-0-0 (27 shots-19 saves). Des Moines, Mullahy 9-5-1-0 (13 shots-12 saves).
A-1,664
Referees-Mason Riley, Default Referee.
Linesmen-Cameron McCambridge, Cameron Dykstra.
• Discuss this story on the United States Hockey League message board...


United States Hockey League Stories from February 20, 2021
The opinions expressed in this release are those of the organization issuing it, and do not necessarily reflect the thoughts or opinions of OurSports Central or its staff.
Other Recent Waterloo Black Hawks Stories