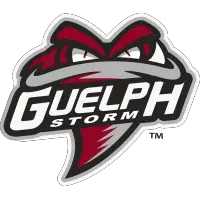 Game Preview: Guelph Storm vs Erie Otters
November 28, 2021 - Ontario Hockey League (OHL) - Guelph Storm News Release



The Storm are in their third and final game of the weekend as the Erie Otters come to visit Guelph. The puck drops at 2:00pm.
The Guelph Storm are back in action this afternoon when the Erie Otters come to finish out the Storm's 3 in 3 weekend. After a hard fought 3-2 win last night in Erie, the Storm now have a current record of 12-6-1-1, which has them still in 2nd place in conference standings. With some timely saves from Jacob Oster and a highlight reel goal from Braeden Bowman the Storm were able to get the win in Erie. The last game of the weekend is the second of a back-to-back with the Otters and should be another tough game as the Storm finish their weekend off.
The Otters make the trip to Guelph today after a 3-2 loss at home last night to the Storm. With the new record of 5-12-1-0, the Otters are still in 10th in the conference standings. Last night's game featured a tremendous night from goalie Nolan Lalonde who make some big saves to keep his team in it. Erie will be looking to come back from a losing night last night and make tonight a winning afternoon against the Storm.
HEAD TO HEAD
2021-22 Regular Season ER 0-2-0-0 GUE 2-0-0-0
2019-20 Regular Season ER 3-2-0-1 GUE 3-3-0-0
Last Five Years ER 13-9-2-2 GUE 13-8-3-2
Last Five Years At Erie Otters ER 9-2-1-1 GUE 4-6-2-1
Last Five Years At Guelph Storm ER 4-7-1-1 GUE 9-2-1-1
TOP SCORERS
LAST 5 GAMES
MATCH UP
Erie OttersGuelph Storm
Season Record 5-12-1-0 12-6-1-1
Last 10 Games 3-6-1-0 7-2-0-1
Streak 0-1-0-0 3-0-0-0
Last Game 3-2 L vs Guelph (2021-11-27) Final 3-2 W @ Erie (2021-11-27) Final
Home Record 2-5-0-0 6-2-0-1
Away Record 3-7-1-0 6-4-1-0
Goals For 54 77
Goals Against 70 68
Power Plays 14/71 (19.72%) 20/85 (23.53%)
Power Plays - Home 3/28 (10.71%) 9/36 (25%)
Power Plays - Away 11/43 (25.58%) 11/49 (22.45%)
Penalty Killing 11/65 (83.08%) 14/66 (78.79%)
Penalty Killing - Home 4/29 (86.21%) 5/32 (84.38%)
Penalty Killing - Away 7/36 (80.56%) 9/34 (73.53%)
Leading Rookie Sova (1-7-8) Poitras (6-11-17)
Most Penalty Minutes Cameron Morton Matthew Papais
Team PIM/GM 9/18 9.5/20
Players to Watch:
Guelph Storm - Braeden Bowman
In just his second game back Bowman was able to record a highlight reel goal against the Otters. With 9 goals and 10 points in 12 games Bowman has had an impressive start to the season, and the team will be more than happy to welcome back to the lineup as he has brought the offensive success with him.
Erie Otters - Brett Bressette
The Otters 4th rounder in 2019 currently has 8 goals and 18 points in 18 games, which currently makes him a point per game. Bressette is tied within the team for the lead in goals, points, and assists will fellow teammate Elias Cohen. Being an offensive threat in any game makes him the player to watch on Erie.
Upcoming Game:
Today's game is one not to miss, the Erie Otters come to visit for an afternoon puck drop. The puck drop is at 2:00pm.
• Discuss this story on the Ontario Hockey League message board...


Ontario Hockey League Stories from November 28, 2021
The opinions expressed in this release are those of the organization issuing it, and do not necessarily reflect the thoughts or opinions of OurSports Central or its staff.