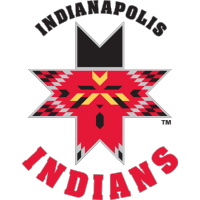 Game Information: Indianapolis Indians (63-51) vs. Lehigh Valley IronPigs (70-44)
August 8, 2018 - International League (IL) - Indianapolis Indians News Release



The Indians have won 11 of their last 15 games and look to seal a series win over the IronPigs this afternoon.
Location: Victory Field
First Pitch: 1:35 p.m. EDT
Game #115 / Home #56: Indianapolis Indians (63-51) vs. Lehigh Valley IronPigs (70-44)
Probables: RHP Nick Kingham (4-1, 2.19) vs. RHP Drew Anderson (8-3, 3.91)
Radio: FoxSports975.com / iHeart app
TV: MiLB TV / Comcast 90
From the Notes
ABOUT LAST NIGHT: Kevin Newman and Jacob Stallings both hit for the cycle in a 12-5 rout for the Indians over the IronPigs last night at The Vic. Indy built an 8-0 lead thanks to a six-run sixth, but the visitors crept back to within three runs by scoring five of their own in the seventh. The Tribe had seven of their 18 hits during the sixth, highlighted by a Max Moroff two-run single and Newman two-run double, his fourth hit of the night. Wyatt Mathisen made it a 9-5 ballgame with a run-scoring single in the seventh that plated Kevin Kramer, and Indy added three more in the eighth to run away as victors. Eric Wood homered to open the inning and Newman followed suit two batters later to complete the cycle, the first of his career. Stallings then joined the cycle party with a triple to the alley in right-center later in the frame, helping rewrite Indy's record books. Tyler Eppler (W, 12-5) benefitted from the run support to gain sole possession of the league lead in wins.
NOT ONE, BUT TWO CYCLES: The Indians joined the High-A San Jose Giants as the only teams in baseball history -- on record -- to have two players hit for the cycle in the same game. No MLB team has ever accomplished the feat. Oddly enough, San Jose's Gio Brusa and Jalen Miller each hit for the cycle in consecutive innings on April 11, 2018. Cycles by Indians in the Victory Field era (1996-present) are listed below, with five of the six occurring at Victory Field:
Jacob Stallings - 8/7/18 vs. LHV (4-for-5, 2 R, 3 RBI)
Kevin Newman - 8/7/18 vs. LHV (5-for-5, 2 2B, 2 R, 3 RBI)
Josh Bell - 4/22/16 @ LOU (4-for-5, 2 R, 5 RBI)
Jeff Clement - 6/2/12 vs. SYR (4-for-4, 2 R, 3 RBI)
Alex Presley - 6/27/10 vs. TOL (5-for-6, 2 1B, 2 R, 2 RBI)
Jason Conti - 7/10/03 vs. NOR (4-for-5, 3 R, 3 RBI)
NEEDED A TRIPLE, GOT A TRIPLE: Jacob Stallings needed a triple to complete his cycle last night, no easy task for a catcher. The 28-year-old answered the call, however, lacing a one-hopper to deep right-center en route to a hustling triple. Stallings had just five career triples through his first 1,899 career plate appearances, spanning seven professional seasons, but made his 1,900th career plate appearance count with career triple No. 6. The triple was his first in 196 career games with the Tribe.
SECOND TIME IS THE CHARM: Kevin Newman nearly hit for the cycle on 8/3 @ TOL; he went 3-for-5 and fell a home run short of his first career cycle. Little did he know, he would accomplish the feat a mere four days later with a perfect 5-for-5 performance, the first 5-hit game of his career.
MORE CYCLE INFO: Prior to last night's rare bi-cycle for Newman and Stallings, there had been only three cycles recorded in the IL for the entire season. DUR's Willy Adames (4/23), TOL's Ronny Rodriguez (5/30) and LOU's Brandon Dixon (7/17) were the others. Four of the five cycles in the IL have come from IL West Division teams.
2,608 DAYS, 18 DAYS: The Indians went 2,608 days (7 years, 1 month, 20 days) without a 5-hit game before Kevin Kramer accomplished the feat on 7/19/18 @ GWN. Josh Harrison had been the last to do it prior to Kramer, recording his 5-hit game with Indy on 5/28/11 @ PAW. Newman's 5-hit performance last night left just 18 days between he and Kramer's 5-hit games. There have been nine 5-hit performances by individual players in the IL this season; the last two have come from Indy's middle infield combo.
BIG TEX: Tyler Eppler picked up win No. 12 last night. His outing ending with four runs being charged to him in the seventh, but he mastered the IronPigs through the first six frames, surrendering just two hits while striking out five. Eppler ranks among IL leaders in wins (1st), innings pitched (3rd, 125.0) and ERA (10th, 3.67). He is the first Tribe pitcher with a dozen wins in a season since Rick van den Hurk tallied 13 victories in 2012.
SINGLE-GAME HIGHS: Five individual single-game offensive highs and four team single-game offensive highs were reached or set from last night's contest. Newman matched the hits (5), doubles (2) and triples (1) for a single game while setting the bar for total bases (12) and XBH (4), the most in each of those categories by a Tribe player dating back through the 2012 campaign. As a team, Indy matched 2018 single-game highs in home runs (3), home runs in an inning (2), triples (2) and hits in an inning (7).
EIGHT STRAIGHT FOR WYATT: Wyatt Mathisen has hit safely in a season-high eight consecutive games dating back to 7/29 vs. BUF. During his hitting streak, he's batted .344 (11-for-32) with two homers, two doubles, 12 RBI and five runs scored. He's also walked once and struck out just three times during the streak. He has recorded RBI totals of 4, 4 and 2 in a four-day span since last Friday at TOL. The hot stretch has raised his average from .250 to .267, its highest point since it was at .271 on 7/15. His 3-hit performance last night matched a season high previously accomplished two other times (5/15 @ NOR, 5/28 @ CHA).
BY THE NUMBERS - 5: Both Kevin Kramer (7/19 @ GWN) and Kevin Newman (8/7 vs. LHV) have recorded 5-hit games for the Tribe this season. The last time Indianapolis had multiple individual 5-hit performances in a season was in 2010 when Alex Presley had two of his own (6/27 vs. TOL, hit for cycle, 5-for-6; 7/19 vs. LHV, 5-for-5).
• Discuss this story on the International League message board...


International League Stories from August 8, 2018
The opinions expressed in this release are those of the organization issuing it, and do not necessarily reflect the thoughts or opinions of OurSports Central or its staff.