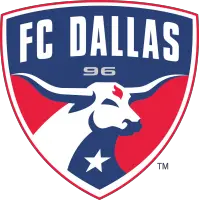 FC Dallas Falls 1-0 to Seattle Sounders in Western Conference Semifinals
December 2, 2020 - Major League Soccer (MLS) - FC Dallas News Release



Seattle, Washington - FC Dallas exits the Audi 2020 MLS Cup Playoffs after falling to Seattle Sounders FC, 1-0, Tuesday night at Lumen Field.
Game Summary
First Half:
11' - Matt Hedges made a diving block to deny Nouhou's close-range shot.
18' - Ryan Hollingshead received a through-ball from Andrés Ricaurte on the left flank but his low shot ended up just wide of Seattle's far post.
40' - Joevin Jones connected with Cristian Roldan's low cross but his first-time shot was well over Jimmy Maurer's goal.
41' - Bressan made a smart block at the top of Dallas' 18-yard box to stifle Raúl Ruidíaz's attempt.
45' - Fafa Picault latched onto Ricaurte's free kick but his header went high over the bar.
Second Half
49' - Shane O'Neill opens the scoring for Seattle with a near-post header following a corner kick.
63' - Dallas nearly found its equalizer but Michael Barrios' shot struck the post before Ricaurte's rebound-attempt was blocked on the goal line.
75' - Kelvin Leerdam found Jordan Morris in FCD's box but his ensuing shot was wide of the near post.
84' - Barrios sent a low, driven cross in front of Seattle's goal but no FCD player was on-hand to connect with it.
87' - A loose ball fell to Leerdam with Maurer out of his goal but his first-time volley flew over Dallas' goal.
Lineups:
FC Dallas - Jimmy Maurer; Johnny Nelson (Michael Barrios - 58'), Bressan, Matt Hedges, Bryan Reynolds; Fafa Picault (Ricardo Pepi - 80'), Tanner Tessmann (Santiago Mosquera - 81'), Thiago Santos (Jesús Ferreira - 87'), Ryan Hollingshead; Andrés Ricaurte, Franco Jara.
Substitutes not used - Phelipe, Reto Ziegler, Callum Montgomery, Brandon Servania, Ema Twumasi.
Seattle Sounders - Stefan Frei; Nouhou Tolo, Shane O'Neill, Yeimar Gómez, Alex Roldan; João Paulo (Román Torres - 87'), Cristian Roldan; Jordan Morris (Brad Smith - 90'+1'), Nicolás Lodeiro, Joevin Jones (Kelvin Leerdam - 68'), Raul Ruidíaz.
Substitutes not used - Stefan Cleveland, Xavier Arreaga, Miguel Ibarra, Jordy Delem, Will Bruin, Jimmy Medranda.
Scoring Summary:
SEA: Shane O'Neill (Nicolás Lodeiro) - 49'
Misconduct Summary:
FCD: Bressan (caution) - 58'
SEA: João Paulo (caution) - 69'
FCD: Thiago Santos (caution) - 74'
Weather: Clear, 43
Referee: Robert Sibiga
Assistant Referees: Frank Anderson, Jeremy Kieso
4th Official: Fotis Bazakos
VAR Official: David Gantar
FC Dallas head coach Luchi Gonzalez
General thoughts on tonight's match...
"I'm proud of the guys. It hurts more than last year; last year was my first year, the first with the staff. Just the next step after the post-Oscar (Pareja) time and Oscar was a big mentor for me and what a beautiful influence he had on me. But we ended the season competing here in an open game, a high-scoring game. But we went for it. This feeling is different, it hurts more. It's hard to accept because I know the year was difficult, the adversity of the year, but we were a little step closer in the playoffs but I thought we did well to close the game defensively and make it difficult. I don't know, I think Jimmy (Maurer) made one or two saves but we did a great job to not give him so much work. But we still fell short on a set-piece and we didn't put away the few chances that we had so we felt short. This one hurts. This one is harder to accept. Because I see us growing and taking steps in the right direction but the season's over. We don't have another week to train, we're not in the final four which is a big goal of ours. But I'm proud of the guys, I'm proud of the staff, I'm proud of our owners for showing us relentless passion and support for our guys on and off the field. They were brave today, they moved the ball, they pressed, they sacrificed for each other, but it didn't bounce our way. But you can't take it away from Seattle, they're a heck of a team with special talent. Very well organized, very well coached, and I wish them the best. It would hurt again to see them lift the cup but we wish them the best to go win it.
"The sun will rise tomorrow. This loss does not define us. It's all about the process and we just got together as a team just now and pretty confident they're going to have an even better offseason and I think they're going to be very motivated to compete and get out of their comfort zones in the next preseason. And that makes me very excited for what's ahead."
On how close this team is to taking the next step...
"It's hard to tell. Every team is going to make adjustments in the offseason. So a team that didn't even make the playoffs might add some pieces to their roster that can accelerate their potential right away. So we need to be smart here in the offseason and make sure that the ingredients that we add, or not, are smart to complement our culture, our tactics, our locker room; and to complement the performance that we want to see on the field. So there could be some opportunities to look into to keep adjusting the roster, but I think the core and the foundation is strong, strong as ever, and stronger than last year. We still got some young players that came through the system, Tanner (Tessmann), Bryan Reynolds and some veteranship in (Andrés) Ricaurte - I thought he had a beautiful performance today, a creative performance - Franco (Jara) left it all out on the field, Fafa (Picault) with energy as well. So I think we're going in the right direction. How close? Closer, closer. I think next year could be a great opportunity to actually change the outcome in this step in the playoffs for FC Dallas. But it's going to take a lot of work in preseason, another fight and battle in the regular season. This one is hard to swallow because we've worked hard to get to this point. I'm motivated to start the process all over again and improve on this. It's not going to be easy but I believe we have the foundation to do it."
FC Dallas Defender Matt Hedges
On the emotions after the game...
"Yeah, it's disappointing to come here and play the way we did and be in the game the whole time, it was a really even match and we had our chances. We kept them from having many chances and to give up a goal like that is disappointing for us."
On how FC Dallas executed its game plan...
"Yeah, I thought the way we set up today was the right way to play. I thought we played well, we held the ball, created some chances. I thought there were a couple times we could've scored towards the end of the second half when we hit that post and had a shot saved off the line. But I thought Luchi set us up the right way today, I thought it was one of our best performances against Seattle. We didn't win but I was proud of the way we played tonight."
FC Dallas Goalkeeper Jimmy Maurer
Feeling that you have as a club...
"To be honest, it's super hard right not to give you a fully in-depth answer on that retrospectively when it's so fresh right now. I think we grew a lot from last season to this season and throughout the season just maturing through the way we approach games but it's just really difficult right now. We're not happy to have just gotten here, so we are all really upset. It's a tough one to take. We were right in it and one set piece changes the game so it's just tough."
Frustration to give up on a set piece goal...
"That's the message of the playoffs in this league. That it's just the really small details that can change the game and the playoffs so many times with set pieces. You know it's inches and the margins are so small. You know these tiny details. It's just really trying to find ways to take advantage on your end, prevent them on the other end. What could we have done better? What could we have done to finish that chance off that hits the post and comes out? It's just so much more frustrating because like I said we just felt like we were in control. We felt like we had neutralized their top three that are so dangerous and have been so dangerous all year and we felt like we were eliminating their chances really well. Our back four were playing amazing and you know all eleven just putting the work in so felt like we were really growing in the game and to have that happen right after halftime just a few minutes in was tough to take for sure."
What are the positive aspects...
"Yeah I mean like what I was saying I think just the pandemic in general you just have to try and see the positives. We grew a lot as a team, we really leaned into each other and the strength of the group and some really tough moments and you know we really were able to grow through that and lean on each other and I think that is what got us as far as it did in a lot of ways. It's just being really tight as a group and really having a lot of trust in each other and really sacrificing for each other and trying to take advantage of the moments cause just the way this year was there were so many tough times that brought us really close together that you know I think that is the biggest positive is we just have that trust that we know when the chips are down and when things go badly we can lean in and dig through it together um and we showed that in some really gutsy road wins. We didn't have a lot but one in KC, one in Nashville.. just tons of efforts from the guys and we thought we were going to be able to do it again tonight and unfortunately we came up short."
• Discuss this story on the Major League Soccer message board...


Major League Soccer Stories from December 2, 2020
The opinions expressed in this release are those of the organization issuing it, and do not necessarily reflect the thoughts or opinions of OurSports Central or its staff.