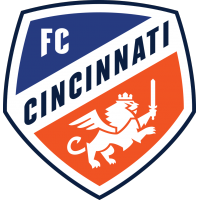 FC Cincinnati sets USL record of 23 consecutive matches without a loss
October 14, 2018 - United Soccer League Championship (USL) - FC Cincinnati News Release



NASHVILLE, Tenn. - FC Cincinnati set the USL record for an in-season undefeated streak after pushing their mark to 23 straight games without a loss with Saturday's 3-3 draw at Nashville SC to close the 2018 regular-season at First Tennessee Park on Saturday night.
Corben Bone netted two goals - pushing his season total to 11 - and FCC became the first team in USL history to claim four 10+ goal scorers in a single season as Bone joined Emmanuel Ledesma (16), Nazmi Albadawi (11) and Danni König (11) with 10 or more goals this season. With his 16th assist on Bone's first goal of the night, Ledesma also set the USL record for single-season assists.
Nashville (12-9-13, 49 pts.) jumped on the board in the fifth minute and carried the lead into the second period, but Cincinnati (23-3-8, 77 pts.) used goals from Bone and Albadawi to take a 2-2 lead. After Nashville leveled in the 60th minute, Bone struck again to put FCC ahead one minute later. However, Nashville used Boluwatife Akinyode's 90th minute tally to pull even again and force the final 3-3 draw.
FCC will enter the 2018 USL Cup Playoffs as the tournament's number one overall seed as the regular-season champion. The Orange and Blue will begin play when they host the Eastern Conference's number eight seed at Nippert Stadium at 4 p.m. on Saturday, Oct. 20. Tickets are on sale now. This weekend, fans can purchase tickets online at fccincinnati.com/tickets fee free until 11:59 p.m. on Sunday night.
For up-to-the-minute information about FC Cincinnati, visit the team's official website at fccincinnati.com, or follow the team on Twitter, Instagram and Facebook at @FCCincinnati. For more information about FC Cincinnati tickets - including 2018 USL Cup Playoffs tickets - call 513-977-KICK (5425) or visit fccincinnati.com/tickets.
FC Cincinnati 3, Nashville SC 3
First Tennessee Park | Nashville, Tenn.
Saturday, October 13, 2018
SCORING SUMMARY:
NSH - Tucker Hume (Alan Winn) 5'
CIN - Corben Bone (Emmanuel Ledesma) 52'
CIN - Nazmi Albadawi (unassisted) 63'
NSH - Brandon Allen (Ropapa Mensah) 80'
CIN - Corben Bone (Richie Ryan) 81'
NSH - Boluwatife Akinyode (unassisted) 90'
FC Cincinnati: Spencer Richey, Justin Hoyte, Paddy Barrett ©, Forrest Lasso, Blake Smith, Michael Lahoud (Richie Ryan 74'), Tyler Gibson, Emmanuel Ledesma, Nazmi Albadawi (Jimmy McLaughlin 76'), Corben Bone, Fanendo Adi (Danni Konig 74')
Bench: Evan Newton, Matt Bahner, Dekel Keinan, Fatai Alashe
STATS: Shots 20, Shots on goal 8, Fouls 12, Offsides 0, Corner kicks 6, Saves 2, Possession 66.3%
Nashville SC: Matt Pickens, Taylor Washington, Liam Doyle, Bradley Bourgeois, Ryan James, Alan Winn (Ramone Howell 73'), Boluwatife Akinyode, Michael Reed © (Kris Tyrpak 21), Ropapa Mensah, Tucker Hume (Brandon Allen 64'), Matt LaGrassa
Bench: C.J. Cochran, Justin Davis, Ish Jome, London Woodberry
STATS: Shots 14, Shots on goal 5, Fouls 9, Offsides 0, Corner kicks 2, Saves 5, Possession 33.7%
MISCONDUCT SUMMARY
CIN -- Nazmi Albadawi (caution) 39'
NSH -- Matt LaGrassa (caution) 40'
Referee: Marcos DeOliveira
Weather: 54 degrees and clear
Attendance: 9,083
Man of the Match: Corben Bone
HOW IT HAPPENED
5' | NSH GOAL - After a ball was deflected in Cincinnati's final third, Nashville's Michael Reed played a lead pass to Alan Winn who was attacking on the left flank, just outside the 18-yard box. Winn sent a cross in to Tucker Hume, who headed it inside the near post to put the home side in front.
8' | After a long free kick from Nashville's defensive half, Ropapa Mensah gained possession of the ball from about 35-yards from net. Mensah dribbled past the FC Cincinnati defense, into the 18-yard box, and fired a right-footed shot wide of the far post.
10' | FC Cincinnati earned a free kick on the right flank, approximately 40-yards away from goal. Ledesma played a left-footed ball to the top of the six-yard box, where Paddy Barrett got his head to the ball, however, directed the shot wide of net.
32' | Following a throw-in from the right flank, Nashville's Kris Tyrpak gained possession just outside the top-right corner of the 18-yard box. Tyrpak took a low right-footed shot that curled to the left of the goal frame.
35' | After Nashville failed to clear the ball from their defensive half, Justin Hoyte gained possession for the Orange and Blue near the 18-yard box. Hoyte centered a ball to Emmanuel Ledesma, who curled a left-footed shot from just outside the box, but Matt Pickens was able to make a right-handed diving save.
52' | CIN GOAL - From the left flank, Tyler Gibson played a pass to Emmanuel Ledesma, who in one touch, played a lead pass to a charging Corben Bone. Bone first-timed a low right-footed shot past Pickens to even the scoreline.
55' | From the halfway line, Taylor Washington attacked down the left flank until he was just to the left of the 18-yard box. Washington sent in a low cross to Tyrpak, who took a first-time left-footed shot, however, a diving Spencer Richey was able to push the ball wide and out of danger.
63' | CIN GOAL - From the corner flag, Emmanuel Ledesma's left-footed cross was deflected by Pickens directly to the head of Albadawi, who finished the chance to give FCC its first lead of the night.
68' | Nashville forced a turnover just to the right of the center circle. On the counter, Matt LaGrassa played a through ball to Tyrpak, who took one touch before taking a left-footed shot atop the 18-yard box. Richey was able to steer the ball wide of the net to concede a corner.
80' | NSH GOAL - Mensah attacked down the right flank, looking to provide service to the top of the six-yard box. The attacker sent in a cross to Brandon Allen who directed a left-footed shot to the back of the net to give equalize for Nashville
81' | CIN GOAL - Just seconds after Nashville tallied, the Orange and Blue looked to equalized on a quick restart. From the center circle, Jimmy McLaughlin played a through ball to Corben Bone on the left flank. Bone took three touches, stutter-stepped and curled a right-footed shot just inside the far post to put FC Cincinnati back on top
90' | NSH GOAL - Washington received a pass on the left flank about 30-yards from net and sent a low cross into the six-yard box. Brandon Allen gained possession of the loose ball and played a backheel pass to Ramone Howell, who's shot was blocked by Forrest Lasso. Boluwatife Akinyode stepped up to the deflected shot and hit a right-footed shot past Richey to equalize prior to the final whistle.
GAME NOTES
Saturday night's draw pushed the Orange and Blue's undefeated streak to 23 games (17-0-6), setting the USL record for longest unbeaten streak in a single season, surpassing the previous mark of 22 games (Richmond Kickers, 2013) ... during this run, FCC is 10-0-2 at home and 7-0-4 on the road ... FCC's last loss came on May 26 - to Louisville City FC
The Orange and Blue remain undefeated through three all-time matches against Nashville, posting a 0-0-3 record in USL play ... FC Cincinnati is now 0-0-2 in matches played at Nashville in USL competition
Corben Bone made his 100th appearance across all competitions for FC Cincinnati in tonight's match ... Bone became the second player to accomplish the feat, after Jimmy McLaughlin did so against Indy Eleven on Sept. 29 ... Bone has made 100 appearances, including 92 starts, and has scored 15 goals and has added eight assists across all competitions ... Bone has made 90 USL regular-season appearances, two USL Cup Playoffs appearances, and eight U.S. Open Cup appearances for FCC
Corben Bone scored his 10th and 11th goals of the year in tonight's match ... with the goal, FC Cincinnati became the first team in USL history to have four 10-goal scorers in a single season as Bone joined Ledesma (16), Albadawi (11), and Konig (11)
Nazmi Albadawi recorded his 11th goal of the season in tonight's contest ... the goal was Albadawi's first since he tallied at Richmond on Sept. 26
Emmanuel Ledesma added to his USL single-season assist record total when he set up Bone's tally in the 52nd minute ... Ledesma concluded regular-season play with 16 assists on the year
Richie Ryan made his first appearance for the Orange and Blue since suffering a lower leg injury against Toronto FC II on June 27 ... In total, Ryan missed 17 games while recovering from injury ... Ryan played 16 minutes as a second-half substitute and recorded his first assist of the season on Corben Bone's goal in the 80th minute
Alan Koch made three changes to the starting lineup that took the field last Saturday against Pittsburgh... Nazmi Albadawi, Tyler Gibson, Fanendo Adi returned to the starting lineup
POSTGAME QUOTES
FCC Head Coach Alan Koch
On tonight's performance...
"I think it's exactly what we needed. Obviously, playing your last regular-season game before the postseason, you want to be challenged and we got exactly that. That felt like a playoff-type game tonight. You could see Nashville was ecstatic to get the point at the end, and fair play to them, they gave everything they could tonight, and those are the types of games that we're going to have to embrace starting right away next week."
On the team's response following Nashville's goals...
"I think the team was very, very good tonight. We played good soccer. I think we possessed the ball very, very well. We tried to break them down, I think we created all sorts of opportunities too. I think we were a little bit lax defensively. Nashville is a good team in transition, and they hurt us a little bit."
On having four double-digit goal scorers...
"I think I just use the word team, this is a team. Having four guys that have scored double digits is amazing. We've got other guys that can score goals too, obviously. It just shows that we're very, very multidimensional in terms of our group. I think the cool thing tonight is coming on the road and getting a point against a good team, a very historic night from an unbeaten perspective, but obviously a very special night from Corben too. To play your 100th game and put in a performance like that is very, very impressive, so I'm very happy for him tonight."
FCC Midfielder Corben Bone
On if tonight was a special night for him...
"Yeah, I think it's a cool achievement to get to 100 appearances. I just said I'm in good company, which I am. That's great and I'm super proud of that and happy that I could do that with such a great club. I think now that it's happened, I think we can concentrate on what's coming next and hopefully make a really good push into the playoffs and turn it into 104."
On if tonight was an example of an expected playoff atmosphere...
"I think that's one of the things that we wanted to get out of this game was kind of a test before the playoffs and treat it like a playoff game. It was a tough game, there are certain moments during the game that I think we could've managed a bit better. You never want to give up three goals, but that's just soccer and it happens sometimes. We get another chance of it again next week and hopefully we can do a bit better job of managing those certain moments and move on."
On playing with Richie Ryan again...
"It was great. He gave me a great pass on the goal and for a guy that is such a great player like himself, and a great person, you always want to see him on the field. We definitely missed him. So, to have him back is great and I love that he's back, because I know he was dying to get back, and to look across the field and see him, it was a great feeling."
• Discuss this story on the United Soccer League Championship message board...


United Soccer League Championship Stories from October 14, 2018
The opinions expressed in this release are those of the organization issuing it, and do not necessarily reflect the thoughts or opinions of OurSports Central or its staff.