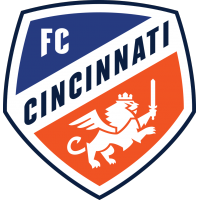 FC Cincinnati Academy Recap: November 13-14
November 16, 2021 - Major League Soccer (MLS) - FC Cincinnati News Release



The FC Cincinnati Academy had a busy weekend, facing off against three opposing clubs in multiple locations. For as busy as the weekend was, it was equally successful as the Orange and Blue compiled an impressive 7-1-0 record in eight games against Minnesota United FC Academy and Shattuck-St. Mary's at home and on the road at Beadling SC.
In wintery conditions, here's a look at how each academy age group fared:
Saturday Nov. 13
U13 | Beadling SC 0, FC Cincinnati Academy 2
The U13 team wrapped up the MLS Next fall season with a 2-0 road victory. Both goals were scored from a set play by Anson Sentor. The first was from the spot right before halftime before he added his second from a free kick in the middle of the second half. Kerick Kohler and Booker Gifford kept a half each to keep a clean sheet for the third game running.
U14 | Beadling SC 3, FC Cincinnati Academy 2
Down 1-0 at the halfway point, the 14's were able to grab two goals with Rowen Arnold and Blake Koch scoring one each. Unfortunately, the opposition came on strong in the last 10 minutes to win the game 3-2.
U15 | FC Cincinnati Academy 3, Minnesota United FC Academy 1
At Mercy Health Training Center, the U15 squad took one of several comeback victories over Minnesota United FC Academy. Down 1-0 at halftime, a brace from Juan Piedra and a solo goal from second half substitute Taylor Kogan secured a 3-1 victory.
U17 | FC Cincinnati Academy 2, Minnesota United FC Academy 1
An early goal from Minnesota United looked like it was going to secure all three points for the visitors, but a late strike from Isaac Calderon was followed minutes later with a stoppage time winner from Jio Gabriel Mora to take the 2-1 victory.
U19 | FC Cincinnati Academy 3, Minnesota United FC Academy 2
In a game that saw three goals from the penalty spot, Gerardo Valenzuela was the hat trick hero for FCC. He scored the first of his three goals from the spot five minutes into the game. Minnesota United then scored two penalties to take a 2-1 lead. Valenzuela scored close range from a well worked team goal in the middle of the second half before he scored the winner in stoppage time in a thrilling top of the table clash.
Sunday Nov. 14
U15 | FC Cincinnati Academy 8, Shattuck-St. Mary's 1
With snow and sleet came goals. With games played on the campus of Northern Kentucky University with the USMNT training at MHTC, six of the eight FCCA strikes were scored in the first 45 minutes. Reece Cousino and Justin Hylton both scored two each with Juan Piedra and Sam Weeter both continuing with their good run of form by adding one each. Ben Manfroy returned from injury as a second half sub and returned to the score sheet as well in his return.
U17 | FC Cincinnati Academy 4, Shattuck-St. Mary's 1
Another comeback victory for Coach Paez's team secured all six points for the weekend. Down 1-0 at the half, the game turned when Isaac Calderon added to his goal scoring tally for the weekend with two goals before Ryder Mills also got himself on the score sheet with two late goals to secure a comfortable win.
U19 | FC Cincinnati Academy 2, Shattuck-St. Mary's 1
Scoreless at the half, the visitors struck first from the penalty spot in the middle of the second half. But yet another comeback for the Orange and Blue capped the weekend when Gerardo Valenzuela scored his fourth goal of the two-day stretch to level the score. Substitute Will Bencic scored the winner with his first touch of the game to secure a perfect 3-0-0 Sunday for the Orange and Blue.
UP NEXT:
The Young Garys aim to continue the club's strong recent form when it takes on regional rival Columbus Crew Academy on Saturday.
Saturday, Nov. 20
U14 at Columbus Crew Academy - 4 p.m.
U15 at Columbus Crew Academy - 12 p.m.
U17 at Columbus Crew Academy - 10 a.m.
U19 at Columbus Crew Academy - 2 p.m.
MLS NEXT, introduced in 2020, provides the best player development experience in North America. Founded on a collaborative approach to governance and a commitment to innovation, MLS NEXT players have access to the highest levels of competition and to training and personal development opportunities that will prepare them for their futures, both in soccer and in life.
For the latest information on the FC Cincinnati Academy, follow the program on Twitter @FCCincyAcademy and visit the academy's website at fccincinnati.com/academy.
For up-to-the-minute information about FC Cincinnati, visit the team's official website at fccincinnati.com, or follow the team on Twitter, Instagram and Facebook at @FCCincinnati. Additionally, fans are encouraged to download the team's official mobile app on the Apple App Store or Google Play for instant access to mobile tickets, team content and match notifications.
• Discuss this story on the Major League Soccer message board...


Major League Soccer Stories from November 16, 2021
The opinions expressed in this release are those of the organization issuing it, and do not necessarily reflect the thoughts or opinions of OurSports Central or its staff.