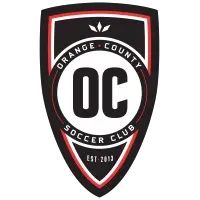 Epicenter of the OC's Soccer Culture Adds OCSC Open Tryout to Its Pedigree
January 19, 2022 - United Soccer League Championship (USL) - Orange County SC News Release



On the outskirts of Santa Ana's humble downtown district, west of the famous Calle Cuatro (Fourth Street), is Santa Ana Stadium. The modest 10,000-seater stadium, currently home to the city's high school and college football teams along with national powerhouse Mater Dei High School, might be easily missed and forgotten.
Yet, over 55 years ago, the stadium hosted two matches for the German Cup champions FC Bayern Munich during a United States summer tour that featured future legends, Gerd Müller and Franz Beckenbauer. The Bavarian club played their second match against the Orange County Soccer Club, a semi-professional team from the Continental League, in Santa Ana.
Despite being a semi-pro club, Orange County came back from three deficits to tie Bayern, 3-3, thanks to a last second goal by captain Joe Grundtner on June 10, 1966. Information on the match and club overall is quite rare, save for a brief scoreline on Bayern's website and what is known among local soccer supporters as well as archived reports and memorabilia.
The semi-pro Orange County outfit faded out of existence quite rapidly, but not without leaving its mark in American soccer when they were back-to-back finalists for the 100-plus team National Challenge Cup competition, now known as the U.S. Open Cup. It would take decades and various defunct clubs and leagues for Orange County to finally field a professional team with its name in the USL Championship.
And that club, Orange County SC (OCSC), over half of a century later overcame a midseason coaching change among other obstacles to win the 2021 USL Championship Final which put them in the national and international spotlight.
Ahead of their title defense in the 2022 USL Championship season, OCSC announced that their annual Open Tryout will be held in Santa Ana at the Dan Young Soccer Complex located at Centennial Regional Park from January 29-30. This is the first time that OCSC will host the Open Tryout away from the club's facilities at Championship Soccer Stadium at the Great Park in Irvine.
Although the tryout will not be held on the grounds of Santa Ana Stadium, it is still within the city bordered by the river of the same name and the I-5 freeway. Santa Ana has become a representation of the intersection of Orange County's Hispanic and soccer cultures in a predominant working class environment.
Along many of the streets of Santa Ana, color fills the walls of buildings either from art or signage on the small shops and eateries in Spanish. Those from Santa Ana and its surrounding cities in Orange County know that there are no shortages of aguas frescas and taquerias. In addition, the flags and colors of Mexican club teams and other soccer clubs are on display at shops, restaurants and houses.
The culture and history of the sport has cemented itself in Santa Ana from the original Orange County Soccer Club's world class performance to Mexico's biggest clubs coming through the gates of the city's stadium. Santaneros and Santaneras might even recall a January 1989 day when Club America from the Mexican Primera Division, now Liga MX, defeated Bayern Munich, 2-1, in front of 11,500 spectators.
Around the city's parks, it is common to see them filled with kids practicing soccer on weeknights, like the boys and girls of Santa Ana United, who are part of OCSC's Youth Soccer Network and Pathway to Professional program. On weekends, the parks host organized adult pick-up games and youth leagues with teams adopting the uniforms of professional clubs or national teams that kick off early in the day and conclude in the evenings.
While the high profile matches are no longer played, OCSC continues to keep the soccer culture within the city thriving and even adding to its decorated history by being involved in the community both on and off the field. Extending beyond the club's affiliation with Santa Ana United, OCSC has gone on to host free clinics and educational programs at local schools and organized pick-up five-a-side matches at community events.
In late October, OCSC and City of Santa Ana broke ground on an outdoor hard-surface soccer court, or mini-pitch, at Delhi Park in partnership with Dick's Sporting Goods and the U.S. Soccer Foundation. Expected to be open in late February, the mini-pitch will be available to all communities and be the location of future youth tournaments and clinics.
The mini-pitch will allow young talent to develop and prove themselves in their soccer journey similar to players that have come before them like Santa Ana's very own Frankie Amaya, who had a brief stint for OCSC during the 2019 season before returning to the MLS.
During this recent title winning season, OCSC fielded a few Orange County natives including Francis Jacobs and Liga MX veteran and captain Michael Orozco. With OCSC holding the Open Tryout in Santa Ana, it provides an opportunity for the local talent in and around the city and Orange County to reach the next level with head coach Richard Chaplow and the reigning USL Champions.
• Discuss this story on the United Soccer League Championship message board...


United Soccer League Championship Stories from January 19, 2022
The opinions expressed in this release are those of the organization issuing it, and do not necessarily reflect the thoughts or opinions of OurSports Central or its staff.