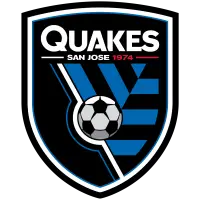 Earthquakes Midfielder Chofis Named MLS Player of the Week
September 20, 2021 - Major League Soccer (MLS) - San Jose Earthquakes News Release



SAN JOSE, Calif. - San Jose Earthquakes midfielder Eduardo 'Chofis' Lopez has been named Major League Soccer's Player of the Week for Week 26 after scoring two goals, including the game-winner, during Saturday night's 4-3 victory over Austin FC. Chofis was also selected to Major League Soccer's Team of the Week.
Click here to download highlights and photos from Saturday's match
With the team trailing 3-2, Chofis scored two goals in a five-minute span during the second half to lift San Jose to the come-from-behind victory. He now has a team-high 10 goals this season, the most by a Quakes player in his first season with the club since Ariel Graziani in 2002 (14).
In addition to his Player of the Week performance in Week 26, Chofis was also one of four finalists for the honor in Week 25 after scoring a hat-trick last Wednesday. He became the first Quakes player to score 5+ goals in a two-game span since Chris Wondolowski tallied six from May 18, 2019 (4) to May 26, 2019 (2).
The MLS Player of the Week honor is the first of Chofis' career. He is the third Earthquakes player to be named MLS Player of the Week in 2021, joining Cade Cowell (Week 3) and Wondolowski (Week 4).
SAN JOSE EARTHQUAKES HEAD COACH MATIAS ALMEYDA (SEPT. 18)
On Chofis' form in recent matches:
"I am very happy for him. There was great sacrifice in getting him to San Jose and reaching the level he is currently at after going a year and a half without playing. He changed the way he trains and lives football, including his professionalism and calmness. He knows that I try to get to know him and advise him. I have committed mistakes in my life, and I don't want him to commit the same mistakes. I want to see him stay the way he is now. This causes me to be very happy. He is a young, talented player, and for a moment, he was torn by his critics. He can make mistakes and he will learn from them. He will learn by my side and he will keep growing. He has my confidence in him to make his own decisions. It makes me very happy seeing him play this way. I know his family and I am happy for them too. When I see him progressing in the sport, it makes me very pleased because he is progressing in life, and no one talks about that."
• Discuss this story on the Major League Soccer message board...


Major League Soccer Stories from September 20, 2021
The opinions expressed in this release are those of the organization issuing it, and do not necessarily reflect the thoughts or opinions of OurSports Central or its staff.