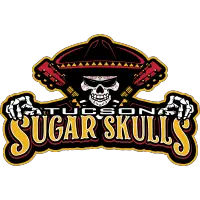 Croft Headlines 2021 All-Rookie Team
September 8, 2021 - Indoor Football League (IFL) - Tucson Sugar Skulls News Release



COLUMBUS, OH -- The Indoor Football League announced its 2021 All-Rookie Team on Tuesday, with 17 rookies being recognized for their play. The league's rookie class in 2021 proved to be an exceptional one, as nine rookies also earned All-IFL honors, including three 1st Team All-IFL performers and six 2nd Team all-league honorees.
Tucson Sugar Skulls quarterback Demry Croft was named as the 2021 All-Rookie quarterback.
Numerous teams had multiple selections to the All-Rookie Team, with the Frisco Fighters leading the way with four players being chosen and Green Bay having three. One player, Massachusetts Pirates all-purpose star Laquvionte Gonzalez, earned All-Rookie honors at two positions, wide receiver and kick returner.
The complete list of the 2021 IFL All-Rookie Team is as follows:
ALL-ROOKIE TEAM OFFENSE
QUARTERBACK - DEMRY CROFT, TUCSON SUGAR SKULLS
Croft was a dual-threat weapon for the Sugar Skulls, rushing for 446 yards and 10 rushing touchdowns while also completing 142-of-234 passes (60.7%) for 1,381 yards and a total for 24 passing touchdowns. His 40.5 rushing yards per game was fifth-best in the IFL and best among rookie quarterbacks. He also finished fifth in the IFL in passing yards per game and touchdown passes and was third in completion percentage.
RUNNING BACK - DEMARCUS FELTON, FRISCO FIGHTERS
A 2nd Team All-IFL performer, Felton ranked second in the IFL in rushing among running backs, finishing the regular season with 507 yards (4th overall) for an average of 39.0 yards per game (5th) and 20 rushing touchdowns (3rd). Felton's 134 rushing attempts led all running backs and was the second-most in the IFL during the regular season.
WIDE RECEIVER - JT STOKES, BISMARCK BUCKS
Stokes was a big-play threat for the Bucks, leading all receivers in the IFL with an average of 16.2 yards per reception. He ended his rookie campaign with 33 total receptions for 534 receiving yards and 13 touchdowns. He also added 12 rushes for 56 yards and two touchdowns, proving to be a complete weapon within the Bismarck offense.
WIDE RECEIVER - LAQUVIONTE GONZALEZ, MASSACHUSETTS PIRATES
Gonzalez was one of the most dynamic all-purpose players in the IFL during his rookie season. On offense he played a key role in the Pirates' receiving corps, finishing the season with 35 receptions for a total of 364 receiving yards and 10 touchdowns. His 10 touchdowns ranked third among rookie receivers, and his 364 yards ranked fourth among all rookies.
WIDE RECEIVER - TODD ATHEY, NORTHERN ARIZONA WRANGLERS
Athey split the 2021 season between the Wranglers and Louisville, but his combined stats made him one of the most successful rookie receivers in 2021. In 11 games, Athey caught 48 passes for 537 yards and 16 touchdowns. He led the Northern Arizona Wranglers in receptions and receiving yards, despite just playing in seven games for the Wranglers.
OFFENSIVE LINE - JAHAIR JONES, ARIZONA RATTLERS
A member of the 1st Team All-IFL Team as a rookie, Jones led a Rattlers offensive line that led the way for the best rushing team in the IFL. The Rattlers piled up 1,834 yards and 69 touchdowns on the ground, while Jones also helped the Arizona offensive line keep their quarterback upright, as the team finished with the second-fewest number of sacks allowed on the season (7).
OFFENSIVE LINE - MAEA TEUHEMA, FRISCO FIGHTERS
Another 1st-Team All-IFL performer, Teuhema contributed to paving the way for the Fighters rushing attack that finished fifth in the league in rushing attempts (261) and touchdowns (37) during his rookie season. Frisco also ended the season fourth in rushing yards per game (79.9) and sixth in yards per carry (4.0).
OFFENSIVE LINE - JARED THOMAS, MASSACHUSETTS PIRATES
Thomas earned 2nd Team All-IFL honors while helping lead one of the hottest teams in the league down the stretch. The Pirates offensive line allowed just 14 sacks on the season, which ranks sixth in the league. As a rookie he also helped lead an offense that finished sixth in yards per carry (3.9) and seventh in rushing touchdowns (33).
ALL-ROOKIE TEAM DEFENSE
DEFENSIVE LINE - DAJON EMORY, GREEN BAY BLIZZARD
Emory was named to the 2nd Team All-IFL Team after finishing his rookie season third in total tackles for loss (11.5) in the IFL and tied for sixth in the league with 4 sacks. He also finished tied for fifth in the IFL with a pair of forced fumbles, a total that placed him in a first-place tie among rookies.
DEFENSIVE LINE - DA'VON KEITH, BISMARCK BUCKS
Keith finished his rookie year with 43 total tackles, 3.5 sacks, and 9.5 tackles for loss, a total that ranked seventh in the league. Keith also broke up two passes and added a quarterback hurry in proving to be one of the top players on the Bucks' defense.
DEFENSIVE LINE - DONALD LOUIS, FRISCO FIGHTERS
Louis was part of a talented Frisco Fighters defense that led the IFL in sacks and total defense. Louis contributed with three sacks (tied for 10th in the IFL and fourth among rookies) and nine tackles for loss, which ranked sixth in the IFL and was third among all rookies. Louis also forced two fumbles, which no other rookie eclipsed.
LINEBACKER - TONY JONES, IOWA BARNSTORMERS
Jones was a 1st Team All- IFL performer who ended his rookie season with 79 total tackles. His 7.2 tackles per game ranked fourth in the IFL, while his nine tackles for loss was the eighth-best total in the league. Jones also tallied 3.5 sacks, one forced fumble, and two fumbles recovered.
LINEBACKER/ DEFENSIVE BACK - MARQUIS HENDRIX, SIOUX FALLS STORM
Playing in 12 games in 2021, Hendrix finished second in the IFL with 96 total tackles. His 8.0 tackles per game was also second-best in the IFL. Hendrix also recovered one fumble on the season.
DEFENSIVE BACK - MOMODOU MBYE, GREEN BAY BLIZZARD
Mbye was named 2nd Team All-IFL while helping lead a talented Green Bay secondary. Mbye finished the season tied for third in the league with five interceptions. He also racked up a total of 83 tackles (7th in the IFL) nine passes defensed, and four pass breakups.
DEFENSIVE BACK - MALIK REEVES, GREEN BAY BLIZZARD
Reaves was one of the top tackling machines in the IFL, finishing the season with 81 tackles, good for 8th overall. His four interceptions ranked fifth in the IFL and his nine total passes defensed ranked 12th. He finished fifth in the IFL with 79 total interception return yards.
DEFENSIVE BACK - ZURIL HENDRICK, BISMARCK BUCKS
Hendrick was a ballhawk as a rookie, ranking third in the IFL in pass breakups (19) and passes defensed (22). For his efforts, Hendrick was also named 2nd Team AIl-IFL. In addition to his pass breakups, Hendrick also finished the year with 55 total tackles for an average of 4.6 tackles per game.
ALL-ROOKIE TEAM SPECIAL TEAMS
KICKER - KRISTOV MARTINEZ, FRISCO FIGHTERS
In only nine games with the Fighters, Martinez finished fourth in the IFL in field goals made (7) and fifth in field goal percentage (43.8%). His 50-yard field goal was the longest made field goal in the IFL in 2021. Martinez made 38-of-45 extra point kicks, good for an 84.4 percent success rate.
KICK RETURNER - LAQUVIONTE GONZALEZ, MASSACHUSETTS PIRATES
Gonzalez, who was also named All-Rookie as a wide receiver and was named 2nd Team All-IFL as a kick returner, finished third in the league with 989 kickoff return yards, averaging 21.0 yards per return (2nd). His three returns for touchdowns were tied for first in the IFL, while his 102.9 all-purpose yards per game and 1,441 all-purpose yards were both fourth-best in the league.
• Discuss this story on the Indoor Football League message board...


Indoor Football League Stories from September 8, 2021
The opinions expressed in this release are those of the organization issuing it, and do not necessarily reflect the thoughts or opinions of OurSports Central or its staff.