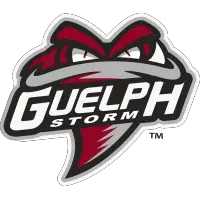 Comeback Kids:Storm Have Been Unbeatable When Season on the Line
May 17, 2019 - Ontario Hockey League (OHL) - Guelph Storm News Release



Whatever obstacles the Guelph Storm may face in Halifax, it's difficult to imagine they will be bigger than the ones faced to get to the Memorial Cup presented by Kia.
The OHL Champions overcame series deficits of three-games-to-none against the London Knights, and then came back from two games on three different occasions against the Saginaw Spirit (twice) and Ottawa 67's to win the Robertson Cup.
"Well it certainly helps," said Storm GM/head coach George Burnett on whether having their backs to wall on multiple occasions helps his team the next time the situation arises. "We just find a way."
The Storm comebacks speaks to an inner constitution and level of confidence that is unique even among championship teams. To a man, Storm players and coaches spoke about the pride in their group and their self-belief to not let seemingly impossible odds stand in their way. But there is also their talent. Guelph's roster could make even the most cynical observer blush.
Let's start with Nick Suzuki. The Montreal Canadiens prospect had one of the most spectacular OHL individual playoff performances in recent memory. Suzuki's brilliant individual effort in Game 6 of the Western Conference Final against the Spirit will make year-end highlight shows in six months time. It also was the likely turning point in a hard-fought series against the Spirit.
Suzuki centres a top line that includes Isaac Ratcliffe and MacKenzie Entwistle. With Suzuki leading the way, that unit pulled Guelph back in the Rogers Championship Series when the Storm fell behind 2-0. The towering wingers - Ratcliffe is 6'6" and Entwistle 6'3" - are the most prominent example of another characteristic about the Storm: size.
A handful of Storm players both up front and on defence are well over six feet. Whatever tendency hockey may have shown in recent years toward skill and away from sheer bulk, when a team possesses both, as Guelph does, it's a daunting task to overcome. Just ask the Knights, Spirt and 67's, all teams of championship calibre who couldn't close out tantalizingly close opportunities to eliminate the Storm.
Burnett acknowledges his team's physical attributes and ability to play heavy but strikes a cautionary tone when analyzing it.
"It's an advantage if you play heavy, we need our guys to play that way to be effective," he said.
Of the other players at Burnett's disposal, none were better during the regular season than Nate Schnarr. A counterweight to the diminutive Suzuki, the 6'3" Schnarr had a 102-point regular season. With sizeable wingers Keegan Stevenson and Liam Hawel, the Storm's nominal second unit plays hard minutes and can also fill the net.
"There was a time when we were only getting scoring from one or two players but (our depth) then took some of the pressure off the Suzuki, Ratcliffe, Entwistle line," said Burnett.
Beyond the top two forward lines, the Storm depth players include 20-year-olds Cedric Ralph and Alexey Toropchenko. Pavel Gogolev, who came to Guelph in December from Peterborough but was lost for a long stretch to injury, has found his stride in the playoffs.
On defence, Dmitri Samorukov has been a rock. The Edmonton Oilers draft pick may not immediately roll of the tongue as one of the best d-men in the Canadian Hockey League but his play in the second half of the regular season and playoffs have proven that perhaps he should be considered in that bracket. To wit, Samorukov was likely Russia's most valuable defenceman at this year's World Junior and he's already taken a regular shift in the American Hockey League, during a five-game cameo for Bakersfield after the Storm were eliminated from last year's playoffs.
Samorukov has flourished playing alongside Sean Durzi. Fedor Gordeev, Owen Lalonde, Markus Phillips and Danill Chayka have got the job done at the back end, an especially difficult task for defencemen whose team faced elimination seven times before even getting to the Rogers OHL Championship Series.
Anthony Popovich, with three seasons in the Storm crease and more than 130 starts as the playoffs began, is the Storm's No. 1 goaltender.
Now obscured by Guelph's staving off elimination so many times, Burnett's roster moves in December and January have been validated by the long playoff run. None were bigger than Suzuki from the Owen Sound Attack but Entwistle, who won an OHL title with Hamilton last season, up front and Durzi and Phillips on the back end have all played critical roles.
If there are scuff marks, it's that the Storm have put themselves in so many desperate positions. You must lose games to then comeback in a series. In all three cases, the Storm have played below their considerable standard to put themselves behind the eight ball. In an abbreviated Memorial Cup format where you only get one crack at an opponent, that could be a concern.
The franchise's quest for its first Memorial Cup title - the Storm have now won the Robertson Cup on four occasions - comes after some lean years since losing in the final in 2014. Ratcliffe is in his fourth season in Guelph and didn't win a series until the Storm beat the Kitchener Rangers in this year's opening round.
Ratcliffe, while acknowledging that being here from the start makes this trip extra special, was also quick to praise the new additions and how they've shown longer term players like himself what it takes when the chips are down.
"We brought in guys who had been captains and assistant captains and that has made a huge difference," he said.
Twenty one years ago the Storm were on the verge of winning the Memorial Cup but lost in overtime to the Portland Winter Hawks in the 1998 final. Burnett was behind the Storm bench then. He still recalls that magical run with fondness and the added perspective it gave him and the community this time around.
"It's hard to believe it's been 21 years," he said.
-Peter Robinson is the managing editor of the Memorial Cup souvenir program.
• Discuss this story on the Ontario Hockey League message board...


Ontario Hockey League Stories from May 17, 2019
The opinions expressed in this release are those of the organization issuing it, and do not necessarily reflect the thoughts or opinions of OurSports Central or its staff.