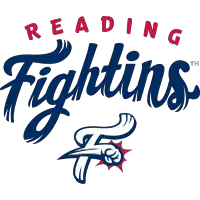 Buy Now - Tickets Without Fees to R-Phils Home Games
June 4, 2021 - Double-A Northeast League (AA Northeast) - Reading Fightin Phils News Release



(Reading, PA) - The Reading Fightin Phils are excited to run a No Ticket Fees promotion from today, June 4th - Sunday, June 6th. This offer allows fans to buy as many tickets to any remaining R-Phils games at FirstEnergy Stadium with no ticket-processing fee at all! Beginning at 7:00pm tonight all the way through Sunday night.
The Fightins will have 48 more home games at America's Classic Ballpark filled with live entertainment, elite baseball, concerts, happy hours, fun for the kids, and of course lots of post-game firework shows! Now is a great opportunity to get any amount of tickets without the $1.50 purchasing fee.
R-Phils tickets are great for family and friends to share a night out in a safe, community environment. Plus, with an extra-large ballpark there is room for everyone! With all of our different ticketing options and our mix of baseball and fun, FirstEnergy Stadium has a place for any kind of fan.
Fightins tickets are also a great & unique gift option! With schools ending, they are a great end-of-year presents for your kid's teachers, bus drivers, or school nurses, etc. R-Phils tickets also make for a great birthday or Father's Day gifts. Plus, with Fourth of July coming around the corner, there is no better place to spend a holiday.
Fans, jump on the chance to get your R-Phils tickets WITHOUT any ticket fees! From tonight, June 4th at 7:00pm - Sunday, June 6th, set yourself up for the rest of the 2021 R-Phils season!
Some key dates you might want to know about: ALL FIREWORKS/MEGA BLAST NIGHTS BARK IN THE PARK NIGHTS BEERFEST NIGHTS Tu 6/22 7:05 R-Phils Aaron Nola T-Shirt (First 2,000 Adults 15 & Over) - Berks County Mental Health & Developmental Disabilities Program
We 6/23 7:05 70th Anniversary of America's Classic Ballpark Fleece Blanket (First 1,000 Adults 15 & Over) - Penn State Health St. Joseph, Feesers, Carpenter, The Pennsylvania Cyber Charter School
Su 6/27 5:15 FEATURED GAME: BELATED Father's Day Mike Schmidt R-Phils Replica Jersey T- Shirt (First 2,000 Men Age 18 & Over) - CJ's Tire and Automotive. And BELATED Father's Day Post-Game Play Catch On the Field w/ Dad - RC Theatres / Reading Movies 11 & IMAX, 69 News Berks Edition & ROG Orthodontics
Tu 7/6 7:05 FEATURED GAME: Football Hall of Famer & NFL 100 Greatest of All-Time Honoree Lenny Moore Hometown Hero Bobble Head (First 1500 Adults 15 & Over) - Essig Plumbing and Heating. And Lenny Moore Appearance w/ Autograph Session Available 5PM
We 7/7 12:00 R-Phils 2021 Team Photo (First 2,000 Kids 14 & Under) - Stratix Systems
Su 7/18 2:15 Screwball "Snowman" Bobble Head (First 1,000 kids 14 & under) - Feesers
Tu 7/27 7:05 FEATURED GAME: Mickey Morandini Fightin Cancer Bobble Head in support of the Darren Daulton Foundation (First 2,000 Adults 15 & Over) - Rick Stock Attorneys at Law. And Mickey Morandini Appearance and FREE Autograph Session in support of the Darren Daulton Foundation
Su 8/1 5:15 FEATURED GAME: 20th Anniversary R-Phils Mascot Band T-Shirt (First 1,500 Kids 14 & Under) - Redner's Warehouse Markets
We 8/11 7:05 FEATURED GAME: "The Office" TV Show Tribute & Appearance by "MEREDITH" (Kate Flannery) w/ Photo Session Available - Pepsi. And Special Ticket Packages Available w/ Limited Edition "MEREDITH" Bobble Head
Sa 8/21 6:45 FEATURED GAME: 23rd Annual Harley Night w/ R-Phils Harley Game Cap (First 2,500 Adults 18 & Over) - Classic Harley-Davidson. And Fireworks
We 9/8 11:00AM FEATURED GAME: 19th Annual Morning Game w/ R-Phils BLACK "R- Train" Hat (First 2,000 Adults 15 & Over) - Reading Hospital. And R-Phils 2021 Team Photo (First 1,000 Kids 14 & Under) - Stratix Systems
The Double-A affiliate of the Phillies will play next at FirstEnergy Stadium from June 8th-13th. The team will take on the Hartford Yard Goats (Rockies) at America's Classic Ballpark. Come celebrate the end of the school year, fireworks, giveaways, and BeerFest with us at the ballpark! Visit rphils.com/tickets, the Weidenhammer Ticket Office, or call 610-370-BALL to secure your tickets to a game! The 2021 season is presented by Pepsi.
America's Classic Ballpark is proud to be a part of Pennsylvania's Americana Region and was voted the #1 stadium in all of Double-A by MiLB's Ben Hill. Follow the R-Phils at rphils.com, on Twitter and TikTok at @ReadingFightins, on Instagram @fightins, and like them on Facebook via www.facebook.com/fightins for all information.
• Discuss this story on the Double-A Northeast League message board...


Double-A Northeast League Stories from June 4, 2021
The opinions expressed in this release are those of the organization issuing it, and do not necessarily reflect the thoughts or opinions of OurSports Central or its staff.