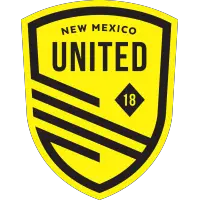 880 Screaming Fans, 450 Miles from Home, 0 Positive COVID Tests: How New Mexico United Is Leading the Way on Community Safety
September 30, 2020 - United Soccer League Championship (USL) - New Mexico United News Release



On September 19th, 2020, we got the family together again. New Mexico United played its first "home" match of 2020 at Weidner Field in Colorado Springs, Colorado. Over 800 New Mexico United fans traveled north along I-25 to watch their club in-person for the first time in 2020.
BEFORE THE MATCH:
"New Mexico United's primary focus is not on playing soccer. We exist to support our community, and soccer is the vehicle that allows much of that important work to happen. Once we knew that we had an opportunity to play this match, we poured everything we had into providing a safe, positive, and necessary mental outlet for the community that means the world to us."
- Peter Trevisani, President/CEO of New Mexico United
Two weeks prior to the match, the governor's office issued a revised health order, lifting the 14-day quarantine for New Mexicans traveling back into the state from Colorado. This presented the unique opportunity to bring a small portion of the black and yellow family together in a year where gathering in any capacity has been extremely limited in New Mexico.
The United staff worked in collaboration with Colorado Springs Switchbacks FC to create a safe opportunity for up to 1000 supporters to attend their first game in-person since before the start of the pandemic. Going into the event, there were a few key steps that helped ensure success:
New Mexico United worked with Colorado Springs Switchbacks FC to create a stadium seating chart that spaced fans into small family unit groups, providing safe social distancing measures.
The stadium was divided into four quadrants, with fans seated in one quadrant unable to travel to the other three. This measure cut down on additional interaction between attendees.
This match was scheduled for 3:30 PM, in an effort to allow any traveling New Mexican to make a day trip, and avoid overnight hotel stays, if they so chose.
DURING THE MATCH:
"The health and safety of our New Mexico United family is at the forefront of everything we do as an organization. With that safety at top of mind, we took precautions above and beyond state and local health requirements to ensure that every member of our family was safe throughout their time in Colorado Springs."
- Peter Trevisani, President/CEO of New Mexico United
Upon arrival in Colorado Springs, many New Mexican fans began to tailgate in the south lot of Weidner Field, wearing masks (unless eating or drinking,) and maintaining safe social distancing throughout. Like the stadium, the parking lots were divided into four separate sections.
New Mexico United's supporter's group, The Curse, made the decision to forgo their traditional "march to the match" in an effort to keep fans properly distanced.
The temperature of every attendee was taken prior to entry into the stadium.
Complimentary hand sanitizer and New Mexico United-branded masks were provided to every attendee at the gate.
The socially distanced seating chart was reinforced in-person. Each seat was clearly marked with either a green check mark or red "x," to indicate whether seating was permitted.
When not eating or drinking, masks were required for every individual throughout their time at Weidner Field.
Throughout the match, frequent PA announcements reminded fans to keep those masks in place.
New Mexicans practiced self-policing and worked together to keep their community safe. Fans encouraged their fellow supporters to keep masks on throughout the match.
Players and technical staff not involved in on-the-field play wore masks throughout the match.
Once in their seats, fans kept safe social distancing; utilizing only the specifically-marked seats that were sold to them, and largely staying in family units.
New Mexico United and Colorado Springs Switchbacks FC reminded attendees of the importance of mask compliance when they witnessed removal of masks.
AFTER THE MATCH:
"I want to thank the New Mexico United fanbase for taking the time to mask up, be safe, and hold each other accountable. This trip sent a message that New Mexicans will take care of each other and can support their club and community in a safe, responsible manner. I am so grateful to every fan who makes this family what it is. Somos Unidos!"
- Peter Trevisani, President/CEO of New Mexico United
Beginning 48 hours after the match, New Mexico United and Medic Buddy Mobile Health - a division of Duke City Urgent Care - began providing COVID testing to any individual who traveled to Colorado Springs for the match. Every single individual who took advantage of offered COVID testing has received a negative test result. The statistics related to those tests are as follows:
0 positive test results for 18 traveling players
0 positive test results for 5 technical staff members
0 positive test results for 18 traveling front office staff members
0 positive test results for 80+ traveling fans
In addition, based upon analysis of the photographs taken of the audience throughout the match, New Mexico United estimates that mask-wearing compliance was around 90%.
If United were able to replicate these efforts within state lines, the club would plan to reimplement what was successful in Colorado Springs; effectively doubling down on our policing of the mandatory mask rule to bring that compliance as close to 100% as possible.
• Discuss this story on the United Soccer League Championship message board...


United Soccer League Championship Stories from September 30, 2020
The opinions expressed in this release are those of the organization issuing it, and do not necessarily reflect the thoughts or opinions of OurSports Central or its staff.