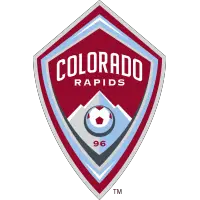 10-Man Rapids Defend Shutout at Home in Draw with San Jose
June 4, 2023 - Major League Soccer (MLS) - Colorado Rapids News Release



A 10-man Colorado Rapids (2-8-7, 13 pts) held the San Jose Earthquakes (6-5-5, 23 pts) to no shots on target while outshooting and out possessing the Northern Californian side in a scoreless draw at DICK'S Sporting Goods Park on Saturday night.
Notable:
GK Marko Ilić made his second consecutive MLS start for the Rapids, collecting his first clean sheet of the season. The Serbian shot stopper joined the Rapids on loan earlier this year from Belgian Pro League side KV Kortrijk.
M Bryan Acosta recorded his 80th start in MLS. The Honduran midfielder is just four appearances away from collecting his 100th MLS appearance.
F Michael Barrios substituted into tonight's match in the 58th minute, marking his 80th appearance as a member of the Rapids.
F Kévin Cabral collected his 75th MLS appearance.
COLORADO RAPIDS HEAD COACH ROBIN FRASER
On the team's response to missing the penalty kick:
"To be honest, it's the kind of thing that can make a team crumble because we're down a man. We're fighting. We're fighting. We're fighting. We get a good moment, get a penalty kick. We had substitutions planned and lined up, assuming we were going to make it, and then when you don't, definitely teams can kind of crumble. They can hang their heads and there can be just a few lapses of concentration, people still thinking about the missed penalty. But again, I have to give this group credit. They just put their heads down and kept working. And some of the work we did in the box clearing headers, Jonny [Lewis] tracking back, Kévin [Cabral] tracking back-really, it was just a fantastic team effort. And in spite of some of the circumstances, they never wavered. So really, again, proud of the effort. Disappointed because you use the correct word, given the way things went. I thought we were going to steal it. And even as I say that, and I think the word crestfallen was used about Moïse [Bombito], there were plenty of reasons that the team could have folded at that point and they didn't. They just kept fighting."
On getting key players back from injury:
"It's great. I mean, it was obviously exciting to have Cole [Basset]. His energy is evident or was evident from the very beginning. His energy and intelligence were very evident from early on. Great to get Mikey [Barrios] back. Great to get Braian Galván back. Other guys have been dealing with injuries. Ralph Priso came back tonight. So, we feel like we're getting close again. We still have to get Diego [Rubio] back. [Darren] Yapi is away with the [U.S.] Under-20s. But it felt more like the group that we've had. It's encouraging to get back some players for us who were key attacking players, especially actually key players, some attacking, some in the midfield. It was really promising to get them back, and we feel like, certainly, that will give us a boost over the next couple of weeks."
On the team's character:
"I think it says a lot, to be quite honest. When I was thinking about 15 minutes into the game, this doesn't look like a team that's lost six in a row, something like that. And at the end of the day, and I say this-I must say this in 32 or 34 press conferences every year-but the character of the group is the thing that I love the most about coaching this team, and yeah, their backs are against the wall. They haven't won in a while. They have a good run of form or they have a good game. They start off well, go down a man, they keep fighting, get a penalty kick, don't score and keep fighting, and they just dug in till the very end. And I think it speaks a lot about the character of the team and the core of the group. We still have many core members from years ago, but it speaks volumes about the guys who have come in, as well, and the fact that they have also embraced that sort of mentality. So as I said, I'm really pleased with the effort. Do feel like we need to take those attacking moments early in the game and create more real, real chances out of them. But I can't fault their effort and their character one bit."
COLORADO RAPIDS GOALKEEPER MARKO ILIĆ
On the match:
"Yeah, it was a tough, tough game for us. Zero-zero. At the end we had some chances to get three points. It's a shame that we didn't get the three points, but in the end, after that red card, I think it was a well-fought point for us, clean sheet. So at the end, after everything that happened, really good team effort, I think something to be proud of. Togetherness, team effort. We fought together and at the end got the clean sheet. As I said, we wanted three points. We could have had it, but at the end after the red card, when all things considered, we got the clean sheet and the point."
On positive takeaways from tonight:
"Every point can be huge in this kind of situation. We had a rough time in the past few games and we have to take this as a positive. After the game I saw that-even before the game, actually-I saw some different focus and focused faces. We were really talking about the tactics, really talking about the energy and I kind of felt it that we're going to have a really good team performance. And of course, every point in this kind of situation can lift your spirit. And like this, what happened tonight, togetherness and team effort can really bring the atmosphere up, and hopefully, it's just one little step towards our goal and hopefully we'll just keep playing better."
• Discuss this story on the Major League Soccer message board...


Major League Soccer Stories from June 4, 2023
The opinions expressed in this release are those of the organization issuing it, and do not necessarily reflect the thoughts or opinions of OurSports Central or its staff.