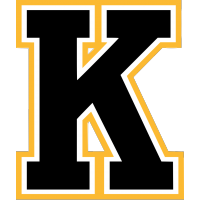 With Graduation in Sight, Chase Costantino Is Eager to Start in Kingston
March 1, 2021 - Ontario Hockey League (OHL) - Kingston Frontenacs News Release



After switching through four schools in as many years, Chase Costantino is working his way towards graduation, while also awaiting his Ontario Hockey League debut.
Costantino played in the United States last season, and the Frontenacs seventh-round pick in the 2019 OHL Priority Selection is taking an increased course load to graduate in 2021.
When playing for the Compuware 16U AAA in Michigan in 2019-20, his schooling was different, and it has meant that he is now required to take 11 courses in his Grade 12 year. In his first year of completing online classes in Kingston, he is adjusting to the heavier course load while also adapting to yet another new situation.
"I've been to four schools in four years, so it's not that big of a deal with me," said the six-foot-two defenceman. In Burlington, Ontario, then to Michigan, and now in Kingston, he has learned to adjust quickly to new situations. "It's a bit easier because I don't have to worry about making new friends there because it's all online, and I'm just sitting in front of a computer, so you make do with it."
In Kingston, Costantino is doing "octomesters," which include one course every five weeks, and has recently begun to double up his course load to graduate in the spring. "It's challenging, but you've got to do it," he says.
Sitting in Burlington, rather than in the classroom, the school experience has been very different; however, it has also allowed his relationships with some of his new teammates to flourish. "I have a few courses with [Braden] Hache, and I've gotten to know a lot of the other high school guys."
This year, although the 17-year-old spends a lot of time on school, his days often include hockey in some capacity, despite rinks being closed due to provincial restrictions. "It's school from 8:30 am to 2:30 pm," he said, and after that, he can get out to outdoor rinks and ponds before often hopping on a Zoom call with his Frontenacs teammates.
"It's been a lot of pond hockey because that's a way you can still see people and be distanced," he said. "Between pond hockey, virtual workouts and school, I'm keeping myself pretty busy."
With all the time spent on outdoor ice and in his driveway, Costantino is ready to show off his improved stick handling and shot but, as he said, "we just have to wait to see if it works on ice."
Although workouts, outdoor hockey and driveway skill sessions are enjoyable, it has been over a year since Costantino has played in a competitive hockey game.
However, when he finally hits the ice for the first time in the OHL, he is confident that his relationships with his teammates and the virtual preparation they have done will give them an upper hand. "We do virtual camp, where we go over our systems and stuff like that, what the coaches expect of us when we show up at camp, so we're not behind the game.
Having virtual camps and team bonding sessions has allowed Costantino and the Frontenacs to build chemistry, even before they play a game; however, knowing some of the players beforehand is also advantageous. "Shane [Wright] and I used to play together in Burlington for a couple of years," he said. I played spring hockey with [Maddox] Callens, so it's a lot of familiar faces."
For now, though, Costantino is working hard with a heavy course load to graduate in the spring, all while forging relationships with Frontenacs players and staff to have as much success as possible when he eventually hits the ice.
• Discuss this story on the Ontario Hockey League message board...


Ontario Hockey League Stories from March 1, 2021
The opinions expressed in this release are those of the organization issuing it, and do not necessarily reflect the thoughts or opinions of OurSports Central or its staff.