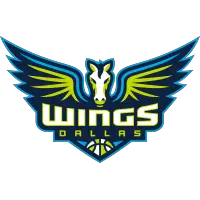 Wings Complete Series with Liberty
September 10, 2021 - Women's National Basketball Association (WNBA) - Dallas Wings News Release



Arlington, Texas - The Dallas Wings (12-17) complete the season series with the New York Liberty (11-18) at College Park Center Saturday night. Tip is set for 7 p.m. CT.
Wings guard Marina Mabrey is currently averaging 20 points per game against New York since joining Dallas prior to the 2020 season, including dropping 21 points at New York on May 24. She was also the Wings leading scorer versus Connecticut, netting her 17th double-digit scoring performance of the year with 16 points.
That's a lot of points...
Arike Ogunbowale became the third quickest player to reach 1,000 career points in WNBA history and then the third fastest player to reach 1,500 at the New York Liberty on 7/5.
On Tuesday, August 17 at Chicago, Ogunbowale became just the fifth player in WNBA history to score double-digits in 60 straight games.
Players that reached 1,500 career points the quickest:
Player Date G
Cynthia Cooper 06/28/1999 66
Seimone Augustus 08/19/2007 68
Arike Ogunbowale 07/05/2021 74
Elena Delle Donne 09/06/2015 75
Breanna Stewart 06/15/2018 78
A'ja Wilson 09/08/2020 78
Cappie Pondexter 07/06/2008 78
LONGEST DOUBLE-DIGIT SCORING STREAKS IN WNBA HISTORY:
92 Cynthia Cooper 06/21/1997 06/01/2000
88 Seimone Augustus 06/18/2006 09/07/2008
84 Lauren Jackson 06/26/2002 09/18/2004
83 Sylvia Fowles 05/15/2010 07/07/2012
65 Arike Ogunbowale 07/30/2019 09/07/2021
SWISH AND DISH
Arike Ogunbowale is currently one of just three players in the WNBA that leads her team in both points (543) and assists (98). Ogunbowale has also led the Wings scoring effort in 14 of the team's 29 games and in assists 12 times.
Dynamic Duos
Dallas' roster this year consists of two sets of college teammates. Coincidentally, all of them won championships together during their collegiate careers. Ogunbowale and guard Marina Mabrey became the first college duo on the same WNBA team to both score 25 points in the same game.
Arike Ogunbowale/Marina Mabrey, Notre Dame, '15-'19
Allisha Gray/Tyasha Harris, South Carolina, '16-'17
Drafting Your Cake and Eating it Two
The Wings selected four players in the 2021 WNBA Draft, with three currently on the roster, and became the first team in WNBA history to pick both first and second, taking Charli Collier out of Texas with the number one overall pick and Awak Kuier out of Finland with the second. The Wings also took Chelsea Dungee (Arkansas) fifth overall.
Deja VJ
Dallas Wings Head Coach Vickie Johnson played in the inaugural WNBA Game in 1997 as a member of the New York Liberty against the Los Angeles Sparks, defeating them 67 - 57. 25 years later, Johnson, who took the first shot in New York Liberty history, got another shot, leading the Wings to down the Sparks, 94 - 71, the largest margin of victory in Dallas's history to begin a season.
Don't Skimp on the European Connection
Sabally and Kuier continue the rich tradition of European star power in the DFW Metroplex, where German native Dirk Nowitzki earned NBA MVP honors and a championship with the Mavericks, a team whose current roster boasts 2021 NBA All-Star Luka Donèiæ of Serbia.
Gold Medal Lish!
Wings veteran Allisha Gray and Team USA brought home the gold medal in the 2020 Tokyo Olympics 3x3 basketball competition. Gray averaged 5.6 points and 4.8 rebounds to help the team go 8-1 in Japan.
Everything's Bigger in Texas
Dallas Wings center and first overall pick in the 2021 WNBA Draft out of the University of Texas, Charli Collier, recorded a double-double in her first career game at Los Angeles on May 14, netting 11 points to go along with 10 boards. Collier is just the 16th player in WNBA history to record a double-double in her debut and the first since A'ja Wilson (Las Vegas Aces) did so in 2018.
Double Double-Doubles
On 5/22 versus Seattle, Isabelle Harrison and Kayla Thornton became the first Wings frontcourt duo to record a double-double in the same game since 2016 (Karima Christmas-Kelly, Glory Johnson). Harrison knocked down seven shots to give her 16 points along with 11 rebounds. Thornton poured in a season-high 14 points and collected a career-high 12 rebounds.
Allisha Gray and Isabelle Harrison both recorded a double-double versus the Atlanta Dream on 9/2. Gray netted 19 points and grabbed a then season-high 10 boards for her first double-double since 2018. Harrison scored 11 points and grabbed 10 rebounds of her own for her third double-double of the season.
TOWERING IN THE FRONTCOURT
As a team, the Dallas Wings are third in the WNBA in rebounding, averaging 36.4 rebounds a game. They are also creating second-chance points on the offensive side of the ball, as the team is first in the W averaging 10.2 offensive rebounds per game.
FREE POINTS...
After Coach Vickie Johnson expressed the importance of converting on free throws, the Wings are now fourth in the W in overall free throw percentage (82.7%).
...THREE POINTS
Dallas has relied heavily on shooting the ball from beyond the arc this season. The team is currently fourth in made threes, averaging 8.1 per game, and fourth in three point percentage (35.3%). The Wings also made 17 threes against Minnesota on 6/19, the most in franchise history and the most in a single game during the 2021 WNBA season.
Arike Ogunbowale is second in the W with 69 made three pointers while Marina Mabrey ranks in the top seven with 57 made threes.
Moriah Jefferson currently leads the league in three point percentage, knocking down 46.8% of her shots from beyond the arc.
The Wings set the record with the team's 42nd consecutive game with at least five three pointers made vs IND 8/20 on a Marina Mabrey three late in the first quarter.
DAL 08/04/2020 ACTIVE 46
PHO 05/30/2018 07/05/2019 41
PHO 07/18/2006 07/08/2007 33
DALLAS DEPTH
The Wings are currently the sixth-highest scoring team in the league averaging 81.3 points per contest. The team is led by star guard Arike Ogunbowale, who ranks fifth in the W, with 18.7 points per game. Four other players on the roster are averaging double-digits (Marina Mabrey 12.9, Satou Sabally 12.4, Allisha Gray 11.7 and Isabelle Harrison 10.8).
• Discuss this story on the Women's National Basketball Association message board...


Women's National Basketball Association Stories from September 10, 2021
The opinions expressed in this release are those of the organization issuing it, and do not necessarily reflect the thoughts or opinions of OurSports Central or its staff.