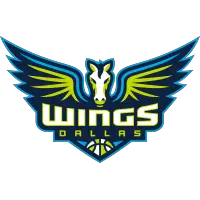 Wings Best Sun, 85 - 77
May 24, 2022 - Women's National Basketball Association (WNBA) - Dallas Wings News Release



Uncasville, Connecticut - The Dallas Wings (5-2) bested the Connecticut Sun (4-2), 85-77, at Mohegan Sun Arena on Tuesday evening.
Wings guard Marina Mabrey tallied her second straight game with 20 or more points, for the fourth time in her career, to help give Dallas the team's first win at Mohegan Sun Arena since the team moved to Dallas. She was joined in double-figures by guard Arike Ogunbowale (16 points) for the second straight game, and guard Allisha Gray (17 points), her sixth double-digit scoring performance this season.
Veteran forward Kayla Thornton was once again the leader on the glass for the Wings, as she grabbed 10 rebounds, her third game this season with 10 or more rebounds. As a team, the Wings finished with 37 rebounds, the first time this season that Dallas has had three straight games with more than 35 rebounds.
The Wings also went 22-24 (91.7%) from the free throw line and it was the second game in the 2022 season where the Wings notched 20 or more free throws, a feat only accomplished three times last season.
Dallas will complete the two-game set at the Connecticut Sun (4-2) on Thursday, May 26, at 6:00 p.m. CT.
Notables:
Guard Allisha Gray recorded two more blocks, giving her 13 on the season in her first seven games. The record for a guard in her first 10 games in a season is 17 by Diana Taurasi.
Led by Kayla Thornton's 10 rebounds, the Wings tallied 37 rebounds, the third straight game with at least 35 boards.
It was Wings' first win at Mohegan Sun Arena since the team moved to Dallas.
The Wings scored 31 points in the third quarter, the team's second straight game with thirty or more points in the third quarter, after only scoring thirty once in the third quarter last season.
Dallas has made at least 10 free throws in every single game this season (22 tonight).
Marina Mabrey has scored 10 or more points in every single game this season (tonight: 20).
Head Coach Vickie Johnson
On the third quarter...
"Well, the biggest thing we talked bout at halftime was we have to take pride in our individual and team defense, but we have to play better. We have to move the basketball. Connecticut didn't do anything in the first half that prevented us from getting to spots. They added a little ball pressure, but we just stopped playing. We can't stop playing, we have to play together, we have to move the basketball. I think we had six assists in the first half and wound up with 17. That is how we have to play. We have to play aggressive. We have to get to the free throw line, we shot 24 free throws and we were 92% from the free throw line. That is huge. Offensive boards we won, and the rebounding battle. I think they shot 46% in the first half and wound-up shooting 39% for the game. I think it was more about the mental part of it and just being locked into the game plan, offensively and defensively. And that is what we did- we settled down and got great looks. The first half, we missed open shots. At halftime I just said pass the basketball, move the basketball, and play together. And that's what we did."
On Satou Sabally's foul trouble...
"It is All-Star's against All-Stars. They are aggressive, so she has to be locked in defensively and move her feet. She is still adjusting to the WNBA; she just came from Europe. You can play a little bit more physical in Europe then here, so it is just a matter of adjusting to the W and I think she was fine overall. It happens sometimes. I am sure she will be fine."
On Allisha Gray's performance...
"Her confidence has changed. She wants to guard the best players, one through three, and she still had two blocked shots, and scored the basketball. She had 17 points, eight boards. Just what she does, her energy level, and ability to play both sides of the basketball for 31 minutes. That is huge. She is probably the best two-way player in the W right now, being able to score but also defend one through three. We are asking her to pick up the ball full court. When we have a small guard come in, we ask her to guard [DeWanna] Bonner. And we are asking her to switch on [Alyssa Thomas] as well. And to fight. And she is doing an amazing job and playing through all the contact. She is stepping up, she was six for six from the free throw line, she is playing incredible, and I am very proud of her."
On taking out Arike Ogunbowale early in the third quarter...
"I think we went up to start the fourth quarter. We were down 13 or 14, so I felt like I wanted to put more of a defensive presence out there and we just tried to turn it around defensively so that she could close the game in the fourth quarter, and she did that. And [Isabelle Harrison] didn't score for the first three quarters and then she had nine. And that is a testament to her and her will power. [Kayla Thornton] and Izzy didn't come out, they played the whole second half. It was a team win. We know Arike is our star, but at that moment I just thought it was best to go defense heavy. Then now she can relax and bring it home, and she did that."
On Ty Harris's performance...
"Well Ty is a good, young player. I think she is one of the best point guards that can get to spots, and she has a beautiful shot as well. I think Ty, for me, I loves Ty's defense more than anything. How she can get up and pressure the basketball and then come and run our team, get to spots and be able to create for her teammates. Ty is an amazing player and I think she can build from that. People need to understand that it is just her third year. She is still young, and she is still learning as well."
On closing out games...
"The last five minutes, we are valuing the basketball more. We have the patience to run our sets, to get good looks, we are not once pass, shot, like before. We have the patience to move the basketball and give up a good shot for a better shot. And now we are knocking down open shots."
On Isabelle Harrison's performance this season...
"I think her confidence, as far as playing for the AAU in Vegas helped her to become more of a leader, to think through the game a little more. We ask a lot of her. She played with me in San Antonio, so I know her game a lot, and I expect a lot from her. I put a lot of pressure on her and she is doing an amazing job. She is getting to her spots and finishing in the paint and rebounding the basketball. I was very pleased. In the first half she took three jump shots, and I ripped her kind of hard because they don't fear her outside the lane, they fear you when you get to the lane and make your move. She is one of the players who has multiple moves inside, so now she just has to use it and not settle for jump shots."
On Marina Mabrey's play this year, especially at the point guard position...
"She is. I asked her if she wanted to be a PG [point guard], then the responsibility of the PG is getting everyone involved and not think of yourself because she can always come off a drag and knock down that shot. Now she has to move the basketball. She has to pass the basketball. She has to understand when her time is for her to score, and she has done that. She had four assists tonight. She moved the basketball early in the game and then in the second half she had to make shots for us, and she finished with 20 points. She did an amazing job. Defensively - now you aren't even talking about her defense. The fact that she was able to deny Courtney [Williams] and also start on [DeWanna] Bonner and do those things as well was amazing. Bonner only had four [points] tonight. She was 1-6 from the field and that had a lot to do with Mabrey and Gray guarding her. I just want to highlight her defense as well."
On the team buying into her defensive philosophies...
"I am a defensive coach. Last year you probably couldn't see it as much, but I take pride in our defense and teaching our defense. I think our players take pride now in individual defense as well as team defense. I am proud of them. We were able to play both sides of the basketball. We were able to switch a lot of the action. We are able to go small or go big. I am very proud that we can do those things and we can pick up full court and also pressure the basketball as well. We can go small guards, or we can put a big guard on a PG. Gray or KT [Kayla Thornton] can guard that action as well. We have multiple people that can play multiple positions and now we are taking advantage of that."
On replicating tonight's success again on Thursday...
"First of all, we have to rest. We still have to break down film as a coaching staff. Then we come into practice, and we do a walk through and clean everything up. We know that Connecticut is going to come out and play hard and play aggressive. We still have to stick to our game plan and understand we have to start the game like we finished the game. Moving the basketball, talking on defense, rebounding the basketball, and attacking on offense. I think that is the main thing. Making sure they have their legs to be able to compete. Also, understand where we can improve and be better."
• Discuss this story on the Women's National Basketball Association message board...


Women's National Basketball Association Stories from May 24, 2022
The opinions expressed in this release are those of the organization issuing it, and do not necessarily reflect the thoughts or opinions of OurSports Central or its staff.