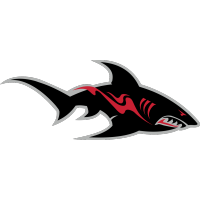 What You Need to Know for 80s Night / Fan Appreciation Night
July 26, 2018 - National Arena League (NAL) - Jacksonville Sharks News Release



JACKSONVILLE - The Jacksonville Sharks return to the Shark Tank for 80s Night/Fan Appreciation, Saturday, July 28, at 7pm. This will be the Sharks eighth and final home game of the regular season. The Sharks currently sit at 9-5 after pulling off an incredible win against the the Columbus Lions in a 53-48 victory. The Sharks were able to complete the comeback after being down 18 at the half. The Sharks host the Massachusetts Pirates who are currently 8-4 and ranked #1 in the NAL. Saturday's game will be the battle for first place! The last time these two teams played the Sharks defeated the Pirates 47-42 in Worcester, MA. Whether you're a longtime Season Ticket Holder or about to head to your first Sharks game, check out everything you need to know for tomorrow's game.
80s Night / Fan Appreciation Night
Enjoy 80s Night and Fan Appreciation Night and we want our MTV! Enjoy all the best hits of the 80s along with big 80s movie clips to appear on the big screen. So bring your zebra pants and rubiks cubes for a great night at the Shark Tank.
50% Off Select Merchandise
For the final game of the regular season, the Sharks will offer 50% off select team merchandise at the arena's team merchandise stand located on the main concourse.
Save $44 on Family Four Packs
The Sharks have SLASHED their prices for Family Four Packs to $70 (Original Price: $114). Enjoy 4 tickets, 4 Cokes, 4 hot dogs, and 4 bags of chips. To get your family four packs reserved, call 904-621-0700 or go to www.naltickets.com/sharks80snight. You may also purchase your Family Four Packs at the arena box office.
FREE GIVEAWAYS
Official Partners of the Jacksonville Sharks will be offering free giveaways in honor of fan appreciation night at the game. Enjoy free giveaways from Prime Lending, Intuition, Metro Diner, Penske, Narducci Dental, and Cryotherapy.
Let's Make a Deal
Fans have a chance to play a classic 80s Game Show "Let's Make a Deal" two lucky fans will get to play during the Shark Game for a chance to win $500! To increase your odds to participating bring random small items to the game rubber bands, paper clips, pens, and business cards. The random item will announced during the game and the first fan to show the host the item will get to play "Let's Make a Deal."
Single Game Tickets
Get 80s Night / Fan Appreciation Night tickets for as low as $13.50, visit www.naltickets.com/sharks80snight or call 904-621-0700. You can also purchase your tickets at the arena box office.
Doors Open
On Saturday, the doors open at 5:30 p.m. for season ticket holders and 6pm for the general public. The game kicks off at 7pm.
We Need More Cowbell!
The Sharks are proud to bring back a great tradition, cowbells (8" in height 6" in width max) will be allowed at the arena so bring the noise and have fun by purchasing a Sharks cowbell at our merchandise stand located on the main concourse. We will continue with the policy of fans NOT being able to bring large buckets or aerosol air horns into the arena.
Suite/Duval Street Entrance
This entrance will be open for all Sharks season tickets holders starting at 5:30pm. After that, all ticket holders can enter through this entrance.
Happy Hour
Happy Hour is active from 5:30pm-6:30pm and will have $3 Genesee Beer, Rolling Rock and Natural Light. Bottled water will also be available for purchase.
*New Bike Valet for Sharks Games*
For the first time in team history bike valet services will be available for FREE at Sharks games. Provided by ZenCog Bike Shop, fans can ride their bikes to the Sharks game and drop off their bike at the complimentary valet station located at the A. Philip Randolph entrance. ZenCog will supervise your bike as your enjoy the game and have it ready for you after the game. Just look for the white bike valet feather flag outside the arena entrance.
Shark Nation Membership Experiences
For those members who qualify, be on the lookout next week for an email asking for your preferred game(s) and experience choice(s). Don't miss out on some great behind the scenes action. Choices include a game day Chalk Talk with Coach Burley, the Player Intro Experience, the On-Field Experience or the Sharks Locker Room Tour. After game and experiences are confirmed you will be sent and email with instructions on where to go.
Season Ticket Holder Gifts
Exclusive Season Ticket holder gifts will be available for pick up at the Sharks game. Gift pickup will be located on the main concourse at the FIN-Formation table located near the elevator. The Fin-Formation table will be open from 5:30 until the third quarter.
Halftime
Enjoy a special 80s Night Halftime performance from the Attack Dance Team as well as a performance from the Inflatamaniacs. Orange Theory Fitness will take the field for a free mini football toss to fans. Before the end of halftime Aarons Rentals will reveal the winners of the Aarons Dream Seat Give away.
FREE 2019 Sharks Team Poster
The 2019 Jacksonville Sharks Team poster will available after the game during our post-game autograph session.
Attack Dance Team Calendar
The 2018-2019 Attack Dance Team Calendar has been released! Calendars will be on sale for $10 at the merchandise stand and on the field following the game. Attack Dance Team Calendars will also be on sale online at jaxsharks.com following the game.
Fling-A-Football
How's your aim? Our halftime Fling-A-Football promotion gives you a chance to win a prize package that includes $200 of Sharks Bucks! At just $1 per throw (or 6 for $5), you might as well give it a shot! Be sure to have your mini-footballs ready when halftime rolls around! Fling-A-Footballs are available for purchase inside the arena on the main concourse until the middle of the second quarter.
Arena Club/Reef and Cove Suites Buffet Menu
Drink Specials:
$16 Sharknados served in a mason jar with Shark Gummies and Nerds.
Reef & Cove Menu:
Nacho Bar including chips, chili, cheese, sour cream, salsa, jalapenos, refried beans, grilled chicken, mexican rice, and tossed salad with vinaigrette & ranch. Beverages will include beer, wine, bottled water, and assorted sodas.
Arena Club Buffet:
$14 Local gourmet sausages from Azar and Co. Sausages include beer braised bratwurst or jalapeno cheddar smoked sausage served with freshly baked roll with peppers, onions, and house made kettle chips.
Images from this story
• Discuss this story on the National Arena League message board...


National Arena League Stories from July 26, 2018
The opinions expressed in this release are those of the organization issuing it, and do not necessarily reflect the thoughts or opinions of OurSports Central or its staff.