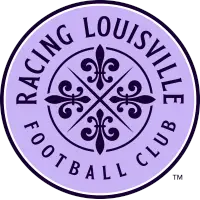 What to Watch for with Racing vs. Washington Spirit
July 24, 2021 - National Women's Soccer League (NWSL) - Racing Louisville FC News Release



Racing Louisville FC will finally get a look at its complete team on Sunday when hosting the Washington Spirit.
In a game pushed to 7:30 p.m. due to a forecast for extreme heat, the ladies in lavender could feature newly arrived forward Nadia Nadim. Signed last month, the former Portland Thorns, Manchester City and Paris Saint-Germain standout joined training since Racing last played on July 9.
A two-week break followed a dramatic 1-1 draw at the Orlando Pride. After Ebony Salmon moved the visitors ahead with her team-leading third goal, Sydney Leroux equalized at the game's last gasp.
The result moved Racing to 3-2-4 through nine games of its inaugural NWSL season, good for eighth on the table as clubs chase a sixth-place finish or better to make the playoffs.
Sunday's game marks the second between Racing and the Washington Spirit, who first visited on May 21. Emina Ekic and Cece Kizer scored second half goals to give Louisville its first-ever victory.
The Spirt have been an up-and-down side since then, sitting seventh in the NWSL standings. They'll also be without the services of defenders Kelly O'Hara and Emily Sonnett, who are both with the U.S. Women's National Team's Olympic squad. In their place, young stars such as forward Ashley Hatch - tied for the league lead with five goals - have propelled Washington.
Here's what to watch for on Sunday...
Coach Christy Holly says...
"I think [Nadim] gives us a different look. It allows us to come at things with a few different dimensions. We've wanted to get Cece [Kizer] in a more natural position for her. We've asked a lot of her in preseason, and my goodness, she was absolutely fantastic. If we drop Cece deeper, it allows us to drop Savannah McCaskill deeper where she's seeing a lot more of the ball. It allows us to get Yuki [Nagasato] inside the field a lot more, where she can orchestrate our attacks. Then it allows us to go with a front three, front two or with a front one. Nadia is very comfortable across those lanes. So is Ebony [Salmon], so is Cece, so is Emina Ekic - whoever it may be. There's a lot of flexibility in how we can attack, and that's on us in how to maximize in the coming weeks, months and years."
Follow along
For Starting XI and in-game updates, follow @RacingLouFC on Twitter and Racing Louisville FC on Facebook. Also find us at @racinglouisvillefc on Instagram.
Watch the match on Paramount+ with play by play from Joe Malfa and color commentary by Lori Lindsey. Internationally, fans can also stream the match on Twitch.
Notes to know
Home sweet home: In its first season, Racing has performed its best at Lynn Family Stadium, where crowds continue to grow. Last out, the ladies in lavender had a club-record 6,822 fans in attendance July 3 against Portland. Racing is 2-2-1 overall at home and 1-2-1 away.
New in town: Racing's latest high-profile international signing, Nadia Nadim joined the squad upon receiving her work visa. Should the Danish international make an appearance Sunday, it would mark her first in the NWSL since 2017. Nadim signed with Louisville after helping PSG to its first top-level league title in June.
Smoked Salmon: Striker Ebony Salmon made the goal in Orlando her third in five appearances for her new club. Salmon is hitting the back of the net now every 97 minutes on the pitch and, despite playing four fewer games than the league's leading scorer, is only two goals off that mark.
Kizer connects: Building on solid form from the preseason Challenge Cup tournament, forward Cece Kizer continues to impact Racing's results, registering two of Salmon's three goals to date, including the strike at Orlando. A solid pickup out of the 2020 expansion draft, Kizer also has a goal to her name in the regular season.
Bet on Betos: Michelle Betos had less work to last game, tallying just one save. But much of Racing's success can be attributed to a goalkeeper who continues to lead the NWSL with 49 saves. With her next shutout, Betos will hit 15 for her career and make her just the seventh player in league history to reach the mark.
Another addition: The former Manchester City defender Gemma Bonner played 255 minutes before her new club, Racing, conceded a goal with her on the pitch. Bonner has also boosted the play of those around her. For instance, when playing beside Bonner, Nealy Martin completes passes at an 84% rate, eight points higher than without Bonner in the lineup.
Conceding late: Racing let in a stoppage time goal at Orlando to drop points, reminding of an earlier season trend. Three of Racing's four Challenge Cup matches were decided with goals in the final five minutes of play, including a 1-0 loss at Washington. But the July 9 result marked the first time it happened in the waning moments of a regular season game.
Spirited connections: Four of Racing's 22 rostered players previously represented Washington. Playing rights to goalkeeper Katie Lund and forward Katie McClure were both selected by Racing during the 2020 NWSL Expansion Draft. Additionally, Racing acquired defender Brooke Hendrix and forward Cheyna Matthews on waivers.
Injury report
Noelle Higginson (out)
Cece Kizer (questionable)
Addisyn Merrick (out)
Freja Olofsson (questionable)
Kaleigh Riehl (questionable)
Milestone watch
Michelle Betos is one shutout away from her 15th NWSL regular season clean sheet and would be one of seven players to earn that stat.
Cece Kizer is one appearance from her 25th in NWSL regular season play.
Erin Simon in one start from her 35th in NWSL regular season play.
Yuki Nagasato is one appearance from her 60th in NWSL regular season play.
• Discuss this story on the National Women's Soccer League message board...


National Women's Soccer League Stories from July 24, 2021
The opinions expressed in this release are those of the organization issuing it, and do not necessarily reflect the thoughts or opinions of OurSports Central or its staff.
Other Recent Racing Louisville FC Stories