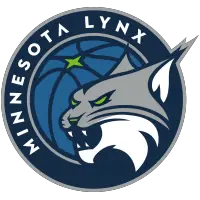 Whalen Hall of Fame Induction Preview
September 8, 2022 - Women's National Basketball Association (WNBA) - Minnesota Lynx News Release



MINNEAPOLIS - The Naismith Memorial Basketball Hall of Fame is set to induct Minnesota sports legend Lindsay Whalen at its 2022 Enshrinement Ceremony on Saturday, Sept. 10 at Symphony Hall in Springfield, Mass. More than 50 Hall of Famers are expected to be in attendance for the ceremony, including all presenters.
The event will begin on Friday, Sept. 9, and conclude on Sept. 10 with the Enshrinement Ceremony starting at 6 p.m. CT on NBATV.
The first day of the ceremony includes an autograph session at the Mohegan Sun at 10 a.m. CT. Tickets can be purchased that will give the opportunity to receive one autograph per class member. A press conference will be hosted at 1 p.m. CT to credentialed members of the media, along with VIP Package ticket holders and will be held at the Mohegan Sun. The press conference will be televised by NBATV.
Day one will be capped off by an Enshrinement Tip-Off Celebration and Awards Gala starting at 3:30 pm CT. This televised event will include the awarding of the Class of 2022 rings and the presentation of the Class of 2022 Hall of Fame jackets. The program will additionally highlight the presentation of the Hall's annual John Bunn Lifetime Achievement Award, the Mannie Jackson: Basketball's Human Spirit Award and the Curt Gowdy Media Awards.
Saturday's festivities will begin at 2:30 p.m. CT with the Enshrinement Ceremony VIP Reception. Following that will be the Red Carpet Show where the Class of 2022, returning Hall of Famers, as well as many of the sport's icons, will walk the red carpet in a live television broadcast by NBATV outside Symphony Hall.
The weekend will be capped by the Enshrinement Ceremony starting at 6 p.m. CT. NBATV will carry the presentation in full where the stars of basketball all come together to celebrate the next group of the sport's iconic figures.
Friday, Sept. 9 10:00 a.m.: Class of 2022 Autograph Session
1:00 p.m.: Enshrinement 2022 Press Conference (NBATV)
4:30 p.m.-9:00 p.m.: Enshrinement Tip-Off Celebration and Awards Gala
Saturday, Sept. 10 2:30 p.m.-4:30 p.m.: Enshrinement Ceremony VIP Reception
5:00 p.m.-6:00 p.m.: Enshrinement Ceremony Red Carpet Show (NBATV)
6:00 p.m.-9:00 p.m.: Enshrinement Ceremony (NBATV)
*All times are CENTRAL
THE ROAD TO THE FINAL FOUR
Lindsay Whalen will be the first to tell you that Hutchinson is the original H-Town in her eyes. Born and raised in the Land of 10,000 Lakes, Whalen was a standout at Hutchinson High School where the high school gym now is named 'Whalen Gymnasium'. At Hutchinson, she broke the all-time state scoring record in high school and led her Tigers to three conference championships.
After signing a National Letter of Intent to attend the University of Minnesota in Nov.of 1999, Whalen joined a program that had its work cut out for them in 2000. After being named the team's MVP as a true freshman, Whalen made a huge leap in her sophomore campaign, helping the team reach the NCAA Tournament for the first time since 1994 with a 22-8 record. She was named the Big Ten Player of the Year and an All-American while averaging a staggering stat line of 22.2 points, 5.5 rebounds, 5.3 assists and 2.7 steals per game while shooting 56.1 percent from the floor.
Whalen's 2001-02 season would be capped off by a gold medal with Team USA, winning the U21 World Championship. Whalen continued her tear in her junior campaign where the team reached its first 'Sweet 16' in program history, finishing with a record of 25-6, including an 11-0 home record at Williams Arena. Whalen finished that season as an All-American for the second straight season averaging 20.6 points, 5.0 rebounds, 6.2 assists and 1.9 steals per game while shooting 54.6 percent from the field.
Whalen's magical senior season that ended with a trip to the Final Four would always live in Minnesota sports history, but her the injury that Whalen had to overcome to reach the pinnacle of women's college basketball only added to the legend. Whalen earned a third All-American honor in her senior campaign, but with her season cut short due to a broken right hand late in the season. She missed six weeks of action due to the injury, but returned for the start of the 2004 NCAA Tournament. Whalen's return to the court was nothing short of awe-inspiring, scoring 31 points to defeat UCLA in the opening round 92-81, hitting 12-of-14 free throws and adding a season-high nine assists. In the second round Whalen continued her dominant play with a near triple double with 15 points, nine assists and seven rebounds including a perfect 10-of-10 from the charity stripe in the dominant 80-61 victory against Kansas State. The No. 3 seed Boston College was next up for Whalen and the Gophers, this time on the road. Whalen started slow, scoring just two in the first half, but followed that up with a 13-point second half and dished out a season-high 10 assists for her first double-double of the season and helping the program reach its first 'Elite 8'.
In the regional final it was the Gophers and the Duke Blue Devils playing for a spot in the 2004 NCAA Tournament Final Four. Whalen cemented her claim as the NCAA Mideast Region MVP with a 27-point, six-rebound and four-assist performance. The win was the first for Minnesota over a No. 1 ranked team, and still is the only such victory to this day. The seventh-seeded Gophers were also the lowest seed to reach the Final Four in six years. Minnesota would take on UConn in New Orleans, where the Huskies edged the Maroon and Gold, 67-58.
WNBA WHEEZY
Whalen's basketball legacy, at least in the state of Minnesota could have lived in cherished memory forever after her incredible college career, but it was her ascension in the WNBA that made Whalen a household name to any true basketball fan.
Whalen was drafted by the Connecticut Sun No. 4 overall where she immediately contributed significantly, helping the team reach back-to-back WNBA Finals. Whalen was fifth in the league in assists at 4.8 per game in 2004 and follows that up with a 5.1 average in 2005. After battling through injuries, Whalen returned to peak form in 2008 where she finished second in the WNBA MVP voting, losing out in the then-closest voting ever (276.79-242.08) to Los Angeles' Candace Parker. Two years later Whalen's hometown Lynx packaged the No. 1 overall pick in the WNBA draft and Renee Montgomery to the Sun for Whalen and the No. 2 pick in the draft.
Once again, Whalen made an immediate impact on her new team, leading the Minnesota Lynx to a WNBA Championship, the first for Whalen, in 2011. The 2011 championship marked an every-other-year WNBA Championship streak that lasted until 2017 for Minnesota. Whalen's fourth championship with the team came in 2017, a special one for Whalen, who was able to capture the title on her collegiate home court, Williams Arena. In total, Whalen finished her career with eight WNBA Finals appearances.
RED, WHITE AND GOLDEN
Whalen's phenomenal career with Team USA started back in 2002 where she was a member of the U20 World Championships, finishing with a 4-0 record in Ribeirao Preto, Brazil. Whalen then joined the U21 team in 2003 where the team won the world championship in Sibenik, Croatia, with a 7-1 record. Whalen continued to gather invites from the Red, White and Blue and eventually was named to the 2012 and 2016 Olympic teams.
With Whalen at the Olympics, Team USA finished with an undefeated record of 16-0 with an average margin of victory of 34.6 points per game. She averaged 8.0 points per game off the bench while adding 2.8 assists in an average of 18.0 minutes per game. She also helped Team USA finish undefeated at the 2010 and 2014 FIBA World Championships, finishing a combined 15-0 at those two events.
One of Whalen's best performances for her country came in the 2016 Olympic final against Spain where she tallied a team-high 17 points, six assists and four rebounds in just 20 minutes of action off the bench.
ADDITIONAL NOTES
- Whalen will be the first Gopher women's basketball player, and the seventh player overall, to be enshrined in the Hall of Fame joining the likes of Kevin McHale who was inducted in 1999 and "Sweet Lou" Hudson who is also a part of the Class of 2022. - Whalen will be presented by Hall of Famers Dawn Staley (Class of 2013) and Charles Barkley (Class of 2006). - This year's Hall of Fame class includes nine honorees from the North American and Women's committees: Manu Ginobili, Tim Hardaway, Bob Huggins, George Karl and longtime NBA referee Hugh Evans. Along with Whalen, Swin Cash and Marianne Stanley will also be inducted. - To be elected to the Naismith Basketball Hall of Fame, North American and Women's Committee finalists must receive 18 of 24 votes from the Honors Committee for election into the Naismith Memorial Basketball Hall of Fame. - The Hall of Fame museum is home to more than 400 inductees and over 40,000 square feet of basketball history.
• Discuss this story on the Women's National Basketball Association message board...


Women's National Basketball Association Stories from September 8, 2022
The opinions expressed in this release are those of the organization issuing it, and do not necessarily reflect the thoughts or opinions of OurSports Central or its staff.