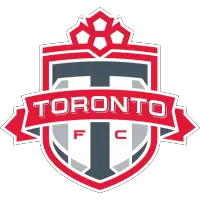 Toronto FC (0) - (0) New York Red Bulls Postgame Summary
May 17, 2023 - Major League Soccer (MLS) - Toronto FC News Release



TORONTO FC (0) - (0) NEW YORK RED BULLS POSTGAME SUMMARY
MISCONDUCT SUMMARY
NYRB - Elias Manoel 45' (caution)
NYRB - Peter Stroud 75' (caution)
NYRB - Tom Darlow 89' (caution)
RECORDS (W-L-T)
Toronto FC 2-4-7 13 points
New York Red Bulls 2-4-7 13 points
LINEUPS
TORONTO FC - Sean Johnson; Kobe Franklin, Richie Laryea, Aimé Mabika, Raoul Petretta; Brandon Servania, Kosi Thompson, Deandre Kerr (Themi Antonoglou 41'); Federico Bernardeschi (Hugo Mbongue 89'), Lorenzo Insigne (C), CJ Sapong (Ayo Akinola 46')
Substitutes Not Used: Tomás Romero, Cristian Gutiérrez, Antony Curic
NEW YORK RED BULLS - Carlos Coronel (C); Dylan Nealis, Hassan Ndam, John Tolkin; Cameron Harper (O'vonte Mullings 73'), Wikelman Carmona, Peter Stroud, Dru Yearwood, Omir Fernandez (Jayden Reid 90+2'); Tom Darlow, Elias Manoel (Cory Burke 73')
Substitutes Not Used: Ryan Meara, Davis Alexandre, Ronald Donkor, Amos Shapiro-Thompson
BOB BRADLEY - HEAD COACH, TORONTO FC
Q: With all the injuries tonight, your team certainly created chances. Your overall thoughts on the match?
I think we also had some good chances, so we weren't able to take advantage of that. I do think that, yeah, guys came in tonight. You could tell when they walked in that they understand where we are and there was a focus. There was a sense of everybody pushing each other for the whole game, which I think is important and positive when you are going through a tough stretch, you need everybody to absolutely like pull together and understand that, come on, you can't look for magic anywhere.
You've got to keep going and you've got to show it when you step on the field, and look, there are still many plays in a night like tonight where the quality of a play needs to be better, and that includes build-up situations. That includes playing out of the back at times and for sure it included some of the moments where we created advantages.
Q. Two more injuries tonight - one with Kaye before the game and the other with Kerr during?
Deandre, checked him out to see if it's a potential concussion. So that is the way you treat those things these days. That's important.
I think Mark, just with all the games, he's had a little tightness in his hip flexor. He's done a great job of continuing minutes, and then with the short turnaround, just didn't respond great, and we were doing a lot of things for him, and today, when he came in early in the morning for the training, felt like it had not come back at all after the last game, and then we did a little bit more and couldn't get him ready for tonight.
Q. Subbing out CJ at halftime - was that tactical?
He was running on empty. He was running on empty.
Q. And what did you make of Ayo coming in?
Yeah, he had a big chance early; maybe if that chance had come after he had been on the field a little longer.
Yeah, Ayo needs to keep going in all of this. There's little things in training every day that get worked on, sharpen up certain things. I mean, I've said before that his finishing needs to get better. I mean, now, as a striker, a young striker, who has some explosiveness and some power now, he gets in certain situations, and now we've got to keep trying to help him when he's finishing because his finishing needs to be better.
Q. Were Lorenzo and Federico creating enough?
Are they creating enough? Look, as a team, I think we create a fair number of advantages. I've said that after many games so far this year. How sharp are we when we get those advantages? I think that has to improve. I think in some moments that includes them. I think there were some moments tonight where they did create some good opportunities. Didn't Fede get the ball to the back post for Lorenzo's header, I believe, right? So that's a good chance created. Later in the game, Fede got into the box in the right and tried to play the ball across on the outside and it was left. That one didn't come off. Would I like to see him in that moment to find a way to slow down, pause, decide what foot to play on and slip the ball across to Lorenzo and we take the lead? Yeah.
So when a team goes through a tough stretch, then you're trying to keep everybody going, not just mentally, but so that when plays come their way, they are sharp. Yes, they are having days lately where you can tell they are frustrated and we are trying to help them, understand the league, understand the moment. Neither of those guys have been around a situation where when you have some injuries, you know, you're digging as far down into a roster as you have to do in MLS. That's new for them. And in some moment, you can see the frustration on their faces. But I thought, by and large, can we still do more, and that's something I think about every day and in training and how we play and ideas, work on that, so we are going to see.
Q. So what are you going to tell them in those moments of frustration?
A lot of things. We tell them that we need them and that even if a game is not going in some ways, you try to almost point out to them that like in all games, there's good plays and bad plays, and good balls and bad calls, and it's not just MLS, good bounces and bad bounces. So you try to refocus them on the fact that, come on, this is football. Now, doesn't always register. Sometimes in the moment they are frustrated, and you want them to know that we are committed to them. We are committed to trying to work on little things to put them in position to be more successful. We are committed to the fact that if we can hang in and get a few guys back on the field and whatnot, that, you know, there were some signs early in the year of more, right. So it's patience. It's that here are things we have to work on. It's understanding the league. It's all that kind of stuff, every day, over and over. Long days.
Q. Another start for Kobe, what do you make of his progression?
Yeah, I think I said it last game, I think he's grown on the job. He's more confident. Just the way he competes in games right now has gone up a bunch of notches. That's what you want to see. You want to see guys that between ideas that get worked on and getting in games and getting more comfortable and getting more confidence. I think that's been very good. What was it, New England, where I said that he had come in and had a good game against NYCFC, and I think I said against New England, he wasn't as sharp. He was hesitant. He didn't look as confident. We talked a little about that. We said, come on, you've shown that you're a good player, and he's responded really well. And I think tonight is another good night for him.
Q. Do you see the frustration brewing, or is it just in the immediate time after games where there's the frustration?
No, you have to work on that every day. I mean, look, if you were to go through a lot of leagues, and a lot of teams, you would find stretches where over ten games, 11 games, 12 games, 13 games, like, a team has more or less the number of points we have, right. And when teams go through stretches like that, it can be for a lot of reasons, okay. It can be injuries. It can be bud luck. It can be some key guys are not in great form. But this idea of how you deal with it and how you keep everybody going and looking, challenging your big players, that they have got to be the example and you challenge your young guys that when it's their time, they are ready to step up. You try to get everybody to tune out noise and not pay attention, because look, you know, I've been through this enough. I tell them, don't be afraid. I tell them, don't listen. Don't read. Like, believe in the work we do every day. Come on. This is what it takes. This is football. Yeah, did they all get that? No, they don't. But that gets shown, repeated, over and over and over. So that's the work right now.
Q. Your thoughts on Richie who stepped up again, literally.
Richie has been amazing lately. You put him anywhere on the field and Richie says no problem. I'll play here, I'll play there. I'll do whatever for the team. His attitude, his mentality, the way competes. Richie has been amazing. Really, really proud of him, and what he's done for the team in this last stretch of games has been incredible.
RICHIE LARYEA - DEFENDER, TORONTO FC
Q: Can you give us your overall thoughts on the match?
Yeah, obviously a clean sheet is very important in this league, and also, I mean, you have three, four, like very clear goal-scoring opportunities, and I think we limited them to, you can tell me if I'm wrong, the one they had off the crossbar is the only real chance they had the entire game. I thought we defended well and we attacked well and we progressed up the field pretty well, especially with some guys getting their first starts of the year and guys coming in that had not really played a whole lot. So I think that was a big kudos to the guys, a lot of the younger guys and guys that have not really had minutes to come on and play like that.
Overall, should be a good feeling in the group with so many key veteran players not on the team today. I think it was very positive. Obviously you're at home and you want to win, I want to win, so it's not, I wouldn't say disappointed, but we want to win at home. It's as simple as that. But I thought everything was pretty good today.
Q. Have you ever played centre-back before?
Never. First time today.
Q. What did Bob speak to you about in terms of when they gave you the assignment?
Yeah, spent a couple minutes with me knowing positioning, more so it was defensive work on the ball. I've played with enough centre-backs to know kind of the spaces that I like to get the ball as a right back. Yeah, defensively, he took me through some stuff and I picked up on it. Well, I had to pick up on it quickly or else I would have been f***** out there.
Q. When did you find out [you were playing centre-back]?
An hour before the game maybe.
Q. Was it good in a way in that it came late and you didn't have too much time to think about it?
That's probably better than getting a full night sleep knowing I was playing. Yeah, it was good.
Q. It's been a strange start to the season obviously with injuries and things like that. Do you feel that if you could just switch it a little bit, the picture would be much clearer, if you know what I mean, that you're not that far away?
I haven't seen the results, but at this point, three points off the playoffs, it's very early in the season. I think it's a very positive performance today for us to take into an important away match. I mean, it's football. Teams go through stretches like this. We have a good team and we are missing a lot of people. We have young guys playing that haven't had a ton of experience.
Everyone is growing right now. I think it's good. I think it's better to go through stretches like this now versus somewhere later in the season. I understand what you're saying but I feel like I'm honestly proud of the guys. I've played on teams where guys have given up early, even earlier than this in the season when guys were still trucking along. We're coming into training every day and we put in the work. It's positive. There are things you guys don't see. You see the results after the games, and it might look bad to you, but within the group I think everyone is working really hard which is a very positive thing for me which keeps me going and keeps guys going. Even today I thought Fede and Lorenzo led us from the front. They were easily motivated and they could have easily chucked the towel. They set the tempo from the front, and we followed. I think it's going to click soon. So hopefully this week we can go and get a big three points and start getting a few of the guys back and yeah, start going from there.
Q. What things we not seeing from the outside that give you confidence about the team's future?
The conversations that are being had; the meetings we have; the care that the club wants to win. That's the ambition of the club. Every day we are reminded of that and guys on the team remind guys of that. I'm constantly reminding people of that. It's a big stress of a lot of the veteran guys.
It's good that we have many different voices saying the fact same thing and everyone wants to win. Sometimes you hear people say that and they don't really mean it. So this group means it and you see when we come to train. Yeah, the mood in the group, yeah, obviously it could be a better season but it's football and you'll see people hang their head. You'll probably see me hang my head a few times in games as well but we keep trucking along. Yeah just stuff like that being I think you guys don't really get to see within our walls, our discussions, arguments amongst ourselves that just shows that everyone cares. I think it's good.
Q. What do you make of Kobe's progress?
He's been fantastic. He's done so good. Getting a forward today as well. I thought he got into some really dangerous spots, got himself in the box. He's a really good player and he has a bright future in this club and beyond, so I'm excited for him. It's nice to see him getting along with how young he is.
I remember when I first started playing the as well, it's kind of, you don't know positioning-wise on days and stuff like that so guys have helped him and he's done really, really well and he looks like a regular. So he fits right in.
• Discuss this story on the Major League Soccer message board...


Major League Soccer Stories from May 17, 2023
The opinions expressed in this release are those of the organization issuing it, and do not necessarily reflect the thoughts or opinions of OurSports Central or its staff.