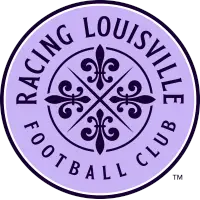 Thorns Lock Down Racing in Defeat at Portland
June 6, 2021 - National Women's Soccer League (NWSL) - Racing Louisville FC News Release



NWSL life on the road continued to be difficult Saturday night - and into early Sunday morning - for Racing Louisville FC in a 3-0 defeat to Portland Thorns FC.
A week ago, it was a slightly more lopsided scoreline at the North Carolina Courage, the 2018 and 2019 league winner. This cross-country trip to Providence Park in Portland then meant facing the recent Challenge Cup champions.
Goalkeeper Michelle Betos numbered nine saves, but the visitors got little going offensively to relieve her on a night when Racing numbered just four shots, two in either half.
Racing dropped to 1-2-1 leading into a week off amid an international break while Portland improved to 3-0-2, moving to second of 10 teams on the NWSL table.
"We know, listen, that we're sitting in the middle of Portland with a brand-new team against a team full of World Cup winners," said Racing coach Christy Holly. "We know it's not going to be easy. We just want to make sure we're chipping away at everything we're doing and trying to get better every week."
Despite facing 17 first half shots, Racing went into the locker room down only a goal after midfielder Angela Salem scored a grounded eighth-minute goal on a cross that was only partially cleared.
That the deficit wasn't steeper is a tribute to Betos, who made six first half saves, including four spread across two minutes of game action.
In the 27th, Betos tracked back to push away a Crystal Dunn corner from distance. Morgan Weaver ran in for the second chance opportunity, and Betos blocked that as well.
Then in the 33rd minute, Betos saved a Simon Charley header at the back post. On the ensuing corner, Lindsey Horan tried a volley from distance that Betos leapt to deflect as well.
Racing grew into the game a bit in the half's waning minutes, taking both of its shots - one by Cece Kizer and another from Savannah McCaskill - late in the going.
That momentum didn't carry over to the final 45 minutes, as only three minutes into the second half Portland's Rocky Rodriguez made it a one-touch finish on a Lindsey Horan cross to double the lead. In the 77th minute, Horan got in on the scoring as her would-be cross instead bounced through the box and into the back of the net.
"The message is to keep working," said Betos, also Racing's captain. "Look how young we are. I'm not making excuses. We've said from the beginning we will never make an excuse, but there's going to be growing pains. Probably half this team hasn't come up against the likes of a Lindsey Horan, a Crystal Dunn - you look at the list of players they have - and it's an incredible challenge for us.
"My message is just like let's move, let's grow, let's do better. If they score or get a good shot off, what's the best the best message I can give them to fix it in the moment, and then we go back and watch."
Holly made two changes to his lineup Saturday, moving Emina Ekic back to a starting role on the right wing and replacing Brooke Hendrix - questionable due to injury - in central defense with Nealy Martin.
The club will continue adding depth through an international break, with Racing back in action Sunday, June 20, for its first 100% capacity game at Lynn Family Stadium against the Houston Dash. English defender Gemma Bonner was available as a substitute in Portland, while newly signed striker Ebony Salmon is also expected to be available next out for the expansion club.
Game Summary: Portland Thorns FC vs. Racing Louisville FC
Venue: Providence Park
Kickoff: 10:30 p.m. ET
Player of the Match: Michelle Betos
Scoring
Racing Louisville FC (0, 0, 0)
Portland Thorns FC (1, 2, 3)
Goals
Portland Thorns FC:
8' Angela Salem (Rocky Rodriguez)
48' Rocky Rodriguez (Lindsey Horan)
77' Lindsey Horan
Stats Summary: Portland Thorns FC / Racing Louisville FC
Shots: 28 / 4
Shots on Goal: 12 / 0
Fouls: 10 / 8
Offside: 2 / 3
Corner Kicks: 9 / 2
Saves: 0 / 9
Lineups
Portland Thorns FC: 24 - Ad Franch, 18 - Christen Westphal (62' 14 - Natalia Kuikka), 5 - Emily Menges, 4 - Becky Sauerbrunn, 25 - Meghan Klingenberg (87' 39 - Meaghan Nally), 36 - Angela Salem, 11 - Rocky Rodriguez (80' 30 - Celeste Boureille), 10 - Lindsey Horan, 19 - Crystal Dunn, 7 - Simone Charley (80' 40 - Marissa Everett), 22 - Morgan Weaver (62' 34 - Tyler Lussi)
Subs not used: 31 - Bella Bixby, 15 - Madison Pogarch, 20 - Kelli Hubly, 23 - Yazmeen Ryan
Racing Louisville FC: 1 - Michelle Betos, 3 - Erin Simon (84' 12 - Sinclaire Miramontez), 14 - Nealy Martin, 18 - Kaleigh Riehl, 11 - Emily Fox, 2 - Lauren Milliet (50' 33 - Jorian Baucom), 17 - Yuki Nagasato, 13 - Emina Ekic (61' 22 - Katie McClure), 7 - Savannah McCaskill, 8 - Freja Olofsson, 5 - Cece Kizer (84' 20 - Cheyna Matthews)
Subs not used: 21 - Shelby Money, 23 - Katie Lund, 27 - Vanessa Kara, 15 - Brooke Hendrix, 4 - Gemma Bonner
Discipline Summary
Racing Louisville FC:
Nealy Martin (49', yellow)
Lindsey Horan (72', yellow)
Katie McClure (85', yellow)
Referee: Samantha Martinez
Assistant Referees: Salma Perez & Corbyn May
Fourth Official: Luis Trujillo
• Discuss this story on the National Women's Soccer League message board...


National Women's Soccer League Stories from June 6, 2021
The opinions expressed in this release are those of the organization issuing it, and do not necessarily reflect the thoughts or opinions of OurSports Central or its staff.