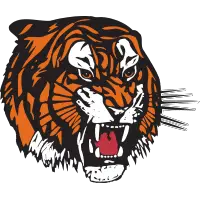 Summer Check in Q&A with Nick McCary
July 11, 2019 - Western Hockey League (WHL) - Medicine Hat Tigers News Release



Medicine Hat, AB - After being recalled to the Tigers in January, rookie forward Nick McCarry's growing confidence helped him make an impact.
The 18-year-old Calgary native picked up 6 points (3 goals, 3 assists) in 24 games which he will hope to build off this upcoming season. Below he reflects back on his rookie season while sharing what he has been up to so far this summer.
Q. What is your favourite memory from this past season with the Tigers?
It's hard to just choose one but maybe scoring my first WHL goal. Everyone was so supportive about it and it was a good feeling. Another one was the game we clinched playoffs. You work so hard all season to get to that point and to make playoffs so when we did it was the best feeling just to know that all our hard work over the season and offseason paid off.
Q. Were there any veteran players that you looked up to this season and who helped you develop your game? If so, who and why?
Yes, I thought a lot of the veterans were great role models on and off the ice but I looked up to Ryan Jevne a lot this year. Being a 20-year-old with a lot of experience you can always watch their game and see what you need to do better to have success. He was a great leader on and off the ice always keeping everyone on track and one of the all-round best guys I've met. If there was time to mess around or work on little details after practice he was always there messing around with me or teaching me different things.
Q. Thinking back to training camp, what is the one thing you think you have improved on the most during this past season?
For sure my confidence. It's probably one of the best attributes you can have playing hockey. I didn't have much in training camp then when it got to the end of the season, I had more confidence in myself to make some more plays with the puck that I wouldn't have at the beginning of the season.
Q. What are you focusing on improving for this upcoming season?
I am focusing on getting stronger. Getting stronger will help my speed and shot and those are very important things to help me have success this year.
Q. What is your training regime like in the summertime?
I train 4-5 times a week off ice at Hockey Development Centre and on the ice 1-2 times a week with Stix Hockey. This is my second year training at the Hockey Development Centre and it has helped me get stronger over the summertime. This is my fifth year doing Stix and it has helped me develop my individual skill to translate in-game.
Q. Do you play any summer sports?
No, I don't play any but if my buddies and I have nothing to do we will usually go play some basketball or golf.
Q. Do you have plans for summer vacation?
My family and I go to Huntington Beach to stay there for 10 days and hang out there with family that we have down there. We go to baseball games, the beach, and so many other things, it's so nice.
Q. What is the best part of being home?
Just being able to see your friends and family and those who have helped you get to this point in your life. Also, being able to do things that you have done your whole life and that you are used to is also nice.
Q. What do you miss the most from Medicine Hat?
I miss seeing and hanging out with the guys every day. It's a great group of guys there and when you are there for months with them they become your best friends and family.
Q. What are you looking forward to the most for this upcoming season?
I am looking forward to the group we have this season and with the younger guys coming in and older guys returning we should have a solid and fast, skilled team that is hungry to win and make it far this season. I can't wait to get back and start the season.
McCarry and the Tigers will be returning to the ice in the fall for the 50th anniversary season. Season tickets for the season are now on sale and can be purchased in person at the Tigers Office or by calling 403.526.2666.
• Discuss this story on the Western Hockey League message board...


Western Hockey League Stories from July 11, 2019
The opinions expressed in this release are those of the organization issuing it, and do not necessarily reflect the thoughts or opinions of OurSports Central or its staff.
Other Recent Medicine Hat Tigers Stories