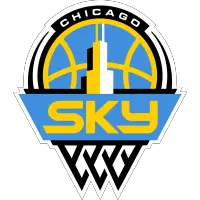 Sky Overseas + Offseason Updates: Rundown No. 5
November 20, 2023 - Women's National Basketball Association (WNBA) - Chicago Sky News Release



CHICAGO - Ten Chicago Sky players are currently participating in domestic or overseas play this offseason. Below are the listed players, their respective teams, league and country.
View all the below information and more on our overseas website here.
Marina Mabrey - CBK Mersin Yenisehir Belediyesi (Turkey-KBSL, Turkey)
Elizabeth Williams - CBK Mersin Yenisehir Belediyesi (Turkey-KBSL, Turkey)
Dana Evans - Besiktas JK Istanbul (Turkey-KBSL, Turkey)
Alanna Smith - Emlak Konut Istanbul (Turkey-KBSL, Turkey),
Morgan Bertsch - Spar CityLift Girona (Spain-LF Endesa, Spain)
Taylor Soule - Fila San Martino Di Lupari (Italy-Serie A1, Italy)
Sika Koné - Perfumerias Avenida Salamance (Spain-LF Endesa, Spain)
Robyn Parks - Beretta Famila Schio (Italy-Serie A1, Italy)
Courtney Williams - Shaanxi Red Wolves (Weinan, Shaanxi, China)
Kahleah Copper - USA Basketball Women's National Team exhibition roster
Sika Koné had a big week for Avenida, helping her team improve to 8-0 in Spanish League play. Avenida won games against Valencia and Ferrol by a combined 40 points as Koné averaged 15.0 points and 10.0 rebounds. She missed just two shots all week, shooting 84.6% from the field across those two matchups.
In the Nov. 16 win over Valencia, Koné led all scorers with a season-high 23 points, along with a game-leading eight rebounds. Her 12 rebounds in the 25-point Nov. 19 win over Ferrol also tied her season high.
Koné and Avenida next take the court on Nov. 22 against Polkowice.
Elizabeth Williams and Marina Mabrey helped extend Mersin's win streak to eight consecutive games over the past week with strong showings from both players. Mersin only has one loss since Williams and Mabrey joined its ranks.
Williams stuffed the stat sheet this week, averaging 10.0 points, 6.5 rebounds, 2.5 assists, 1.0 blocks and 1.0 steals. Her 12 points, seven rebounds and four assists against Cankaya were crucial in Mersin picking up a close 95-92 win.
Mabrey led Mersin in scoring in both outings, averaging 20.5 points this week while connecting on 50.0% (6 of 12) of her three-point attempts. She helped contribute to Mersin scoring 34 made field goals on 29 assists.
Williams and Mabrey now prepare for their next game, a EuroLeague outing on Nov. 22 against Uni Gyor.
Extending its win streak to three games, Schio picked up a 27-point victory on Nov. 17 against Faenza behind Robyn Parks' team-leading 16 points. Parks connected on 66.7% (4 of 6) of her deep-ball attempts to aid Schio to the victory. This is the second game in a row Parks led her team in scoring. During Schio's win streak, Parks is averaging 16.3 points and shooting 62.5% (10 of 16) from three.
Parks and Schio next take the court on Nov. 22 for a EuroLeague game against Zaragoza.
Taylor Soule played under 30 minutes for the first time since Oct. 8, but that didn't stop her from tying her season high in scoring with 15 points as San Martino won its third straight. Soule continued her impressive defensive play, securing three steals and bringing her season average to 2.8.
Soule next plays on Nov. 26 against Ragusa to continue Italian League play. San Martino currently sits at 5-1 on the year.
Emlak moved to four straight wins by defeating Bursa on Nov. 19, with Alanna Smith playing a big role in the victory. In 21 minutes, Smith posted 10 points, eight rebounds, two assists, three blocks and two steals. Her three blocks tied a season high and were a game high.
Smith is next scheduled to play on Nov. 23 as Emlak takes on Roche in a EuroCup matchup.
Courtney Williams was instrumental in Shaanxi snapping a four-game skid on Nov. 19. She recorded 25 points along with season highs of 12 rebounds, nine assists and five steals, one assist shy of a triple-double. She also scored a season-high 27 points on Nov. 14 in a loss.
Williams and the Red Wolves take the court again on Nov. 25 against Tianjin. All four of Shaanxi's wins this season have come since Williams joined the team.
Morgan Bertsch helped Girona win its seventh straight game on Nov. 16 against Ensino by scoring 12 points in 16 minutes. In the following game, Bertsch scored six points in a loss. The loss to Arasaki on Nov. 19 is just Girona's second since Bertsch joined the team in early October.
Girona and Bertsch next play on Nov. 22 against Gorzów Wielkopolski in a EuroCup matchup.
Dana Evans appeared in one game this week, scoring five points in a loss to Fenerbahce on Nov. 16. Besiktas is next scheduled to play on Nov. 22 in a EuroCup matchup against Kangoeroes.
Chicago Sky players currently overseas are a combined 59-23 (.720 win percentage) with their teams so far this season when joining their team.
• Discuss this story on the Women's National Basketball Association message board...


Women's National Basketball Association Stories from November 20, 2023
The opinions expressed in this release are those of the organization issuing it, and do not necessarily reflect the thoughts or opinions of OurSports Central or its staff.