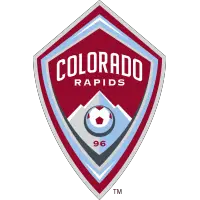 Rubio, Zardes Ink Names on Club, League Record Books in Final Games of 2022 Season 
September 12, 2022 - Major League Soccer (MLS) - Colorado Rapids News Release



With their goals against Vancouver Whitecaps, the Colorado Rapids pair of Diego Rubio and Gyasi Zardes set the Burgundy Boys on the road to victory on Saturday night.
Rubio extended his MLS career-high tally to 13 (his previous best was 11 in 2019), while Zardes hit double digits in a season for a fifth time.
Multiple players scoring double digit goals in a season has happened on just five previous occasions for the Rapids. Now, before you shout 'but one of Gyasi's goals was for Columbus' (as it happens, against Wednesday's opponents, San Jose), I know, I know.
So, you've got me on a technicality, but this is more a piece on how two players - either written off or underestimated - have shown strength of character and a belief in their individual talent.
Rubio was under pressure at the start of the season, amid whispers of the club bringing in a number nine. He has responded with his best-ever numbers.
Zardes was traded away by Columbus Crew in April. His season with the Rapids has included only a second-ever MLS hat trick, scored against Minnesota United last month.
With four games to go, there is every chance that this pair add further goals. Playing it strictly by the book, one more for Zardes would push him into double figures solely for the Rapids. He and Rubio would then join an exclusive group.
The last time more than one Rapids player scored 10-plus goals in a season was as recently as 2019. Kei Kamara struck 14, with Rubio contributing 11.
Prior to that, and you had to go back to the MLS Cup-winning season of 2010, when Omar Cummings (14) and Conor Casey (13) led the way.
That nine-year gap was the longest between such a feat. Multiple double digit goal scorers were relatively common in the early years. Between 1998 and 2003 it occurred three times, including back-to-back seasons.
Current assistant coach, Wolde Harris, was the club's golden boot winner in 1998 with 13 goals, while there were sizable contributions also from Paul Bravo (11) and Ross Paule (10) that year.
Again in 2002 there were three players in double figures, with Mark Chung, Chris Henderson, and Chris Carrieri all scoring 11. Chung hit 11 the following season but was topped by former Scotland and Chelsea striker John Spencer (14).
With four games remaining, perhaps Rubio could threaten the club's single season record for goals, which is currently held by the club's record scorer, Conor Casey. In 2009, Casey was second to former Rapids forward, Jeff Cunningham, in the race for the MLS Golden Boot. Cunningham, who scored 12 goals in his only season with the Rapids in 2005, scored 17 in '09, one more than Casey.
Already, though, Rubio is writing his name into the Rapids' record books. With his goal against the Whitecaps, a fourth converted penalty from four attempts this season, the Chilean moved to 32 goals for the club, which is good enough for fifth on the club's all-time list.
His conversion from 12 yards at the weekend also marked a 12th game-winning goal. He is level at the top of that particular category alongside Paul Bravo, who set the record in July 2001.
And while we're talking stats and records from the weekend, the Jonathan Lewis wonder strike was assisted by the returning Jack Price. That was his 35th assist for the club, taking him beyond Terry Cooke and into second spot on his own. He still has a way to catch Chris Henderson's all-time top tally of 53, but impressive, nonetheless.
• Discuss this story on the Major League Soccer message board...


Major League Soccer Stories from September 12, 2022
The opinions expressed in this release are those of the organization issuing it, and do not necessarily reflect the thoughts or opinions of OurSports Central or its staff.