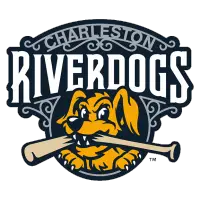 RiverDogs' Mike Veeck Tabbed for Induction into SAL Hall of Fame
June 8, 2006 - South Atlantic League (SAL) - Charleston RiverDogs News Release



CHARLESTON, SC - Charleston RiverDogs' co-owner Mike Veeck, a nationally recognized promoter of professional baseball, is one of four men who have been tabbed for induction into the South Atlantic League Hall of Fame's Class of 2006.
He will be joined by former first baseman Aaron Pointer, SAL director and Atlanta Braves officer Chip Moore, and former big league pitcher Len Barker.
Induction ceremonies will take place as part of the SAL's 47th Annual All-Star Game on Tuesday, June 20, at Classic Park in Eastlake, OH.
"The South Atlantic League is extremely proud to have the opportunity to recognize these men for their accomplishments to the league and to the game of baseball," said John H. Moss, SAL president. "The league takes great pride in its rich history, and these four men have been major contributors in creating a tradition that is unmatched in the minor leagues."
"This a great honor and I accept it on behalf of all the Goldklang Group employees who had more to do with this than I did," said Veeck. "It will be a great pleasure to join my partner, Marv Goldklang, in the SAL Hall of Fame and to be inducted by John Henry Moss, a man of great stature."
Veeck, a partner in the Goldklang Group, is part-owner of five minor league clubs, including the RiverDogs. He is the creator of countless game promotions while employing his "Fun is Good" motto that has helped his teams reach attendance and customer service milestones. He also developed the Veeck Promotional Seminar, considered to be the hallmark for marketing and promotional ideas in Minor League Baseball. He is the son of Baseball Hall of Famer Bill Veeck, the long-time owner of several major league franchises, including the St. Louis Browns, Cleveland Indians and Chicago White Sox.
Goldklang, in 2004, was the most recent individual from Charleston to be enshrined in the SAL Hall of Fame. Prior to Goldklang, The Post and Courier's Gene Sapakoff was inducted in 1998.
Veeck began his baseball career with the Chicago White Sox and also worked for the Detroit Tigers and Tampa Bay Devil Rays. It is his inherited belief that anything is possible and no idea so silly, and that is how Veeck operates his ball clubs. His primary goal is to put fun back into baseball while proving his ideas are not specific to sport.
Last year Veeck authored the book "Fun is Good," which describes how the simple philosophy leads to success in any business. The book is soon coming out on tape and will be paperback in '07.
Veeck has appeared on 60 Minutes, HBO Real Sports with Bryant Gumbel, NBC Nightly News and ESPN's SportsCenter. Veeck has spoken and entertained groups such as 3M,
The NBA, General Mills and NASCAR, to name a few.
Veeck and his wife, Libby, reside in Mt Pleasant. He is the father of two children, William "Night Train" and Rebecca.
Pointer is the last man to hit .400 in the minor leagues when he posted a .402 average in 1961 with the Salisbury Braves. A brother of the Pointer Sisters, the famous singing group, Pointer played for the Houston Colt .45s and the Houston Astros in the mid-1960s.
Moore currently serves as the first vice president and a member of the Board of Directors for the South Atlantic League. He is in his 29th season with the Atlanta Braves' organization, including his 10th as a vice president and controller.
Barker was a hard-throwing right-hander who helped guide the Gastonia Rangers to a league title in 1974. He played in the major leagues from 1976-87 for the Texas Rangers, Cleveland Indians, Atlanta Braves and Milwaukee Brewers. He led the American League in strikeouts in 1980 prior to tossing a perfect game against the Toronto Blue Jays on May 15, 1981. He also paced the AL in strikeouts and started the All-Star Game in 1981.
The SAL All-Star Luncheon and Hall of Fame Induction will be held June 20 at 11:30 a.m. at the Radisson Hotel and Suites in Eastlake. The All-Star Home Run Derby and Skills Competition will follow at 5:15 p.m. at Classic Park, home of the SAL's Lake County Captains. The SAL's 47th All-Star Game begins at 7:35 p.m. with all-stars from the host North Division meeting their counterparts from the South Division.
• Discuss this story on the South Atlantic League message board...


South Atlantic League Stories from June 8, 2006
The opinions expressed in this release are those of the organization issuing it, and do not necessarily reflect the thoughts or opinions of OurSports Central or its staff.
Other Recent Charleston RiverDogs Stories