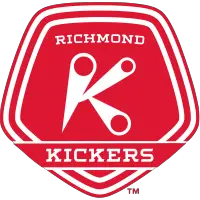 Richmond loses close one in US Open Cup match
August 4, 2004 - USL First Division (USL-1) - Richmond Kickers News Release



Richmond, VA¬Ė The Richmond Kickers were defeated by the Chicago Fire of Major League Soccer in the Quarterfinal round of the 2004 Lamar Hunt U.S. Open Cup. Chicago¬ís only goal, early in the second half, was enough to dismiss the Kickers from advancing to the Semi-finals of this year¬ís tournament. Unable to capitalize on several scoring opportunities in the second half, Richmond could not equalize the score as Chicago held Richmond 1-0 for the remainder of the match. The Fire will face the Charleston Battery in the Semi-final round later this month.
An uneventful first half led to few opportunities from each side as both teams were unable to find any chances to score. In the 20th minute, Chicago's Nate Jacqua produced a dangerous cross as Kickers defender Peter Luzak was forced to head it out for a corner. Richmond's Joey Worthen retaliated in the 22nd minute, able to take the ball down the left flank and cross it near the end line in the air to the penalty spot. The ball slipped just past Fire defender Henry Ring and multiple players on both teams; however, it was too high for Kickers forward McColm Cephas.
Chicago forward Dipsy Selolwane was able to find the back of the net early in the second half. A short corner by Chris Armas found the feet of Orlando Perez, who quickly crossed to the far spot where Selolwane was waiting seven yards from the goal. Selolwane was able to get a head on the ball, enough to fire a shot above the Kickers defender and straight into the goal in the 56th minute. It looked as though Richmond could equalize the score in the 60th minute as forward Kevin Jeffrey was able to get a breakaway from 25 yards out. After multiple touches, Ring seized the opportunity to come out and cut down the angle. Jeffrey took one touch to try to get away from Ring, firing on goal. Unfortunately for the Kickers, Ring was able to bury the ball, stealing one of the Kickers most dangerous scoring chances.
As the end of the game approached, the Kickers made several last ditch efforts to level the score. In the 75th minute, Richmond forward David Hayes sent a strong and high corner directly to defender Matt Bobo. Bobo's header was in prime position on goal but was high and skimmed over the crossbar. With a final effort in the last seconds of regulation, several Kickers players looked to get a piece of a ball crossed by midfielder Mike Burke just inside the end line. The ball slipped just out of bounds for a goal kick, clinching Chicago's victory.
'ÄĘ Discuss this story on the USL First Division message board...


USL First Division Stories from August 4, 2004
The opinions expressed in this release are those of the organization issuing it, and do not necessarily reflect the thoughts or opinions of OurSports Central or its staff.