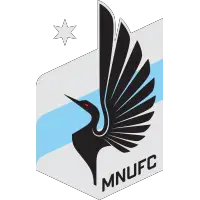 Reynoso Brace Propels Loons Dominant Win over La Galaxy
September 19, 2021 - Major League Soccer (MLS) - Minnesota United FC News Release



SAINT PAUL, Minn. - Injuries have taken a toll on Minnesota United recently, with the absences of key pieces like assist leader Emanuel Reynoso and scoring leader Robin Lod hurting them badly in recent games against Sporting KC and the Seattle Sounders. Those results pushed them out of playoff position and they came into Saturday night's game against the visiting Los Angeles Galaxy desperate to get right. The only problem was they would have to do it against a team they'd never beaten before in MLS. But after Reynoso opened the scoring in the fourth minute, the Loons never looked back and went on to post a 3-0 shutout against a tough Galaxy squad.
It did not take long for the Loons to assert their dominance and for midfielder Emanuel Reynoso to show he was fully ready to return to the pitch. Twelve seconds in, midfielder Franco Fragapane was taken down about 25 yards out from the goal, giving Reynoso a chance to get an early look at a shot. While the ball struck the wall, minutes later, the reconnaissance paid off. A long lead pass down the right side to Finlay was sent back towards midfielder Robin Lod, getting his first start in a while after subbing on against Seattle late. Lod dropped it off to Reynoso who made one move to get some space and then unleashed a left-footed effort towards the right post and in, easily beating goalkeeper Jonathan Klinsmann to make it 1-0.
With the visitors reeling early, the home side ramped up the pressure defensively and then exploited it by looking to play direct and do it quickly. Despite playing their third game in eight days, the Loons looked energized and ready to leverage their advantage. In the 20th minute, Reynoso once again got enough separation to line up a left-footed strike that curled perfectly before flicking off the fingertips of Klinsmann and into the goal for a 2-0 lead.
Minnesota continued to do their best to test Klinsmann while the Galaxy looked for some way into the game. Eventually, they began to make inroads down the stretch of the first half. In the 38th minute, goalkeeper Tyler Miller had to get aggressive as forward Dejan Joveljic pressed the issue near the right edge of the six-yard box. Joveljic shot the ball directly into Miller and he popped it up before snatching it down and then, in the 47th minute, the visitors got a clear cross from the right side that sailed all the way through the box without finding a target. Shortly after, the whistle blew and Los Angeles headed into the lockers looking for answers.
Miller had some more early heroics in the 52nd minute as he charged out to deflect another shot and then had the awareness to find the ball in space and jump on it. Seeking something different, LA Head Coach Greg Vanney went to his bench in the 59th minute, bringing in seasoned veterans Javier Hernandez, Jonathan dos Santos and Victor Vazquez. Their experience and confidence gave the Galaxy an immediate lift, but MNUFC had clearly grasped the tilt of the game and fell back into a defensive shape that kept the visitors frustrated.
The waiting game paid dividends in the 66th minute as the Galaxy's emphasis on attacking left the open to a counterattack by midfielder Ethan Finlay. Finlay timed his break exquisitely, received the pass from midfielder Franco Fragapane and delivered a confident strike with his right that once again beat Klinsmann, who faced three shots on goal and saved none of them.
MAN OF THE MATCH: Midfielder Emanuel Reynoso
LINEUPS:
Minnesota United: GK Tyler Miller; D Chase Gasper, Bakaye Dibassy, Michael Boxall, Romain Metanire; M Osvaldo Alonso (c), Wil Trapp, Franco Fragapane, Emanuel Reynoso, Ethan Finlay; F Robin Lod
LA Galaxy: GK Jonathan Klinsmann; D Julian Araujo, Sega Coulibaly, Daniel Steres, Niko Hamalainen; M Rayan Raveloson, Sacha Kljestan (c), Sebastian Lleget; F Kevin Cabral, Samuel Grandsir, Dejan Joveljic
UP NEXT
MINNESOTA UNITED FC vs. HOUSTON DYNAMO
Allianz Field | Saint Paul, Minnesota
9.25.2021 | MLS Week No. 27 | MLS Game No. 25
7:00 p.m. CT | BSN, CW Twin Cities, MNUFC Radio on SKOR North
MINNESOTA UNITED QUOTE SHEET
MINNESOTA UNITED HEAD COACH ADRIAN HEATH
On Wednesday, he agreed that game was a low point for the team and how good the response was tonight from the group ...
"Magnificent. The energy the players put in. The energy the crowd put in. I think it's the first time we've beat the Galaxy since we've been in Major League Soccer. So, we had to ride our luck and we had to defend at times, but, really, really pleased with the attitude of the players. They couldn't have done any more. And, it's incredible that when you get your best players on the field, good things happen. Maybe, people should think about that when they write some of the stuff that they do."
On how Emanuel Reynoso's first goal set the tone for the rest of the game, and his second as well ...
"Obviously, everybody knows the quality that [Emanuel Reynoso] has. The one criticism that I keep having with him and I keep saying he should score more goals. He has so much talent. He takes as much pleasure out of making goals, assisting goals, as he does scoring. He's got to change that. Because, he's always been able to find people and pick passes, but he's a really, really good finisher. And he should take more shots. And that's something that we've been encouraging him to do. I was really pleased or him, because he's been a really frustrated kid for the last two or three weeks because he thought he was ready, and he probably wasn't. So, you know, it was important that he had the game that he did and the comeback."
On what Robin Lod adds when up top as the striker rather than out on the wing ...
"He's got quality with his back to goal. He's really, really smart. Physically, can handle any sort of physical contact. He's just a really good football player. I always say this. You know, good players like playing with good people. And, them two, when they're together, when you look at the record, they're excellent when they play together. Robin [Lod] and Rey [Emanuel Reynoso]. So, I was pleased for them both to get through what they did tonight, because you're always worried about reinjuring. We've got a huge week ahead of us now because the home games. We spoke about it before the game. The home games, they're going to be crucial in the running now. We've got five at home, five away. And, before the game, I said we're probably going to have to win five or six. Today is a good start against a very, very well coached team and a very, very good team. Got good players. You saw the three players that came off the bench. Gives you a sign of the depth, when you look at the other subs they still had there, waiting to come on. So, yeah, I'm really pleased."
On the product on the field looking like two different teams last week and this week, and why that is ...
"Well, we're at home, not away, which is always a big help. We took our chances when they come. You watched the game on Wednesday night. We could have been two up before they even started. So, you know, I know people use it as my little cliché, but it's been for 100 years in England: Goals change games in football matches. And when them opportunities arise, whenever they do, you have to take them because they change the... the goal today after four minutes gives the players some belief. Gets the crowd involved in the game. I thought some of our counterattacking play in the first half was exceptional. Maybe the final ball could have been better at times, but, you know. The most important thing was the response from the players criticism that we had. And, by the way, when we play bad, nobody criticizes the guys internally more than I do. Some of the stuff that was said, you would have thought that the season was over. May as well go home. So, the demise of Minnesota United is probably not as great as some people think."
On after the loss in Kansas City and if he sent a message to his players, and if he did, and how well they received the message ...
"I don't normally criticize my players publicly. Collectively, I will. And they know, individually and collectively, what I thought of their performance on Wednesday. Wasn't good enough. Wasn't acceptable. But, it's how you respond to that. Do you sulk and go down the other way? Or do you roll your sleeves up and go, right, let's go? And I thought that was more like a Minnesota United performance tonight. Really incredibly disciplined and hard working. And with quality on the counterattack and quality to other teams when we have enough possession of the ball."
On giving up four goals on Wednesday, keeping a clean sheet today and if Chase Gasper is going to ask for a new contract after tonight ...
"Well, the money we've just given him, he better not dare come in again for about another four years. I think it's four years he's has. But, another great performance today. I thought he was outstanding today, Chase [Gasper]. Really good defensive spots. Defended the goal well. So, no, it was... I'd like to mention the two midfield players, only because I thought Ozzie [Alonso] and Wil Trapp were amazing with the amount of distance they covered. It's never easy when you're playing against three in the middle of the park. Three technicians that they have, that can stay on the ball and move it, but, I thought their determination to get behind the ball and defend the goal and close the ball down, and then play when it came, was a real platform for which we've built the performance."
On the importance of having the squad healthy, and how to keep the major contributors healthy for the stretch run ...
"It's like everybody at this stage in the season, there are not many players that are not playing with little knocks and little niggles. They both feel fine now, so, hopefully in the morning. And then we'll get some more work into them because they haven't worked a lot. And then, a little bit of luck. Sometimes it's down to that. When Robin Lod did his calf, he slipped in the turf. It had nothing to do with overtraining, undertraining, he just slipped and his calf went. So, them things, you can't legislate for. You can't plan for. It's just an occupational hazard. But, the one thing that I do know, is if we're going to go and do what we tried to do last year, and get to the Western Conference Final and make the playoffs, and make an impact, we need all of our best players fit. That's for sure."
On the difference having Emanuel Reynoso on the field or not and if the team has dependency on him ...
"Well, I think they do, but, I would also add, do you think that Chicharito [Javier Hernández Balcázar] makes a difference for LA? Do you think that Vela makes a difference to LAFC? You could go through all the teams in the league. When the best players are not available and fit, you know, it effects the rest of the group. Maybe, are we too reliant on Rey [Emanuel Reynoso]? We'll see. Because, you know, the way he plays, and I thought again tonight he took a lot of harsh treatment in the first half. And, if he can get protected, which we need him to be on the field, then we feel as though he'll have a big influence for us from now to the end of the year."
MINNESOTA UNITED GOALKEEPER TYLER MILLER
On putting in a good performance after a difficult loss on Wednesday...
"That's what football is about, and I think life even more so. You're always going to be handed these difficulties, challenges. Whether it's our injuries or we have a really bad result against Kansas City, and it's never really about that singular event or that single player that's out, it's about how their group responds. And tonight, I think you saw what our group is really about. It's when we're handed adversity and difficulties throughout our season, we have the ability to respond and so that's what I think you saw tonight."
On Ethan Finlay's insurance goal in the second half...
"We knew the next goal was going to change the game. To be honest, I was so happy for Ethan [Finlay] because in the first half I felt like he was running so much on that right hand side and the ball just kept ending up on the left hand side when we were breaking it. So I really felt like he deserved an opportunity to get a chance to score and it was fantastic. But honestly, the play for me that that really changed the game was we're winning three - zero and Ethan sprints back, makes an interception, slides, gets up, comes back around, makes another interception and the crowd just goes crazy. That's the type of effort. Three - zero up, and our team is still so passionate about getting the shutout and what it means to our group that that's the effort that's going to take us throughout these next ten games and push us into the playoffs."
On facing a strong LA Galaxy squad...
"They've got a deep squad and a lot of good players. I mean, their starting 11 was full of top players. And then you bring on guys like [Víctor] Vázquez, [Javier Hernández] "Chicharito", and [Jonathan] Dos Santos, and I mean, you're looking at these guys, and you're just like, wow. They just keep coming and coming and coming. It was honestly, I felt like it was one of the hardest three - O wins I've ever had, with how much we fought to grind out that result. But I think that also shows that our passion, again, of keeping that shut out and it's a whole collective effort of what we're doing this season. So, [LA] Galaxy have a good team, but obviously, we got some of our top guys back today and we obviously have a good team as well."
On catching a corner route in football during the match...
"I knew the ball was wide. Honestly, I think that sometimes those plays just help you get into the game. I've always played like backyard football with my brothers growing up and so I saw the opportunity and I was just like why not try to catch it like a receiver? So if the Vikings need some help this Sunday, you know, I'm available."
MINNESOTA UNITED MIDFIELDER EMANUEL REYNOSO
On Adrian Heath telling him to shoot more and score more ...
"Si, siempre me lo dice el técnico, no? Mi posición trato de asistir a mis compañeros, trato de hacer un buen juego, de juntarme con [Franco Fragapane], con Robin [Lod] y con Ethan [Finlay]. Hoy tuve la suerte de patear fuera del área y, gracias a Dios, pude convertir para ayudar al equipo."
"Yes, my manager is always telling me to shoot more. In my position, I try to assist my teammates, and I try to connect with [Franco Fragapane], Robin [Lod] and Ethan [Finlay]. Today, I had luck outside of the box and I thank God that I could convert and help my team."
On how he feels about returning to the field...
"Bueno, gracias. Si, como dije recién, feliz por el triunfo como contra un gran rival donde, la verdad que teníamos que ganar de local, con nuestra gente. Feliz, feliz por el personal y obviamente grupal por todo lo que hicimos, e hicimos un gran trabajo. Fue un partido muy difícil donde los sacamos muy bien en el adelante."
"Thank you. Yes, as I said, I'm happy for the triumph against a great rival, where honestly we needed to win locally, with our fans. I'm happy both personally and for the group to get the win as well and for everything that we did. We did a great job. It was a challenging match where we got ahead in the beginning."
On the direction he sees this team going...
"La verdad que en primer lugar la confianza. La confianza que me da el técnico y mi compañeros uno sale a la cancha lo mejor a dejar la vida por mi compañeros, por la gente que también que hace su partido y nos apoya todo el partido. Yo trato de dar lo mejor en cada partido que me toca. Estuve lesionado y gracias al cuerpo médico también, que me ayudó muchísimo. Me ayudó para poder volver de la mejor manera. Agradeció a todo mi compañeros, al cuerpo médico, al cuerpo técnico que me ayudó para poder estar acá y poder ayudar al equipo."
"First, it's confidence. The confidence that my manager and my teammates give to me, when I get on the field, give my all for my teammates, for our fans, who also make your game better and support you throughout the entire game. I always try to do my best in each game that I play. Also, I was injured and I thank the medical team who helped me a lot. The medical team helped give me the strength I needed to come back. I am grateful to all of my teammates, the medical team, and the technical staff for helping me get here today to help my team."
On if he thinks he deserves more attention given how important he is to the team...
"Como te dije recien, mis compañeros y el técnico me hacen sentir que uno es importante. Uno trabaja dia a dia, trabaja en los entrenamiento, en lo que pide el técnico para entrar a la cancha cuando me toque, para dar lo mejor. Estoy muy contento porque volví de una lesión y tuve minutos con mis compañeros, con el equipo, pudimos ganar. Que eso era lo importante. Obviamente voy a seguir trabajando para ayudar a este equipo y seguir luchando para poder llegar al objetivo que tenemos. Llegar a los playoffs y seguir luchando."
"Like i said, my teammates and coach make me feel important. You work every day, in the training sessions, to do what the coach asks and be available when I'm called upon, and give my best. I'm very happy I came back from the injury and I played the minutes with my teammates and we could win. That was the most important thing. Obviously, I'll keep working to help this team and work towards the objective. Get to the playoffs."
On how it felt coming back so strongly after a tough loss ...
"Si, primero, muchas gracias. Mostramos carácter. Veníamos de perder el partido pasado. Veníamos con muchas lesiones. Nos están pasando muchas lesiones en el grupo. Pero tenemos que estar fuertes, unidos, todos juntos por el mismo camino. Feliz por el triunfo. Feliz por el triunfo que le dimos a la gente, por nosotros también que lo necesitamos y estamos muy cerca. Todos estamos todos juntos entonces tenemos que sacar puntos. Jugar local es muy importante para nosotros para sacar puntos entonces. Felicitar a todos mis compañeros que hicimos un gran trabajo.
"Yes, first of all thank you so much. But I am happy for the win. We showed character. We've lost our last two games. We've gone through a lot of injuries as well. We've had a lot of injuries in the group. But we're strong, united and we're on the same path. Happy for the win. I am happy for the win we gave to our people, and for us as well because we needed it and we're very close. All the teams are very close together, so we have to secure points. Securing points at home is really important for us. So, I am happy for all of my teammates, we did a great job."
On how he feels physically and if he feels 100%...
"Como dije recien, los médicos hicieron un gran trabajo donde pude arrancar jugando.
Entonces le doy gracias a Dios, a los médicos. Físicamente no estoy todo el bien, 100 por ciento, pero hoy sumé mucho minuto entonces me voy feliz y contento por que ganamos. Entonces voy a seguir trabajando para poder llegar de la mejor manera el próximo partido."
"Like I said recently, our medical staff did a great job so I could get playing again. So I give thanks to God and the medical team. Physically, I'm not 100 percent but I got a lot of minutes today and I'm happy we won. I'm going to keep working so I can show up the best I can for the next game."
On if he believes this result proves Minnesota is a top team in the league ...
"Veníamos de rota entonces era súper importante mostrar carácter, de local, con nuestra gente. Entonces creo que vamos por un buen camino. Tenemos un buen equipo adelante, atrás, al medio. Los rivales tambien los saben, que tenemos un gran equipo. Nosotros, humilde, trabajadores, y creo que vamos a un buen camino."
"We were coming off two losses and so it was super important we show character, at home, with our fans. And I think we're on a good path. We have a good team up front, in the back, in the middle. Our rivals know it too, that we have a good team. Us, we stay humble, work hard and I think we're on a good path."
• Discuss this story on the Major League Soccer message board...


Major League Soccer Stories from September 19, 2021
The opinions expressed in this release are those of the organization issuing it, and do not necessarily reflect the thoughts or opinions of OurSports Central or its staff.
Other Recent Minnesota United FC Stories