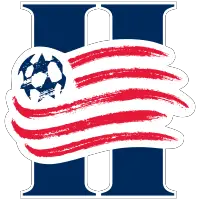 Revolution II Falls at FC Tucson, 1-0
September 17, 2020 - United Soccer League One (USL1) - New England Revolution II News Release



FOXBOROUGH, Mass. - New England Revolution II (1-6-2, 5 pts.) lost on the road Wednesday night at FC Tucson, 1-0. An eighth-minute goal off a corner by Tucson's Elivelton Oliveira was the difference on the night.
Forward Justin Rennicks made his USL League One debut for Revolution II, playing 70 minutes in the contest. Much of his service came from Connor Presley, who finished the match with a game-high 16 crosses and three chances created.
Goalkeeper Joe Rice started his third straight match, making five saves in the defeat. In front of him, Tiago Mendonca earned his first start since Sept. 4 and his first start at center back this season. Mendonca had four tackles and won each of his four aerial duels.
New England remains on the road for its second match of the week at Union Omaha on Saturday, September 19. Kickoff is scheduled for 8:00 p.m. ET on ESPN+ in the United States.
FC Tucson 1, New England Revolution II 0
September 16, 2020 - Kino North Stadium (Tucson, Az.)
Rennicks Makes Revolution II Debut
- Forward Justin Rennicks made his USL League One debut with New England on Wednesday night, starting and playing 70 minutes in his longest professional appearance of his career.
- Rennicks, who has played in four MLS matches during the 2020 season, contributed three shots on the night including one on target.
Quinones, Souza Earn Starts on Defense
- Academy defenders Colby Quinones and Diego Souza started as New England's full back tandem for the second game in a row.
- Souza played just 45 minutes but led the team with six possessions gained to go along with three tackles and two clearances.
- Quinones factored in a game-high five interceptions as well as three possessions gained and two clearances.
Presley Puts in Strong Shift at Forward
- Forward Connor Presley started and played 90 minutes on the right wing for the second straight match, finishing the night with 16 crosses, including 11 from open play, while completing 92 percent of his passes on the night.
- Presley created a trio of scoring chances for New England and added a quality chance of his own with a shot that was blocked in the 83rd minute.
Revolution II Makes Two Changes to the Starting Lineup
- New England made a pair of changes to the starting lineup from its most recent match on Sep. 9 vs. Chattanooga. Tiago Mendonca and Justin Rennicks slotted into the starting lineup, replacing Collin Verfurth and Mayele Malango.
- Mendonca made his first start at center back after playing 22 minutes at the position as a substitute on Sep. 9 as well as during preseason. He finished the night with four tackles, three interceptions, and two clearances and won all four of his aerial duels.
GAME CAPSULE
Referee: Isaiah Vlad
Assistant Referees: Mark Novosel (AR1), Melissa Beck (AR2)
Fourth Official: Jordan Vlad
Weather: 91 degrees and clear
Scoring Summary:
TUC - Elivelton Oliveira (Charlie Dennis) 8'
Misconduct Summary:
NE - Maciel (Yellow Card- Bad Foul) 30'
TUC - Azaad Liadi (Yellow Card- Bad Foul) 90'+1
New England Revolution II: Joe Rice; Diego Souza (Ryan Spaulding HT), Tiago Mendonca, Jon Bell, Colby Quinones; Maciel, Nicolas Firmino ©, Damian Rivera (Hikaru Fujiwara 67'); Connor Presley, Orlando Sinclair, Justin Rennicks (Mayele Malango 70').
Substitutes Not Used: Keegan Meyer, Collin Verfurth, Ryo Shimazaki, Isaie Louis.
FC Tucson: Amahl Knight; Roberto Alarcon (Jordan Hill 90'+4), Samuel Biek, Niall Logue ©, Derrick Silva; Erik Virgen, Charlie Dennis, Elivelton Oliveira (Manuel Ferriol 72'); Joshua Coan (Esteban Calvo 84'), Shak Adams (Azaad Liadi 72'), Giovanni Ramos Godoy (Ramone Howell 84').
Substitutes Not Used: Carlos Merancio Valdez, Raheem Sommersall.
FC Tucson Team Statistics New England Revolution II
17 (6) Shots (on Target) 14 (3)
3 Saves 5
5 Corner Kicks 8
4 Offsides 3
11 Fouls 9
469 (89.8%) Passes Attempted (% Completed) 429 (85.3%)
51.8% Possession 48.2%
POSTGAME QUOTES: New England Revolution II 0 at FC Tucson 1
Revolution II Head Coach Clint Peay
On finishing chances:
Peay: "We've got to put the ball in the net and put pressure on the other team. And when you don't do that, the game becomes difficult. We didn't do that and obviously [FC Tucson] had some chances as well but we've got to be better in that regard."
On Justin Rennicks making his debut:
Peay: "I thought he started brightly, gave us the ability to stretch them and run in behind which created some problems. But he hasn't played 90 minutes yet all season so he obviously fatigued and started to fade a little in the second half so we had to sub him off."
On switching Orlando Sinclair to center forward in the second half:
Peay: "It was influenced by the fact that Orlando is more comfortable as a nine. I think he has a little bit more understanding because he's been with the group of how we want to defend as a team starting with our striker and we thought that Rennicks could add some value in the wings versus what Orlando was giving us."
On Tiago Mendonca filling in at center back:
Peay: "I thought Tiago was a bright spot for the group overall. He defended well, won his duels, was pretty comfortable with the ball and his distribution. I thought he did a good job and brought good energy to the team. He's certainly an option there moving forward should we need it and proved that he can help us provide depth in that area."
On Saturday's upcoming match at Union Omaha:
Peay: "We're going to have to defend set pieces better than we have in the past. They've got long throw-ins and will probably get a bunch of corners because they're very direct and the ball will get out of bounds quicker. The first thing is addressing that and from there we've got to be able to find ways to get in behind them a little quicker to create chances because there's not going to be the space on the field to pass it around and break down a team that's done pretty good defending in blocks of eight to ten guys behind the ball."
Revolution II Midfielder Tiago Mendonca
On adjusting to playing a new position of center back:
Mendonca: "I've felt good. I played center back before, I'd say it's my reserve position. I knew what I had to do and my teammates helped me with my positioning and coached me so it was good."
On countering Tucson's speed defensively:
Mendonca: "[Shak] Adams was very fast. We tried to not let him run at us. Colby [Quinones] did a great job preventing that, either pressing hard or just dropping our line. I think we did a good job at it and they didn't get any chances running at us at speed. Coach gave good instructions about what to do and what not to do so it was pretty good."
On taking away positives from the defeat:
Mendonca: "I think we did really good positionally, we moved the ball well, and we created good chances. Defensively, we did good but we gave up a goal on a set piece that was very unlucky but I think the team did well but I think we need to finish our opportunities inside the box."
On Saturday's upcoming match at Union Omaha:
Mendonca: "For right now, we just have to focus on our recovery and our bodies. It starts with the coaches telling us what to do with training and conditioning. But for now it's just focusing on our bodies."
• Discuss this story on the United Soccer League One message board...


United Soccer League One Stories from September 17, 2020
The opinions expressed in this release are those of the organization issuing it, and do not necessarily reflect the thoughts or opinions of OurSports Central or its staff.
Other Recent New England Revolution II Stories