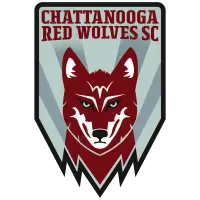 3 Points for the Weekend: Greenville Triumph
September 17, 2020 - United Soccer League One (USL1) - Chattanooga Red Wolves SC News Release



The Chattanooga Red Wolves are set to square off against the league leaders, Greenville Triumph, in a much anticipated clash between the top two teams in the league on Saturday. Greenville Triumph (7-1-2) after dropping a couple games in a row, have gotten back on track with wins over Forward Madison and South Georgia Tormenta FC. They remain in first place in the league with 22 points, with a four point lead on the Red Wolves. After struggling to pick up results early in the season, the Chattanooga Red Wolves (5-3-2) are on a hot streak and are unbeaten in their last 5 games, picking up four wins.
On Tuesday, the Chattanooga Red Wolves put on a fantastic performance and made a statement to the league by taking down the only remaining unbeaten team, Union Omaha. Omaha has established themselves as a force to be reckoned with this season after breaking the League One record for best start to a season without a loss, with excellent offensive performances and by limiting the number of goals conceded, but the Red Wolves took care of business in the 2-0 win. Ricardo Zacarias and Tanner Dieterich both scored their second goals of the season in the victory, off of assists from Ualefi Rodrigues and Marky Hernandez. The Red Wolves are on a tear, and they will be looking to keep their unbeaten streak alive by taking down the #1 side in the league on Saturday.
The two sides have already met once already back in early August, when the Red Wolves dropped their first match of the 2020 season on the road. A goal scored in the 71st minute against the run of play was enough to hand the Red Wolves the loss. The Red Wolves were doing everything well except finishing the ball, a problem that was evident early in the season for Chattanooga, but one that has seemingly been fixed as of their recent form. The Red Wolves looked especially dangerous in the first half, creating many early chances by forcing turnovers, creating quick counter-attacks going forward, and winning free kicks in dangerous positions. While holding the ball for 62% of the game and taking 25 shots, Greenville only took 7 shots with 1 being on target. However, Lachlan McLean's goal, his first of the season, was enough to separate the two sides. The game was the first Greenville home match with fans in 10 months, and it provided a tough atmosphere that has proven difficult for teams to come play and get results, but this time, however, the Triumph will be traveling to the home of the Red Wolves, CHI Memorial Stadium. In order to take revenge on the Triumph and narrow their lead in the tables to just one point, Chattanooga will need to address this week's three points for the weekend.
First and foremost, a huge key to success this weekend is Chattanooga's depth and offensive firepower. This is not the same Red Wolves side that we saw against Greenville back in August. When the two sides first met, all of Chattanooga's goals were involving Greg Hurst and they lacked offense variety. As Greg told interviewers early in the season, "The talent is there and we have many players capable of scoring. The chances will come and other players will step up, become confident and start putting them away." He was absolutely right, as Chattanooga now has 7 players who have scored so far, with 5 of those players having multiple goals to their name. Chattanooga is the highest scoring team in the league with 17 goals so far, and this new version of Chattanooga that Greenville has yet to play will be ready to give them a run for their money. This Red Wolves side no longer relies solely on Greg Hurst and has even gone on to find victory in many multiple goal contests despite Hurst being sidelined to injury. Now that Greg Hurst is back after getting minutes on Tuesday, Greenville's list of players to watch out for has grown even more.
The next point for the weekend is to lock down Greenville Triumph forward, Jake Keegan. Keegan has frequented the league's leading scorer list and has proven dangerous in front of the net. He now has four goals for the Triumph and is the biggest offensive threat on the team. Last time out, the Red Wolves kept Keegan relatively quiet as they limited his opportunities, and they will need to do this again this weekend. Both teams have had three players each make team of the week, and have many other players in good form, however. The Red Wolves will need to keep their eyes on midfielder Aaron Walker who has picked up an assist and held a high passing percentage recently, accompanied by Lachlan McClean who has scored in two consecutive contests as well. The Red Wolves will be up to the challenge to defend the den, with players Tanner Dieterich, Jonathan Ricketts, and Marky Hernandez also making the team of the week.
Finally, it is no secret that the Red Wolves are hot right now, but winning this game is essential. A win on Saturday will not quite be enough to take the number one spot in the league, but it will be enough to bring them within one point and put the Red Wolves in striking distance. A win on Saturday will turn up the pressure on Greenville, because it will leave no room for mistakes as Chattanooga will be right on their heels waiting for them to drop a game in order to move into first. Union Omaha is only two points behind the Red Wolves with a game in hand after the big win for Chattanooga at CHI Memorial Stadium on Tuesday, and a loss to Greenville will give Omaha the opportunity to knock Chattanooga out of the top two spots and take second place back once again, so the Red Wolves need to take care of business. They have already shown us that they are capable of out possessing Greenville Triumph and creating more chances, as they did the first time the sides met. If the Red Wolves, who can't seem to stop scoring, can do this again then they will put themselves in an excellent position to challenge for the number one spot. The Red Wolves have plenty of momentum in their favor going into this game, on top of it being a home match. Bearing these factors in mind, all of the cards will be in Chattanooga's favor this weekend as long as they can take advantage of their opportunities and defend well as a unit.
Even though the first time the sides met the Red Wolves were struggling to pick up points and kept settling for draws due to finishing struggles, they have now earned 13 out of potential 15 points in the last 5 games against many top teams. The Red Wolves are eager to finish off this tough stretch of games with another win against the league leaders in this weekend's much anticipated top two face off. The match will have an atmosphere like none other in Chattanooga, and is yet another sell-out. If you were unable to secure your tickets for the game, be sure to view the match on ESPN+ at 1:00pm this Saturday.
• Discuss this story on the United Soccer League One message board...


United Soccer League One Stories from September 17, 2020
The opinions expressed in this release are those of the organization issuing it, and do not necessarily reflect the thoughts or opinions of OurSports Central or its staff.