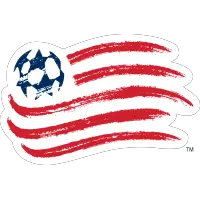 Revolution Advance in Audi MLS Cup Playoffs with 2-1 Win vs. Montreal Impact
November 20, 2020 - Major League Soccer (MLS) - New England Revolution News Release



FOXBOROUGH, Mass. - The New England Revolution advanced into Round One of the Audi 2020 MLS Cup Playoffs with a dramatic 2-1 win against the Montreal Impact at Gillette Stadium on Friday night. New England's Gustavo Bou scored the game-winning goal in the fifth and final minute of second-half stoppage time, beating Impact goalkeeper Clement Diop to the far post with a right-footed shot from distance. Carles Gil scored the game's opening goal with a left-footed volley off a cross from Bou in the 38th minute to put New England ahead before the break. Montreal's Romell Quioto's responded on the other side of halftime with a headed shot from the penalty area. With the win - the Revolution's first in the postseason since 2014 - New England advances into Round One, where it will travel to face either the Philadelphia Union or Toronto FC on Tuesday night.
Both Gil and Bou scored their first career MLS Cup Playoff goals in tonight's contest, which was also Bruce Arena' 51st MLS Cup Playoff game coached - the most all-time. Bou, who also recorded the assist on Gil's goal, set a single-game postseason club record tonight with eight shots. Since he joined New England in July of 2019, Bou has scored six times in the 85th minute or later, and has registered five game-winning goals across all competitions. Gil, who missed 17 games this season due to injury, paced the team with nine key passes and three shots on target. He also led the Revs in successful passes, crosses, and touches on the night.
Defender DeJuan Jones, making his second career MLS Cup Playoff appearance, was credited with the assist on Bou's game-winning goal. Playing adjacent to Jones at right back was Tajon Buchanan, who logged his first professional start at the position and his first postseason appearance. He played 50 minutes before leaving the match with a knee injury. Henry Kessler, Adam Buksa, and Revolution Academy product Justin Rennicks also made their MLS Cup Playoff debuts in tonight's match.
In net, goalkeeper Matt Turner registered four saves and his first career playoff win.
New England will return to action on Tuesday, when it will visit either the first-seeded Philadelphia Union or second-seeded Toronto FC, pending tonight's result between Inter Miami CF and Nashville SC. If Nashville wins, then the Revolution will face Philadelphia on Tuesday at 8:00 p.m. ET. If Miami wins, then the Revolution will take on Toronto on Tuesday at 6:00 p.m. ET.
POSTGAME NOTES
New England Revolution 2, Montreal Impact 1
November 20, 2020 - Gillette Stadium (Foxborough, Mass.)
Revolution Earn 2-1 Playoff Victory over Montreal
The Revolution opened the Audi 2020 MLS Cup Playoffs with a 2-1 win over the Montreal Impact. New England finishes the season with a 4-1-0 record against Montreal on the year across all competitions.
The Revolution will play next on Tuesday, Nov. 24 in Round One, away against either the Philadelphia Union or Toronto FC.
New England extended its unbeaten run at Gillette Stadium in postseason play to 13 games (10-0-3) dating back to the 2002 MLS Cup.
The Revolution's postseason record moves to 18-17-9 all-time. The win snaps a six-year drought without a playoff win for New England, marking the team's first postseason victory since Nov. 22, 2014 at New York Red Bulls.
Arena Coaches Record 51st MLS Cup Playoff Game
Revolution Sporting Director and Head Coach Bruce Arena's all-time playoff record moves to 33-12-6, including a 27-0-3 mark when his team scores first.
Tonight's match was Arena's 51st playoff game coached, moving him ahead of Sigi Schmid (50) for the most in MLS annals.
- Arena's 33 postseason wins are the most by a coach in MLS Cup Playoff history.
Bou Sets Pair of Franchise Records with Game-Winning Goal
Forward Gustavo Bou scored the game-winning goal in the fifth minute of second-half stoppage time, the latest postseason winning goal in franchise history.
Bou also set a franchise postseason record with eight shots on the night, snapping the previous high of seven set on Nov. 8, 2007 by Taylor Twellman.
New England's Designated Player Triumvirate Makes Second Consecutive Appearance
- Revolution Designated Players Gustavo Bou, Adam Buksa, and Carles Gil appeared together in New England's attack for the third consecutive match and the fifth time this season. All three appeared in the Starting XI for the third time in 2020.
- Gil wore the captain's armband for the second straight game and fourth time this season. The second-year midfielder logged a 90-minute shift scoring his first MLS Cup Playoffs goal while adding five shots and nine key passes along with a game-high 105 touches.
- Bou added a goal and an assist while completing 83 percent of his passes while Buksa registered three shots on target and won five of his 11 aerial duels.
Bunbury Eclipses 1,000 Postseason Minutes
Forward Teal Bunbury reached 1,000 postseason minutes for his career with an 86-minute effort on Friday night.
The game marked his 13th career MLS Cup Playoffs appearance, eight of which have come for New England.
Bunbury finished the night with three shots and completed 89 percent of his passes.
Turner Notches First Postseason Win
- Goalkeeper Matt Turner made four saves en route to his first career postseason win, becoming just the fifth goalkeeper in club history to register a win in the MLS Cup Playoffs.
- Turner, who finished second in voting for MLS Goalkeeper of the Year, set a career-high this season with eight clean sheets.
Revolution Make Three Changes to Starting Lineup
New England made a trio of changes to the starting lineup from the regular season finale on Nov. 8 at Philadelphia, with DeJuan Jones, Tommy McNamara, and Matt Polster all slotting into the starting lineup in place of Alexander Büttner, Brandon Bye, and Scott Caldwell.
McNamara made his second career playoff appearance, completing 85 percent of his passes along with two recoveries, and an interception.
Polster also made his second career appearance in the MLS Cup Playoffs, logging 90 minutes between defensive midfield and right back while recording three clearances and three interceptions.
Jones made his second career postseason appearance, registering his first playoff assist on Gustavo Bou's late winner while adding five tackles, four recoveries, and three interceptions along with 100 touches.
GAME CAPSULE
Referee: Jair Marrufo
Assistant Referee: Corey Rockwell (AR1), Jose Da Silva (AR2)
Fourth Official: Rubiel Vazquez
Video Assistant Referee: Alan Kelly
Weather: 50 and clear
Scoring Summary:
NE - Carles Gil (Gustavo Bou) 38'
MTL - Romell Quioto (Rudy Camacho) 61'
NE - Gustavo Bou (DeJuan Jones) 90'+5
Misconduct Summary:
NE - Gustavo Bou (Yellow Card - Handball) 6'
NE - Tommy McNamara (Yellow Card - Unsporting Behavior) 20'
MTL - Jorge Corrales (Yellow Card - Unsporting Behavior) 43'
New England Revolution: Matt Turner; DeJuan Jones, Henry Kessler, Andrew Farrell, Tajon Buchanan (Scott Caldwell 50'); Tommy McNamara (Lee Nguyen 63'), Matt Polster; Teal Bunbury (Justin Rennicks 86'), Carles Gil, Gustavo Bou, Adam Buksa
Substitutes Not Used: Brad Knighton, Michael Mancienne, Antonio Delamea, Seth Sinovic, Kelyn Rowe, Kekuta Manneh
Montreal: Clément Diop, Zachary Brault-Guillard, Luis Binks, Rod Fanni, Jorge Corrales (Mustafa Kizza HT); Emmanuel Maciel (Orji Okwonkwo 57'), Rudy Camacho, Amar Sejdic, Anthony Jackson-Hamel (Mason Toye 57'), Bojan, Romell Quioto
Substitutes Not Used: James Pantemis, Jonathan Sirois, Tomas Giraldo, Clément Bayiha, Karifa Yao, Steeven Saba
New England Revolution Team Statistics Montreal Impact
25 (9) Shots (on Target) 9 (5)
9 Blocked Shots 1
4 Saves 7
9 Corner Kicks 3
0 Offsides 1
9 Fouls 3
583 (87.8%) Passes Attempted (% Completed) 307 (74.3%)
65.8% Possession 34.2%
POSTGAME QUOTES
New England Revolution Sporting Director & Head Coach Bruce Arena
On tonight's performance:
Arena: "I thought both teams played extremely hard. Give Montreal credit. They battled for 95 minutes. We scored, I think, two outstanding goals. And it's nice to get both Carles [Gil] and Gustavo [Bou] back on the field together. I just think we played well. I think [Clement] Diop had an outstanding game for Montreal. Montreal had a good plan. They defended well. They frustrated us at times. We created some good chances and maybe had a chance to be ahead by two goals and weren't successful there. And give them credit. [Romell] Quioto scored a good goal. So, we had to battle all the way and I'm pleased we were able to get our second goal in regulation time."
On how important this win was to the players, as the Revolution had not won a playoff game in six years:
Arena: "Well, I'm sure it's important. I don't know how many of our players have been around for the six years. I guess we have about three or four of them, but we're building a team. I think this is another step in that progression. You know, qualifying for the playoffs the last two years is a positive. And now winning a game is a positive. And then we have a really challenging game on Tuesday against the so-called best team in the league. So, it's going to be a real challenge, but this is a very good win for our program as we continue to build it."
On Carles Gil's performance tonight:
Arena: "He was very good. Yeah. He was very good. What more can you say? He had a goal. He obviously helped control the tempo of the game. His passing, at times, is outstanding. A really good game and obviously the more he continues to play, he's only going to get better because he's basically been out most of the year. So, we can see, every game there's been a progression."
On Gustavo Bou's performance and if he is expected to get big goals in big situations:
Arena: "Gustavo [Bou] is a goal scorer. And we expect him to get goals. I don't think we're anticipating that he's going to get them all the time in the 95th minute, but that's what Gustavo does. He's a goal scorer. He's a good player, but his DNA is scoring goals. It's great to see that he got one tonight. I think that's going to help his confidence because it's probably been awhile since he's scored a goal. I think that was a great goal for him and certainly a great win for our team."
On Tajon Buchanan's performance and his injury status:
Arena: "I don't have an update. I thought Tajon [Buchanan] played well in the first half. We knew had a little bit of a problem at halftime. And if I was a little bit of a better coach, I probably would've taken him out at halftime and not wasted the substitution in the 55th minute or whenever it was. That's a mistake on my part. We probably should've taken him out at halftime."
On the quick turnaround and the amount of training that can be done before the next match:
Arena: "Well, this is what we've been doing the entire year. This is a rhythm that everyone's used to. Literally, we have done this, if I'm not mistaken, basically every week since the start of July. We've had maybe one week, or two weeks at the most, where we've actually had a week between games. So, we're used to this. We know the rhythm, the recovery, all of that and how you prepare for the next game. That's not going to be anything that will be real difficult for us to deal with."
Revolution Midfielder Carles Gil (translated from Spanish)
On tonight's game:
Gil: "It was pretty much on the last play of the game that we won, but it was clear that we were going to score a goal in the second half. Their goalkeeper played an outstanding game tonight. If not for that, we would've scored and taken the lead earlier in the game."
On recovering from in-season surgery to contribute to a playoff win:
Gil: "I said before that I wanted to come back, and my goal was to do everything possible to help this team. I had a lot of people helping me out, especially my personal trainer. It wouldn't have been possible without him. I was able to come back sooner and join the end of the season. The team has had a great year, we're in the playoffs, and we're here for a reason."
On how beneficial the break between the end of the season and tonight's playoff game was:
Gil: "I needed training time. This season, because of COVID, has been the way it has been. A lot of games in a quick time. I wasn't able to train. I had to play games right away, so I had to gain some rhythm. I felt much better in Philadelphia [on Nov. 8] and today, too. I practically feel like I'm at 100 percent again."
On his chemistry with Gustavo Bou:
Gil: "I think since he first arrived the team has done really well. The type of player that I am, I like to provide assists. Playing with Gustavo has been a pleasure. He's always in front of the goalkeeper in one-on-one opportunities and he has a great shot. I think from the first moment when he got here, we trained well. Obviously, we speak the same language and that helps. All of us in the attack, we understand each other and complete one another well."
On getting off to a strong start tonight and dictating the tempo after Montreal equalized:
Gil: "We spoke during the week about getting ahead, and that's a really important part of the game. A guy like [Romell] Quioto, he's a very fast player. We took a lead tonight and that was very important. After they scored their goal, we reacted well to that. We created a lot of chances and we deserved the victory tonight. We earned a well-deserved win."
Revolution Defender Henry Kessler
On his first career playoff game and almost seeing this match go into extra time:
Kessler: "That's not something that really crossed my mind, extra time, it was more playing in the moment trying to obviously still push for a goal and keep playing until the whistle. So if extra time came, we would play extra time, but it's not something I was really focusing on. As far as my first playoff game, I think it's just a familiar opponent in Montreal, we kind of knew how they were going to set up and we knew they were going to have a lot of numbers behind the ball and play for the counter and that's kind of what we saw. It was a familiar opponent with a familiar style of play against us."
On having all three Designated Players on the field together:
Kessler: "They all really stepped up today. I feel like sometimes during the year our offensive capabilities have been criticized but today and throughout the year I feel like they've been good and unfairly criticized at times. But today, [Gustavo Bou, Adam Buksa, and Carles Gil] really stepped up. Carles [Gil] had a great finish and Gustavo [Bou] as well, and I thought Adam [Buksa] played a really good game too, obviously had that great header that [Clement] Diop made a great save on and that could've been the game-winner as well. All three of them had great games."
On Carles Gil's performance:
Kessler: "He's an excellent player. He's got great vision, great technique as you saw on the goal with the volley. When he's on the ball, he runs our team and that's great, that's who we want to have the ball. He finds players that other people can't. He's got great passing ability, great range, great vision and that really helps us."
On Tajon Buchanan starting at right back and communication along the back line:
Kessler: "Just telling him to be solid defensively. I know he's more familiar with the winger position but I thought he did a good job and still got into the attack well. I know it's unfamiliar for him but he did a good job and hopefully he's all right."
On the Montreal goal:
Kessler: "On the goal, I saw the set piece came my way and the initial header, I got a piece of it but obviously not enough. The ball went centrally, I haven't really seen it so I can't say more than that, but I should probably do better on the initial one and getting a piece. I probably didn't get enough on it."
On being prepared for a quick turnaround for Tuesday:
Kessler: "For sure. We're definitely familiar with having three days' rest or less so we did that a lot during the regular season and it will be like that again. I don't think too much will change. We've prepared for games three days ahead or four days ahead before and I think our preparation will be similar."
On what the team must do to improve on defending set pieces:
Kessler: "I think we need to get guys more aggressive, myself included. Any chance we can avoid to give up a set piece, whether that's a bad foul or a corner just clearing it out for a throw, that's great. But we need to be more aggressive and the coaches tell us it's more mind over matter so it's just our mentality needs to be a little bit better."
• Discuss this story on the Major League Soccer message board...


Major League Soccer Stories from November 20, 2020
The opinions expressed in this release are those of the organization issuing it, and do not necessarily reflect the thoughts or opinions of OurSports Central or its staff.
Other Recent New England Revolution Stories