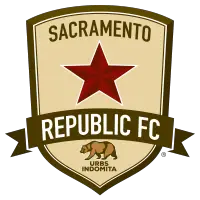 Republic FC, Western Health Advantage Re-Name Stadium Heart Health Park to Promote Community Wellbeing and Health
May 5, 2021 - United Soccer League Championship (USL) - Sacramento Republic FC News Release



Sacramento, Calif. - Before Republic FC kicks off the 2021 season at home, the Indomitable Club and Western Health Advantage, the Sacramento-based non-profit HMO health plan founded in 1996 with a community-based mission by doctors and health care providers, have agreed to grow their partnership.
In a first for the sports world, Western Health Advantage and Republic FC will give the team's home field a new name - Heart Health Park, as part of a collaborative effort to call attention to the importance of community health and wellbeing, in place of the health insurance plan's name. Heart Health Park will be the first venue with a name to directly address a global health concern, as well as serve an example of how sports teams and business leaders can stand together to invest in the fans, supporters and communities that support them. With the support of regional businesses like Western Health Advantage, an unwavering fan base and city leaders, Republic FC continues to affirm Major League Soccer's decision to select Sacramento as an expansion club.
"Home field advantage is not just about our stadium on gameday, but the people and communities throughout the region every day. Our mission is to make Sacramento an incredible place to live, work and play, includes prioritizing the health of our family, friends and neighbors," said Republic FC Owner and CEO Kevin Nagle. "Thanks to the incredible leadership by Western Health Advantage, we will make a bold statement about community wellbeing with Heart Health Park and continue our work to invest in Sacramento."
"We believe in the Sacramento region, the Indomitable Spirit, the bright future of soccer and the bold efforts of Republic FC to serve our community," said Western Health Advantage President & CEO Garry Maisel. "We're thrilled to grow our partnership with Republic FC and inspire our region to make health and wellness a priority. Heart Health Park is symbolic of how Sacramento doesn't back down from the big challenges, and unites to invest and improve our community day by day."
With the support of the American Heart Association, Heart Health Park will become a community center to drive awareness and action around cardiovascular disease and related ailments. On gameday, concessions will offer heart-healthy selections, the entire staff will be CPR certified to provide life-saving support in case of an emergency, and pre-match entertainment will highlight the work of frontline workers and health experts showcasing lifestyle changes to promote heart health.
"A stadium name often transforms into a common calling for fans to rally around, and with this gift from Western Health Advantage and Republic FC, fans will be reminded about how important heart health is to community wellbeing every time they think about soccer and sports in Sacramento," said Jessica Lannom, Executive Director of the American Heart Association's Sacramento Division. "Heart Health Park reaffirms that we can make the healthy choice an easy choice, and that together we cando our part to improve health outcomes for all."
Beyond gamedays, the team will extend its commitment to promoting health and wellness by opening Heart Health Park for public workouts with local fitness instructors, incorporating CPR certification into its youth soccer programming, and engaging with regional non-profits to develop additional resources and programming to put an emphasis on nutrition and an active lifestyle. In the coming months, the American Heart Association, Western Health Advantage and Republic FC will join forces to launch new heart-smart programming in schools, lift up annual events including the Heart & Stroke Walk, and more.
In the United States, one person dies every 36 seconds from cardiovascular disease, accounting for one in every four deaths. Nearly 50% of Americans have at least one of three key risk factors for heart disease: high blood pressure, high blood cholesterol, or have diabetes. Those factors contribute to the more than 350,000 incidents of cardiac arrest that occur outside of a hospital each year. With heart disease as the leading cause of death in the United States, disproportionately affecting women and communities of color.
Republic FC, Western Health Advantage, and the American Heart Association will collaborate on programming designed to reach high-risk populations, provide training and resources to help communities live healthier lives, and create pathways for the region to learn lifesaving skills. Together the organizations will have an increased focus on improving health equity and access through nutrition and fitness education, as well as teaching CPR which can double or triple a person's chance of survival, if administered immediately after cardiac arrest.
Western Health Advantage has a long history of supporting the American Heart Association in its mission be a relentless force for a world of longer, healthier lives. Heart Health Park will become a new resource in the local Healthy for Good movement, inspiring people to create lasting change through three core values - eat smart, move more, be well.
Heart Health Park will be the central element of Republic FC's community health and wellness initiatives. The club has created new futsal courts for the region's athletes to stay active, provided free meals for the region's senior population to stay safe in the early months of the pandemic, and developed partnerships with health leaders like UC Davis Health, Whoop, Catapult, On Pace Wellness and more.
On Wednesday, May 12, Republic FC will call Heart Health Park home for the first time when the Indomitable Club hosts Las Vegas Lights FC at 7:30 p.m. The match will be broadcast locally on KQCA My58 and Estrella TV Sacramento, as well as streamed globally on ESPN+.
• Discuss this story on the United Soccer League Championship message board...


United Soccer League Championship Stories from May 5, 2021
The opinions expressed in this release are those of the organization issuing it, and do not necessarily reflect the thoughts or opinions of OurSports Central or its staff.