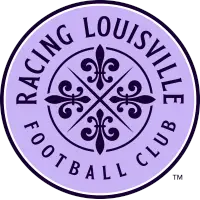 Portland's Three Second-Half Goals Sink Racing Out West
September 22, 2022 - National Women's Soccer League (NWSL) - Racing Louisville FC News Release



Portland Thorns FC scored three goals in nine minutes Wednesday night to defeat the visiting Racing Louisville FC at Providence Park.
Racing withstood an early first-half barrage from Portland and grew into the game 30 minutes in, with Emina Ekic hitting the crossbar in the 35th minute. But Portland's fast start to the second half, with goals in the 47th, 48th and 56th minutes, gave the Thorns firm control of the game and pushed them back into first place in the NWSL.
"They were the better team today," Racing coach Kim Björkegren said. "... The girls worked hard over 90 minutes. Of course there are things we can do better, but from where we are right now, we're missing a couple players and, in an away game in Portland, it's very tough."
Under pressure from the opening whistle, Racing (3-9-8, 17 points) cleared two Portland shots off the goal line in the first 15 minutes. Lund made a handful of diving parries, including back-to-back reaction saves in the 12th minute.
Louisville started possessing the ball more and threatening down both flanks as halftime neared. It was around that time in the game, the 26th minute, that star forward Nadia Nadim fell hard along the attacking end line and had to be subbed off.
Despite Portland outshooting Racing 16-3 in the first 45 minutes, the game was scoreless at the halftime break.
Sophia Smith's 47th-minute finish broke the deadlock loose. One minute and 22 seconds later, Portland midfielder Sam Coffey added a second with a low shot through traffic from the edge of the area.
Olivia Moultrie scored Portland's third goal in the 56th minute.
Still, defender Satara Murray came away from Wednesday's game encouraged by her team's fighting spirit in a challenging game environment and against a quality opponent.
"One thing you can fault us on is our fight," Murray said. "I'm super proud of the girls - we're a resilient bunch. I know for the fans and the organization, especially the performance we had against Orlando last week, you'd think and hope that we would build off of that momentum and confidence. But you have to give credit to Portland where it's due."
Midfielder Savannah DeMelo hit the near post with a 21-yard free kick in the 65th minute, and forward Jess McDonald cut inside to her left foot on the edge of the box in the 70th minute to get a shot away, but it was right at Portland goalkeeper Bella Bixby.
Murray and teammate Lauren Milliet both said their team needed to immediately turn its attention to Sunday, when Racing takes on Angel City in Los Angeles.
"If we can have a short-term memory and take the good parts and translate that into the next game, that's really important for us," Milliet said. "If we spend too much dwelling on games like this, that doesn't do us any good. We can look at things that we can improve on, but we need to refocus again so we can keep building. We do have a lot we can build on, it's just small details right now for us."
Game Summary: Racing Louisville FC at Portland Thorns
Date: Sept. 21, 2022
Venue: Providence Park
Kickoff: 10:07 p.m. ET
Weather: 72 degrees, cloudy
Scoring
Racing Louisville (0, 0, 0)
Portland Thorns (0, 3, 3)
Goals
Portland Thorns:
47' Sophia Smith
48' Sam Coffey (natalia Kuikka)
56' Olivia Moultrie
Lineups
Racing Louisville FC (4-3-3): 1 - Katie Lund; 11 - Emily Fox, 44 - Satara Murray, 4 - Gemma Bonner (c), 2 - Lauren Milliet; 6 - Jaelin Howell (82' 12 - Taylor Malham), 7 - Savannah DeMelo (82' 25 - Rebecca Holloway), 27 - Alex Chidiac; 13 - Emina Ekic (51' 15 - Julia Lester), 10 - Nadia Nadim (26' 22 - Kirsten Davis), 14 - Jess McDonald
Subs not used: 18 - Hillary Beall, 24 - Jordyn Bloomer, 31 - Kelsey Daugherty; 17 - Nealy Martin; 21 - Parker Goins
Head Coach: Kim Björkegren
Portland Thorns (4-3-3): 1 - Bella Bixby; 25 - Meghan Klingenberg (72' 29 - Tegan McGrady),4 - Becky Sauerbrunn (c), 20 - Kelli Hubly, 14 - Natalia Kuikka; 17 - Sam Coffey (78' 19 - Crystal Dunn), 13 - Olivia Moultrie (57' 12 - Christine Sinclair), 11 - Rocky Rodriguez; 23 - Yazmeen Ryan (57' 22 - Morgan Weaver), 9 - Sophia Smith (72' 21 - Marissa Everett), 16 - Janine Beckie
Subs not used: 35 - Abby Smith; 8 - Hina Sugita, 39 - Meaghan Nally, 46 - Taylor Porter
Head Coach: Rhian Wilkinson
Stats Summary: Racing Louisville / Portland Thorns
Shots: 7 / 28
Shots on Goal: 1 / 14
Possession: 43% / 57%
Fouls: 12 / 13
Offside: 1 / 1
Corner Kicks: 2 / 7
Discipline Summary
Racing Louisville:
62' Savannah DeMelo (yellow)
Portland Thorns:
33' Olivia Moultrie (yellow)
Referee: JC Griggs
Images from this story
• Discuss this story on the National Women's Soccer League message board...


National Women's Soccer League Stories from September 22, 2022
The opinions expressed in this release are those of the organization issuing it, and do not necessarily reflect the thoughts or opinions of OurSports Central or its staff.
Other Recent Racing Louisville FC Stories