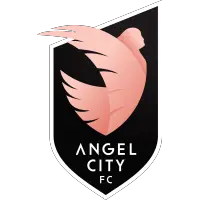 Angel City FC Keeps Playoff Hopes Alive with 2-1 Win over Washington Spirit
September 22, 2022 - National Women's Soccer League (NWSL) - Angel City FC News Release



LOS ANGELES - Angel City Football Club (ACFC) beat the Washington Spirit 2-1 at home tonight following goals by forwards Claire Emslie and Simone Charley, and a penalty goal for Spirit forward Ashley Hatch. The match was the team's first home NWSL game since August 14.
The first 30 minutes or so were largely a midfield battle, with neither team gaining control of the game. Washington employed an aggressive press, but ACFC maintained their composure and played out of it a number of times, looking to go forward from early on in the match.
The first real chance for either side, however, didn't come until the 32nd minute. On a corner kick by forward Claire Emslie, midfielder Clarisse Le Bihan found a close-range header, but hit the woodwork.
The two teams traded a flurry of chances back and forth over the ensuing 10 minutes. In the 32nd minute, defender Paige Nielsen sent in a curling shot from 20 yards that looked destined for the upper 90, but it went just wide; a minute later, defender Ali Riley made an outstanding defensive play, sprinting to keep up with Washington forward Trinity Rodman as she was about to get one on one with keeper DiDi Haračić and flicking the ball away from the 2021 Rookie of the Year for a corner kick.
In the 36th minute, midfielder Ashley Sanchez put a free kick from just outside the penalty area on frame, and Haračić dove right to make a difficult save. She made another two minutes later on an attempt by midfielder Dorian Bailey.
ACFC broke through in the 39th minute when Riley received a long pass up the left wing and sent a low cross in behind the Washington defense. Emslie, who had been threatening all night, made a well-timed run and one-timed the ball into the top netting.
After halftime, it didn't take long for ACFC to run up the score to 2-0. In the 51st minute, Jasmyne Spencer sent in a cross from the right; forward Simone Charley found herself with space in the six-yard box and headed the ball past keeper Aubrey Kingsbury.
Haračić had another save in the 57th minute when Hatch fired off a hard left-footed shot from the penalty arc. The keeper dove right to block the ball out over the endline.
In the 87th minute, Washington earned a penalty kick following a foul in the box by ACFC midfielder Dani Weatherholt. Hatch stepped up to the spot and sent the ball to the right at waist height. Haračić dove left, and the score was at 2-1.
LA continued to defend and held their lead for the remaining three minutes of regulation, plus four minutes of stoppage time, and ended the night with a crucial three points as the playoff race remains neck and neck.
ACFC plays their final home game against Racing Louisville FC on Sunday, September 25 at 5:00 p.m.
POST-MATCH QUOTES
ACFC Defender Ali Riley
On thoughts on the night after coming off a road trip:
"This team plays for so much. Not just ourselves, but for our fans and for our city and for all the communities that are supporting us. That extra boost of being able to come here and feel that love is our purpose, it's our why. Of course we felt that love on the road. However, to be actually here in this kind of do or die scenario, on a Wednesday night with that kind of crowd, against a really good team that has been on a hot streak, felt really good and was our best performance."
"After a long trip on the road for eight or nine days, and felt like a month, it was great to be back home in front of our fans, in front of our crowd. As always, they bring the energy for us and we're able to feed off of that and it was really exciting to be able to just feed off of that and get a win today."
On thoughts leading up to the assist to Claire Emslie:
"We had a few opportunities with overloads on our left side and Savannah was coming over, we had Jun inside, those are players who you want to find to feed. I let them come to feed and thought we needed someone to stretch the line, so I was trying to make those runs. I had a ball a couple of minutes before that I wish I had taken another touch, and I told myself if I get this chance again, and I think I will because of how we're playing, I'm going to take my time and look up to play a better ball across. Claire had a phenomenal evening and was there and ready for it."
On thoughts on the field after penalty kick:
"We didn't let that moment pull us apart tonight. We even had chances to get forward and kill the game off more than we have in any other game. I thought maybe we would even score again, and that kind of feeling is a lot better than what we've experienced before. It's a testament to what we've learned about each other this season and how we've grown as a team. We met on February 1st, and we cannot forget that. It takes a while to grow together and figure out who we are when the going gets tough. Today we did not let it faze us at all, and it was really important in that moment."
ACFC Forward Simone Charley
On returning home after a long road trip:
"It was just great to be back home in front of our fans. They always bring the energy for us and it was really exciting to be able to feed off of that and get a win today."
On goal and team morale:
"This week we talked about positioning in the box and getting between defenders and to be able to just get there. Jasmyne [Spencer] made an amazing play and made it easy for me."
"It's about bringing energy. I try to just be myself out there. Our team works hard and brings so much energy. So I just try to contribute to that and lift everyone up."
ACFC Head Coach Freya Coombe
On thoughts on Simone Charley's performance :
"Simone put in a great performance tonight. She gives us a different look being able to get in behind off of that dynamism, as well as being able to exploit the space behind. We knew there would be moments for us to capitalize in transition and make those runs and serve that ball behind. She got on the end of a few of them, which was great."
On the team's performance as a whole tonight:
"They were absolutely superb. Our outside backs were able to offer on both sides of the ball, especially after getting forward with the two assists, but also defensively they were able to shut down the threats. The players are working incredibly hard taking on information. I think we've put some good game plans together that we were able to execute. They're hungry and they're more dedicated than ever in order to achieve goals as a team."
"I was very pleased with our overall defensive ability and for them to work as a group. I think our midfield really added to that as well, in terms of covering the ground and being able to shut down. Credit to them with how motivated [they are] and how they're putting everything they've got into these last games."
• Discuss this story on the National Women's Soccer League message board...


National Women's Soccer League Stories from September 22, 2022
The opinions expressed in this release are those of the organization issuing it, and do not necessarily reflect the thoughts or opinions of OurSports Central or its staff.